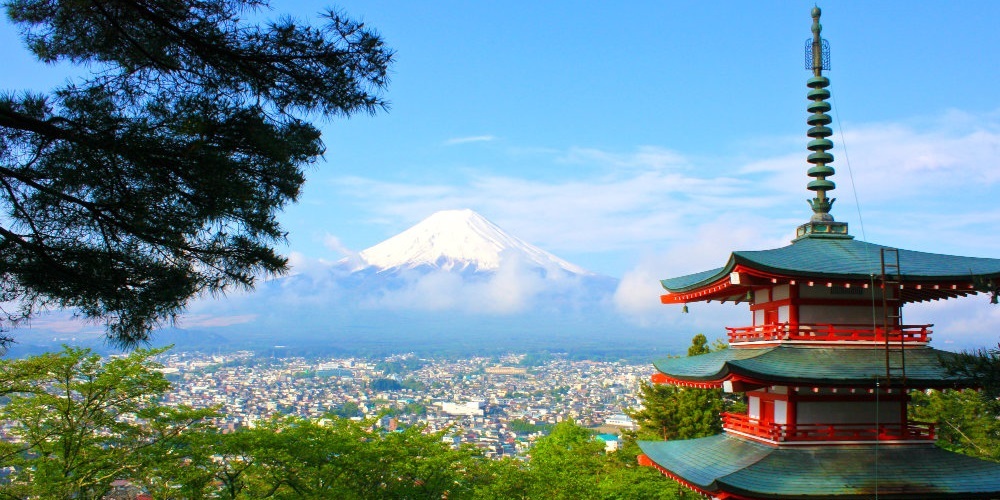 Ducati Tomei Yokohama Departure
At Moto Tours Japan we prepared an adventure perfect for real DUCATISTI, a dream travel, to be lived riding on dream vehicles like DUCATI, to go discover the dramatic Sanriku coastride and the legendary beauty of Sendai, the unique Chirihama beach coast ride and the beautiful Alps area, starting from Mount Fuji, symbol of the Land of the Raising Sun.

This tour is just an example of what we can do at Moto Tours Japan to let you live your ultimate tour experience.
Moto Tours Japan's tour menu cover all the country, from Hokkaido to Okinawa, from a coastride like ride on the mountains to a silent and fashinating coast ride facing the bright blue ocean.
Have a start with this DUCATISTI adventure to go and discover Japan, the Land of the Rising Sun.



Tour Price
¥438,000~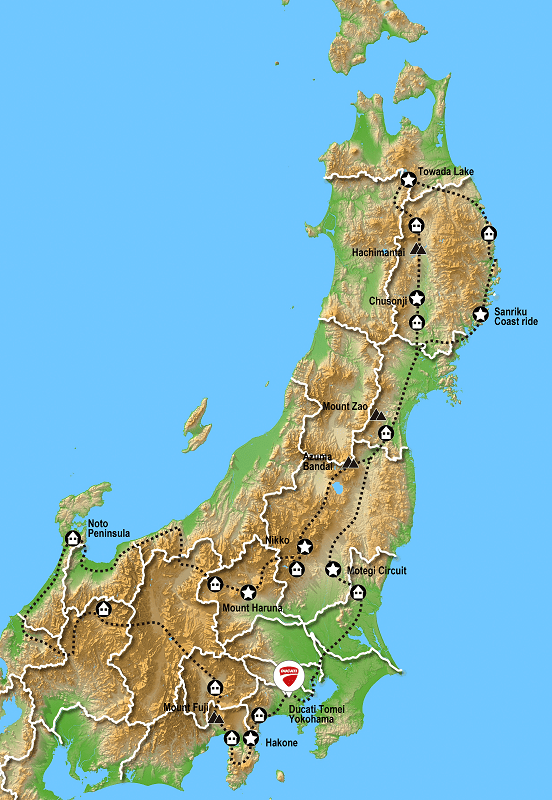 ---
Tour Facts
Schedule

| | |
| --- | --- |
| DAY 1 | Store → Oshino Hakkai → Gora |
| DAY 2 | Hakone → Amagi → Dogashima |
| DAY 3 | Nishi-Izu → Fuji → Kawaguchi Lake |
| DAY 4 | Fuji Five Lakes → Japanese Alps → Takayama |
| DAY 5 | Shirakawa-Go → Chirihama → Nanao |
| DAY 6 | Not Peninsula → Jigoku-dani → Kusatsu |
| DAY 7 | Mount Haruna → Chuzenji Lake → Nikko |
| DAY 8 | Kirifugi Kogen → Ojikawa River → Bandai Azuma |
| DAY 9 | Azuma Skyline→ Mount Zao |
| DAY 10 | Hachimantai → Mount Iwate |
| DAY 11 | Hachimantai Skyline → Jodogahama |
| DAY 12 | Tono → Kamaishi → Kesennuma |
| DAY 13 | Hiraizumi → Chusonji → Motegi |
| DAY 14 | Motegi → Ducati Tomei Yokohama |

Days
14 days, 13 nights
Store
Ducati Tomei Yokohama
Meal
13 Breakfasts
Hotel Rank

★★★★☆

Total distance
3,337km
Riding season
March - June September - October
Difficult

Sightseeing

Food

History culture

Tour content
Ducati Tomei Yokohama - Hakone

Your first target will be the Ashinoko Skyline, one of the most popular winding in Japan, to then reach Hakone area to enjoy the art of Yosegi Zaiku, a traditional wood handicraft technic original of Hakone area.
Evening will be at Oshino Hakkai, a small village located in the Fuji Five Lake region, where the main features are the authentic traditional Japanese architecture and, the most incredible, eight ponds of extraordinarily clear water.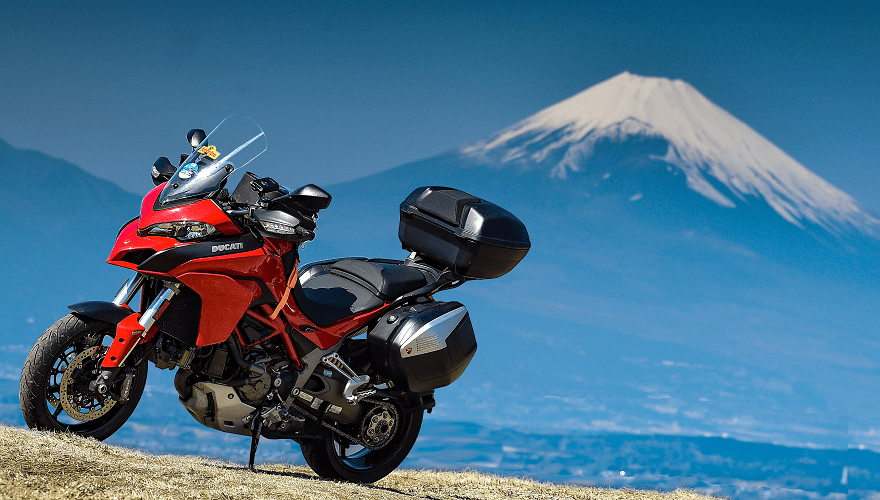 Hakone - Dogashima

Today's first stop will be Owakudani Valley, an active volcanic zone valley, full of hot springs, hot rivers and suggestive sulfurous fumes from where, on clear days, Mount Fuji's view can be enjoyed in all is glory.
At lunch you can satisfy your tastebud with Unatoro Don, a typical dish of this area. Japanese eel served with grated yam on a bowl full of white rice.
In the evening you will ride in the Amagi area, tying the kawazu Nanadaru loop bridge, one of the most famous and spectacular bridges in the world.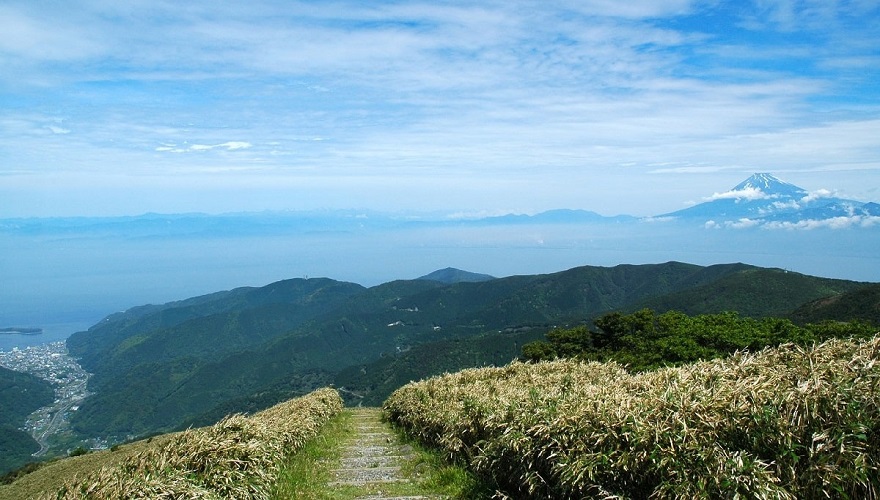 Dogashima - Kawaguchi Lake

Day start is on the Nishi-Izu Skyline, one of the most popular and most beautiful winding in Japan. Lunch time will be at Maruten fish market on the Numazu port area.After lunch tour will move to Mount Fuji area to a real ranch, where tour members can enjoy several activities from the classic farm's animal feeding or horseback riding to dairy farm and butter making experience to move then to a luxurious hotel in the Kawaguchi Lake area.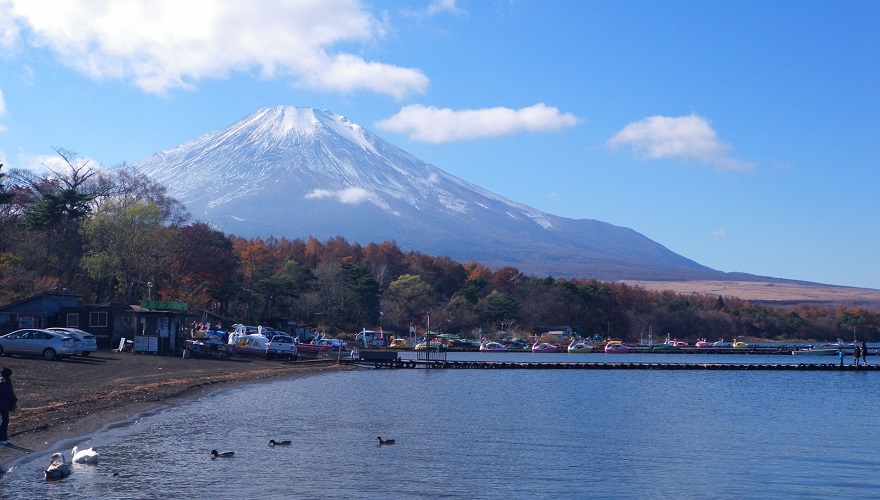 Kawaguchi Lake - Takayama

Today you will cross Lake Kawaguchi area, the second largest between the Fuji Five Lakes, 5 lakes located in Yamanashi Prefecture generated by Mount Fuji area volcanic activity. You will proceed to enjoy the majestic beauty of Japanese Alps. End point will be the hotel in Takayama city, popular place still keeping Edo-period buildings and several authentic traditional sake breweries.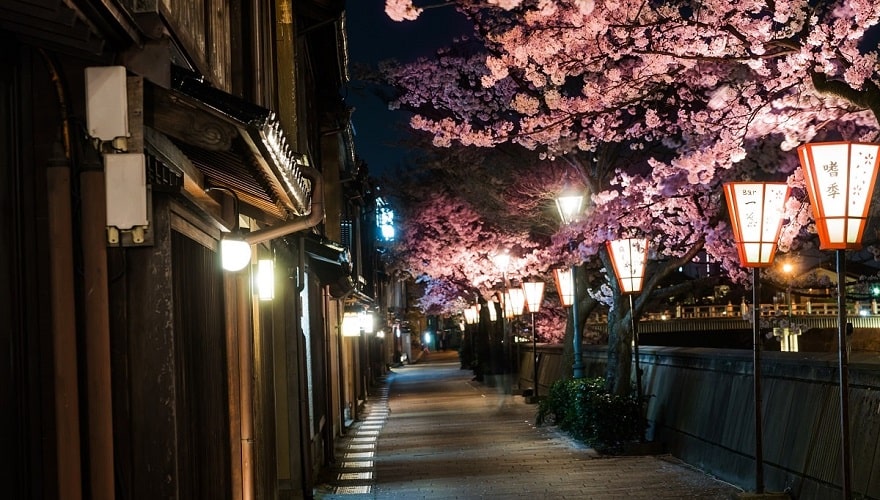 Takayama - Noto Peninsula

This day will start from one of the most popular attractions in Japan: Shirakawa go village. UNESCO world heritage since 1995, it is one of the most popular architectural site. It is a large temple complex, consisting more than 70 buildings connected by covered walkways and covering about 330,000 ㎡ area. Evenening will offer you the ultimate unique attraction: Chirihama Beach Drive, an eight kilometer stretch of beach along the Sea of Japan that is open to private vehicles, allowing people to take a short ride right along the water's edge. A unique experience to be tried once in a life! Today's hotel will be Tadaya, iconic hot spring hotel of the Noto Peninsula.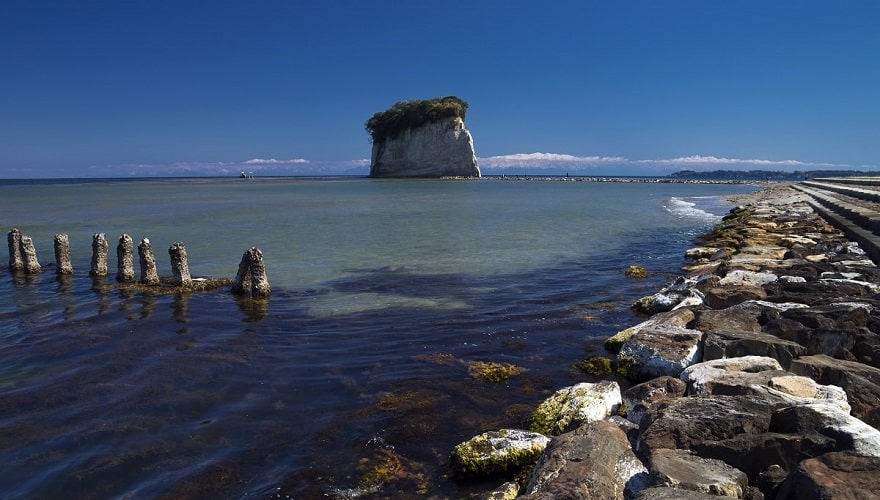 Noto Peninsula - Kusatsu

On this day you will go to Jigoku-dani hot spring area, whose name literally means "hell valley", located next to Mount Shirane area which displays hot steam vents, sulfurous streams and other volcanic activity, making the ultimate powerful view to be enjoyed on two wheels. Focus point of this area is Oyonuma, a sulfurous pond with a surface temperature of 50 degrees and a smaller, even hotter, mud pond nearby. You will also enjoy Kusatsu, located in Gunma Prefecture, it is one of the three most popular hot spring area in Japan.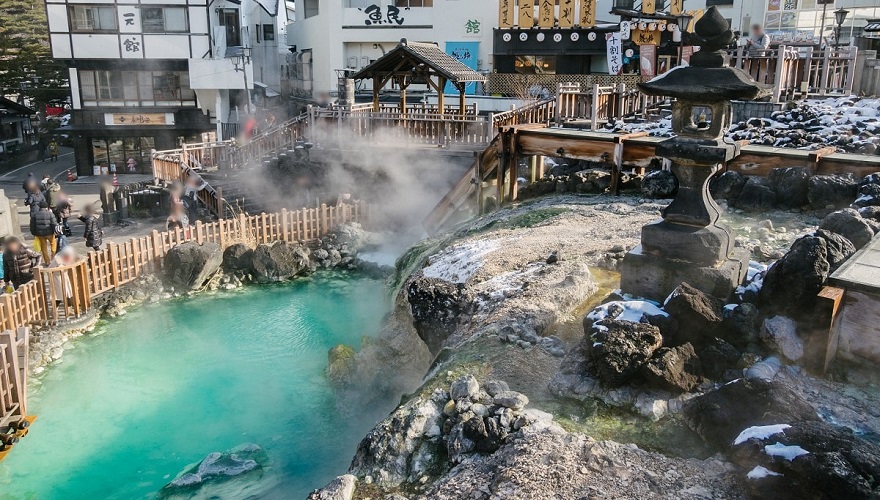 Kusatsu - Nikko

Start will be Mount Haruna, a 1449 meter dormant volcano, part of the "Three Famous Mountains of Gunma" and popular hot spring area. At the center of Mount Haruna's caldera stands a cone-shaped projection called Haruna Fuji, due to its resemblance to Mount Fuji. You will then reach Mount Akagi, part too of the "Jomo-Sanzan", and the beautiful crater lake Onuma Lake. Another main spot will be the Chuzenji Lake, created by Mount Nantai, Nikko's sacred volcano about 20,000 years ago.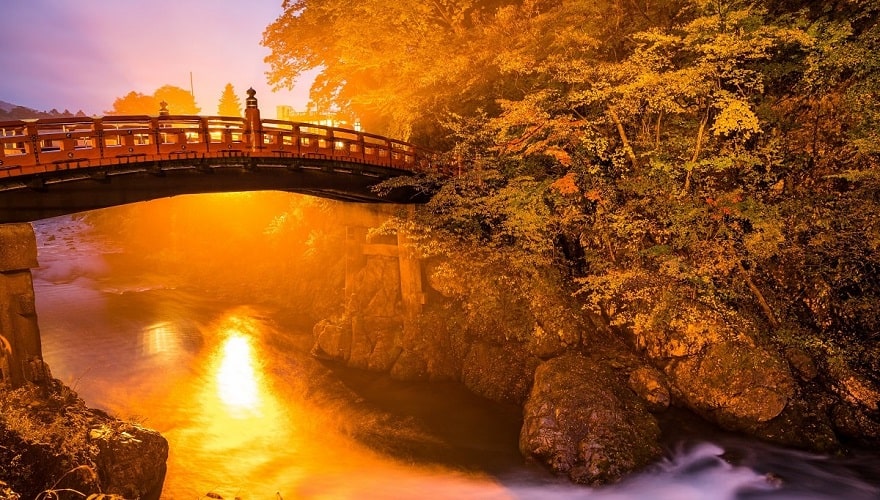 Nikko - Hibara Lake

This day's start will be Kirifuri Kogen Road, in Kirifuri Kogen, a mountain area comprehending several of the most beautiful parks in Nikko area. We will then continue Ikari Lake Road among the dams on Yunishikawa River to enjoy the astonishing view of Ikari Lake, a beautiful artificial lake on the mountainside. In the evening you will ride through Azuma-Bandai Goldline an alpine road with a maximum elevation of 1622 m that winds through the Azuma Mountain Range, so scenic it is recognized with the catch-phrase "the road that runs across the sky". From this road it is possible to enjoy a wonderful view of Fukushima City and surrounding area.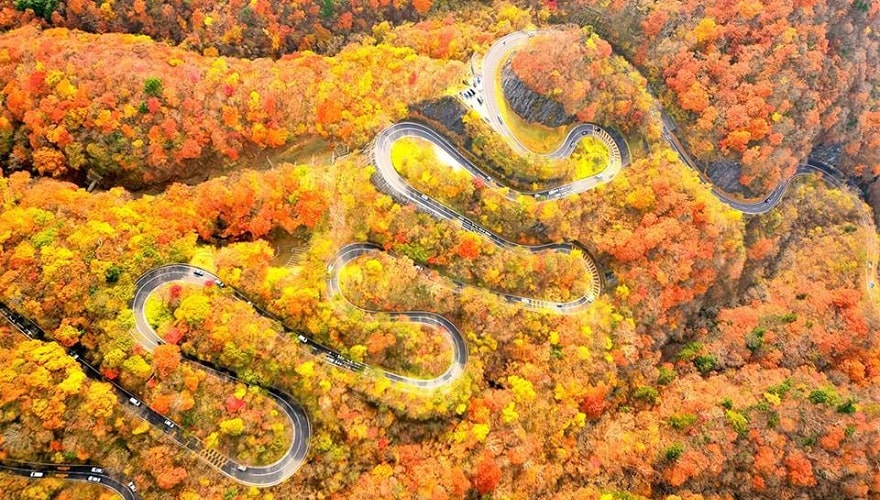 Hibara Lake - Mount Zao

On this day, morning time will be dedicated to Bandai-Azuma Skyline, an extremely popular road, included in Japan's top 10 roads chart. You will then ride through Mount Zao Eco Line, a route between Miyagi-ken and Yamagata-ken full of tree planted alongside of the meandering route, giving to riders a clear sensation during each season, being extremely green in spring and bright red in autumn. From this legendary road wewill enjoy the sight of Okama Crater, an emerald green lake at the center of the mountain range and Zao hot springs, some of the country's most acidic thermal waters in Japan.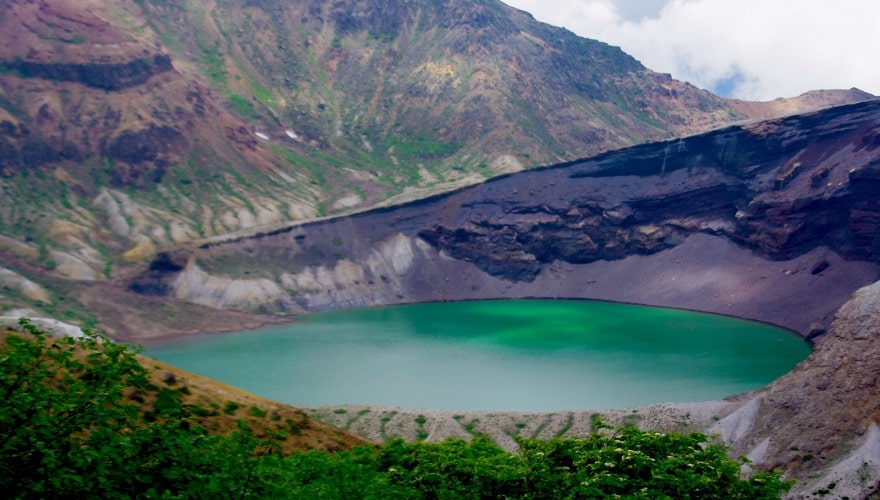 Mount Zao - Hachimantai

Starting from our Mount Zao area hotel, you will go to Sendai area, Sendai is by far the largest city in the Tohoku Region, rich of history and culture, and one of the Japan's 15 largest cities. A visit to the Chusonji Temple is a must on this day! Established in 850 as a temple of the Tendai sect of Buddhism, it is now one of the most famous and most appreciated Buddhist temple in the country. On the evening, you will ride to Mount Iwate, a scenic stratovolcano, included between 100 famous mountains in Japan. This mountain is part of Towada-Hachimantai National Park, a national park comprising two areas of Aomori, Iwate and Akita Prefectures.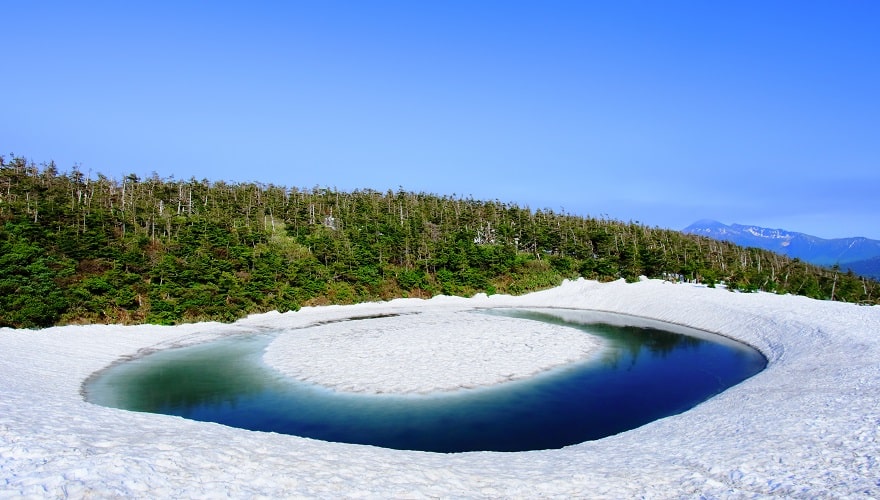 Hachimantai - Miyako

Today's start will be one of the best highlights in this tour: the Hachimantai Skyline, a winding road passing through the astohishing Hachimantai area, a mountainous region full of natural hot springs and volcanic landscapes, its peak is Mount Hachimantai, which due to its flat top is more referred as a volcanic plateau. You will move then to the beautiful Sanriku area, Tohoku region's west coast, to enjoy its dramatic sharp shaped coast ride. This ride's main point will be Jodogahama beach, one of the one hundred best beaches and swimming spots in Japan. This place is so beautiful its name literally means "Pure Land Beach" owing to its deep blue sea, green pines, and white rocks.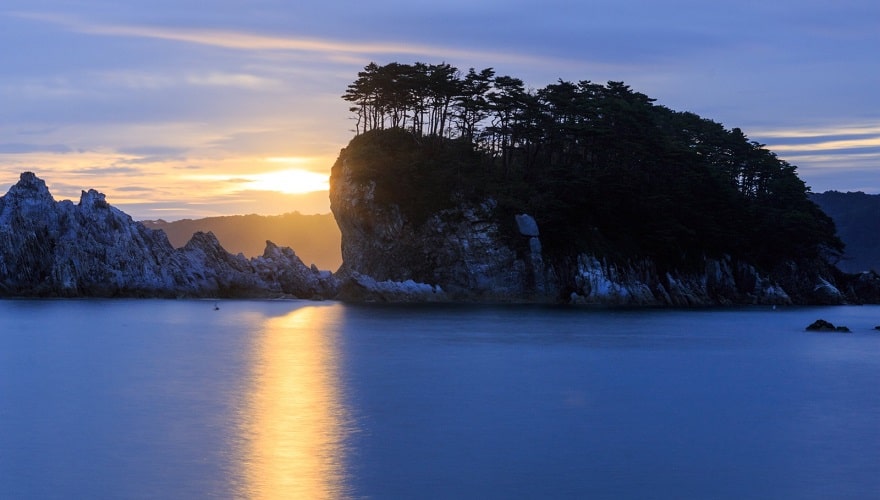 Miyako - Hiraizumi

Tono, the start of this day, is best known as a repository of Japanese folklore due to its legends of sacred animals and supernatural creatures. You will then proceed to Kamaishi, in Iwate Prefecture. Here you will see Hashino mining and smelting site, listed as Japan Meji period's Industrial Revolution's UNESCO World Heritage Site. You will end your day in Kesennuma city. This city is home to the only shark museum in the country, where can be tried shark fin burger or various other delicacies of the city. Nearby you can reach Oshima, accessible by ferry from multiple ferry ports, home to beautiful beaches which are quite popular in the summer.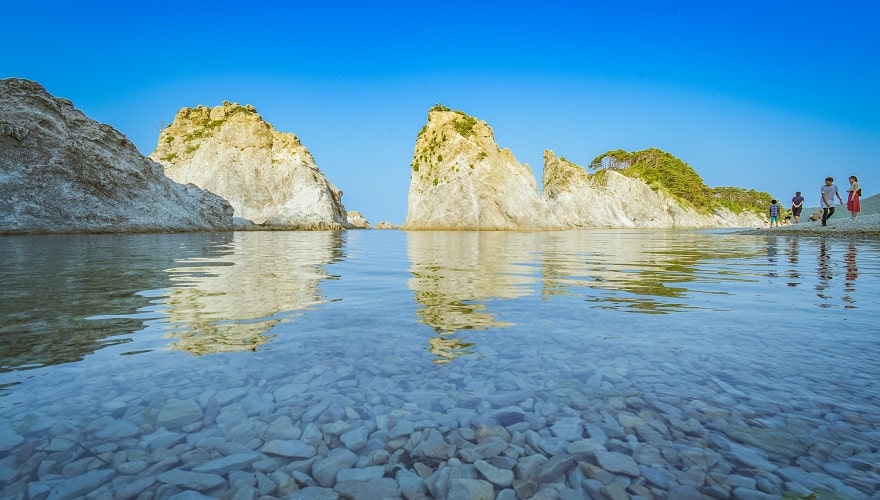 Hiraizumi - Motegi

Today start at Hiraizumi area, founded by the Fujiwara family during the Heian period, the city saw in these medieval years its biggest splendor, so that it even came to rival Kyoto, the national capital. In this city full of history, main points are the Chusonji temple (at the moment comprehended in day 10), the Muryōkō-in Ato, the last of Hiraizumi's great temples, built in the style of the Amida Hall (Hōōdō) of Byōdō-in of Uji, outside of Kyoto. Then there is Motsuji, best known for its garden, one of the few remaining pure land gardens in Japan.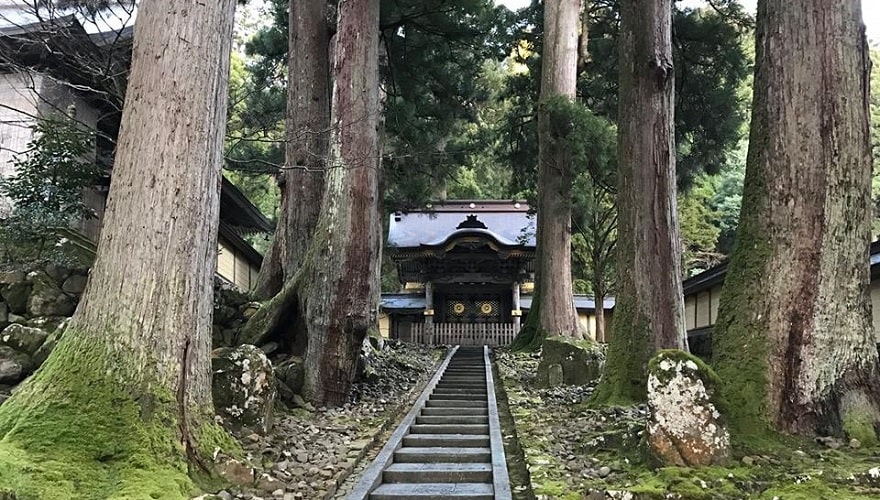 Motegi - Ducati Tomei Yokohama

This day's main focus point will be Twin Ring Motegi circuit, a legend in the MotoGP world. Its name is due to the particular structure of the course, consisting of two circuits: an oval and a road track, a conceptual structure symbolizing the idea of putting people and nature in balance. For this reason, the circuit is constructed in Motegi's countryside, surrounded by astonishingly beautiful forests changing their colors in each season.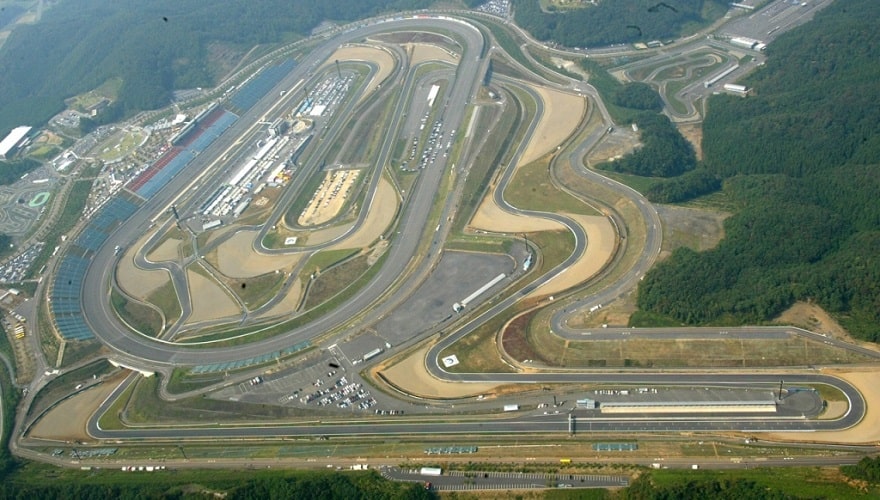 Gallery
Pricing
| Motorcycle | Add Passenger | Option(Reservation required) |
| --- | --- | --- |
| P-4 Add + 0 yen | Tandem Add    +284,480 yen~ | Helmet(Day1) +1,000 yen |
| P-5 Add +36,000 yen | | Helmet(Day 2/and then daily) +200 yen |
| P-6 Add +73,000 yen | | Gloves(Day1) +300 yen |
| P-7 Add +119,000 yen | | Gloves(Day 2/and then daily) +100 yen |
| | | Touring Net(Day1) +100 yen |
| | | Touring Net(Day 2/and then daily) +100 yen |
Departing Store
Other Tours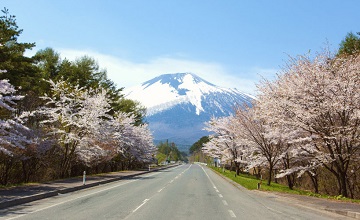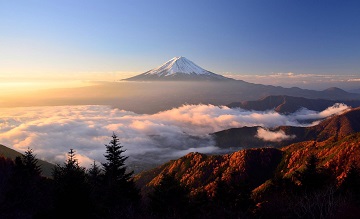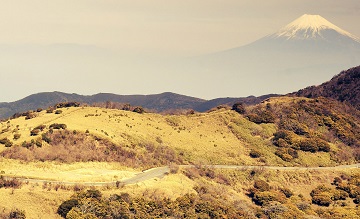 Included in Tour
Vehicle's rental price (with top case and pannier case)

Collision damage waiver

ETC card

4 nights overnight hotel accommodations

Route guide

Tour map

Tour road book

Recommended dining, activities and facilities list
Not Included in Tour
Air ticket

Fuel and toll roads fee

Lunches and dinners

Helmets, gears and other optional accessories