Japan's Last Treasure Guided Tour
Shikoku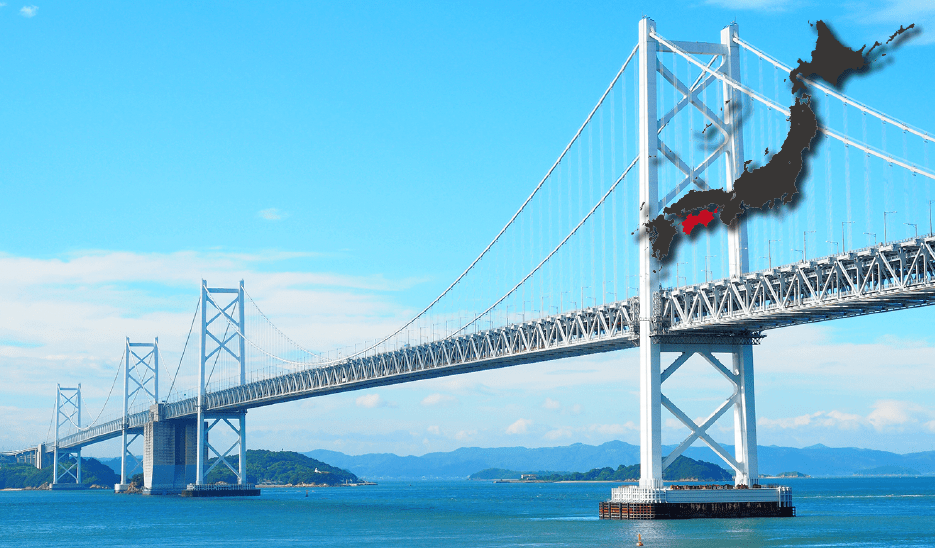 Osaka Departure / 7 Days/ 6 Nights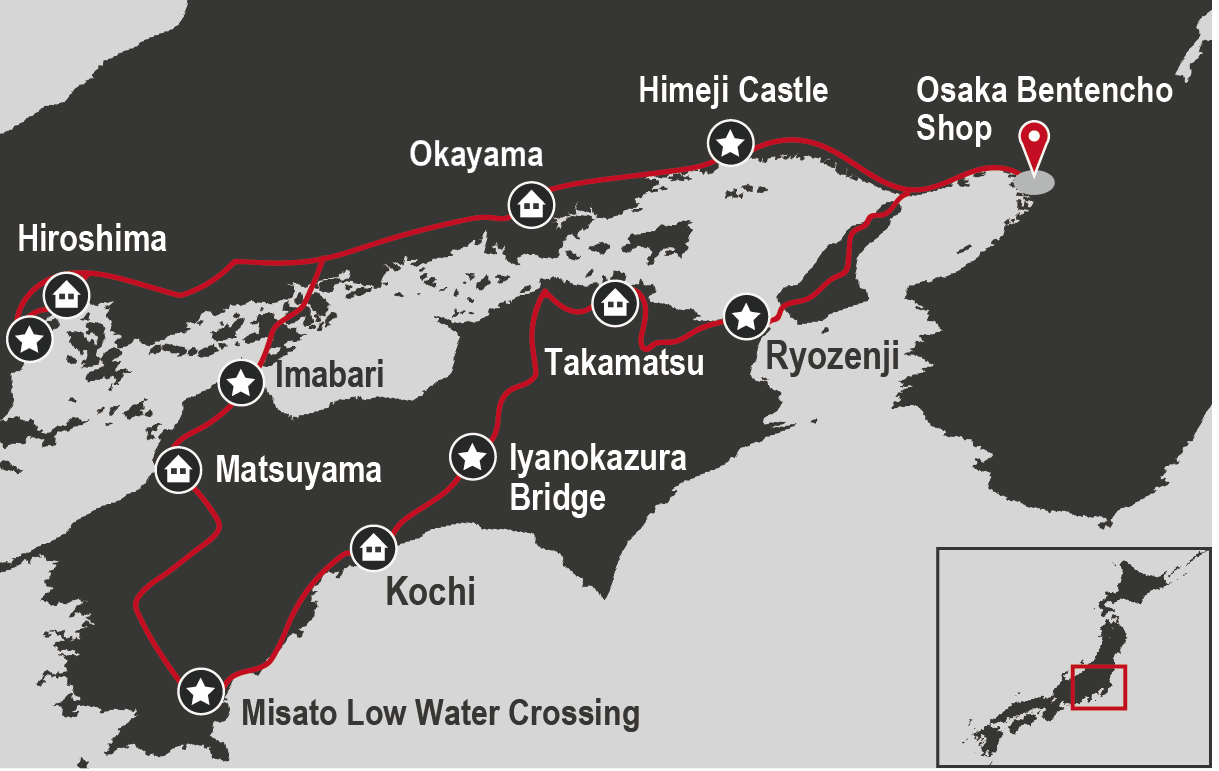 A rare gem still unknown to most of international tourism, a syncretism of the most ancient and untouched tradition, embodied by the beautiful Matsuyama Castle and the Naoshima beach, united with a unique flow of modern art and culture.You will reach all these beauties riding on astonishing coast ride right next to the sea. Shikoku's sea is not quiet, as it is the Naruto's area: the strait full of sea vortex whose beauty is as astonishing as it is dangerous.The sea, the culture, heart moving coast riding, coordinated with one of the best seafood in the country, are the main features of this rare and heart moving tour. A riding experience you will keep in your heart forever.
2020 Tour schedule


Please choose your preferred departing schedule.

This is a guide tour which will give you the possibility to enjoy Japan in total security with a tour guide and a support van accompaining you.

*Be aware that in case the minimum number of passengers is not reached, the tour may be canceled.
Tour Facts
Schedule

| | |
| --- | --- |
| DAY 0 | Briefing Day |
| DAY 1 | Store → Himeji castle |
| DAY 2 | Kurashiki → Hiroshima |
| DAY 3 | Shimanami → Matsuyamaya |
| DAY 4 | Shikoku karst → Kochi castle |
| DAY 5 | Kochi → Kagawa |
| DAY 6 | Road Station Uzushio → Store |

Days
7 days, 6 nights
Store
Osaka Bentencho store
Meal
6 Breakfasts
Hotel Rank

★★★☆☆

Total distance
1,340 km
Riding season
Spring ~ Autumn
Difficult

Sightseeing

Food

History culture

Tour content
Briefing and Welcome Party

On the day before our departure, our tour guides will hold a brief meeting time to let you enjoy your tour in Japan in with security and fun. They will explain you Japan's riding rulse, peculiarity, Japanese culture and of course your tour schedule in detail.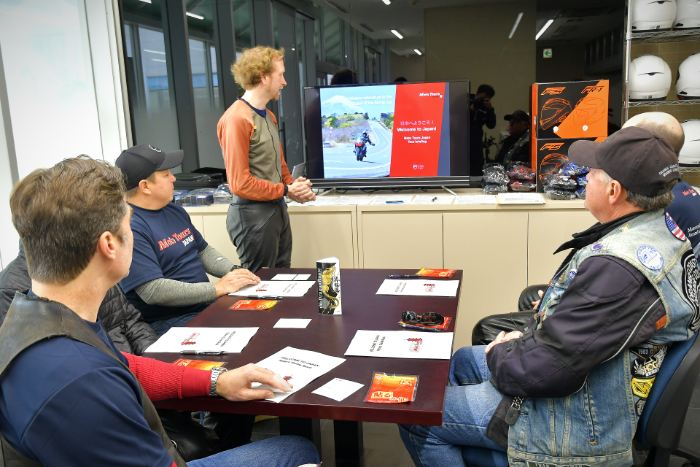 Osaka → Kurashiki

After a refreshing slieep night, we will be ready to depart for our adventure, riding on facinating coast roads, facing a landscape on the islands alongside the Shikoku Bay.
We will then arrive to the marvellous Himeji Castle. World Cultural Heritage, due to its bright white gorgeous appeareance, this castle is also known as Shimasagijo, "White Heron" and considered one of the most spectacular castles of the country.
After our ride, we will have a fan and relaxing time at the Kurashiki Ivy square, our lotel location, while enjoying some typical Japanese dishes.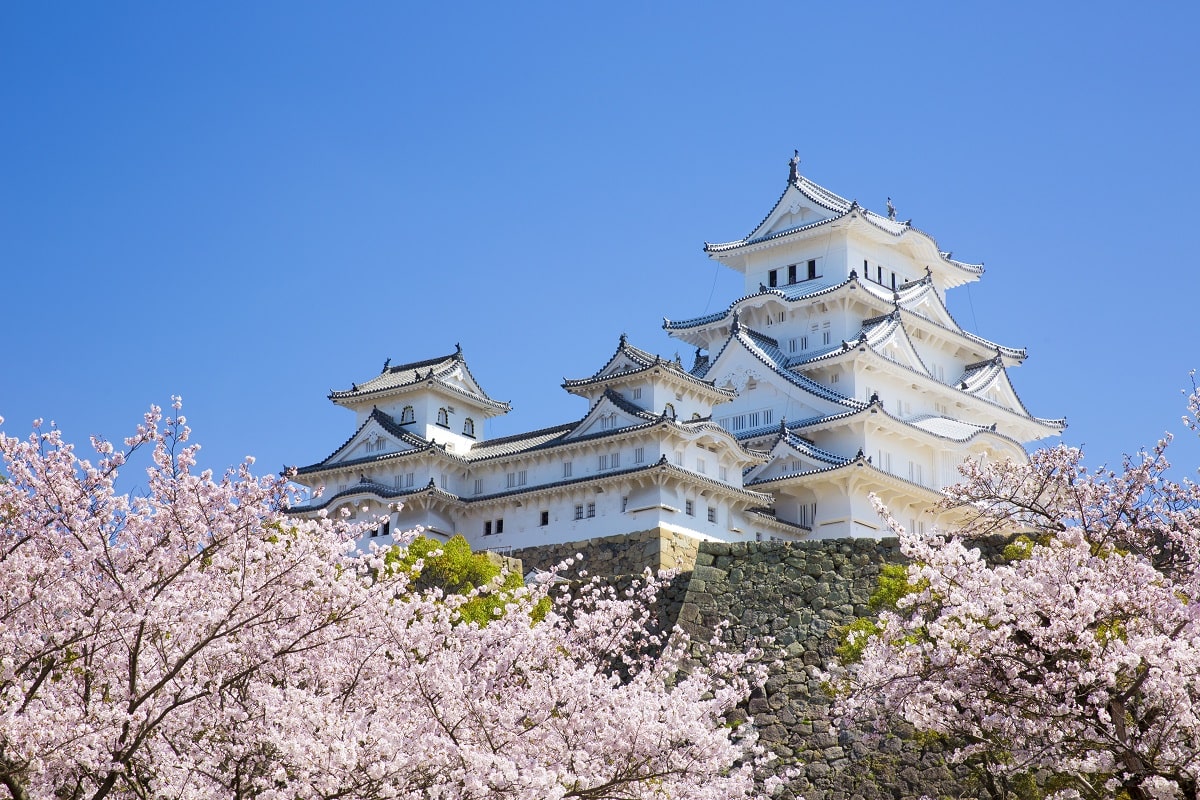 Kurashiki → Hiroshima

This will be a day litterally "on the sea", with two fashinating travel on ferry boat between the islands on the bay, alternating with several astonishing sightseeing of the most iconic locations of the region.
First we will visit the legendary Itsukushima Shrine on Miyayima Island, with its majestic torii gate on the water.
After one more ferry travel on the sea, you will be relaxing in a luxurious hotel in Hiroshima, where you will rest while feeling the sacret atmosphere pervading the whole city.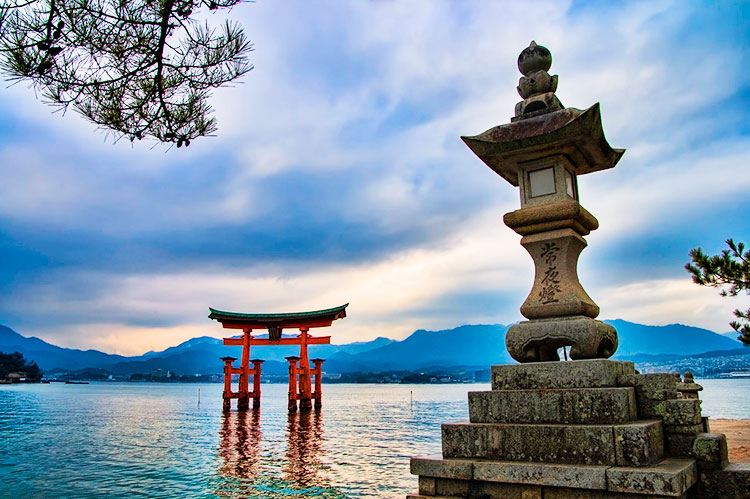 Hiroshima → Matsuyama

Today will start by riding on amazing sea panoramic roads on the bridges, riding on the "iles labirynth" of the Shikoku bay.
Main highlight of the day will be the Matsuyama Castle. With more than 200 cherry trees, it is one of the most complex and gorgeous castle complex in the country.
The night will be spent in Matsuyama, famous hot spring location, where you will be relaxing into the hot water and try the exquisite local cuisine.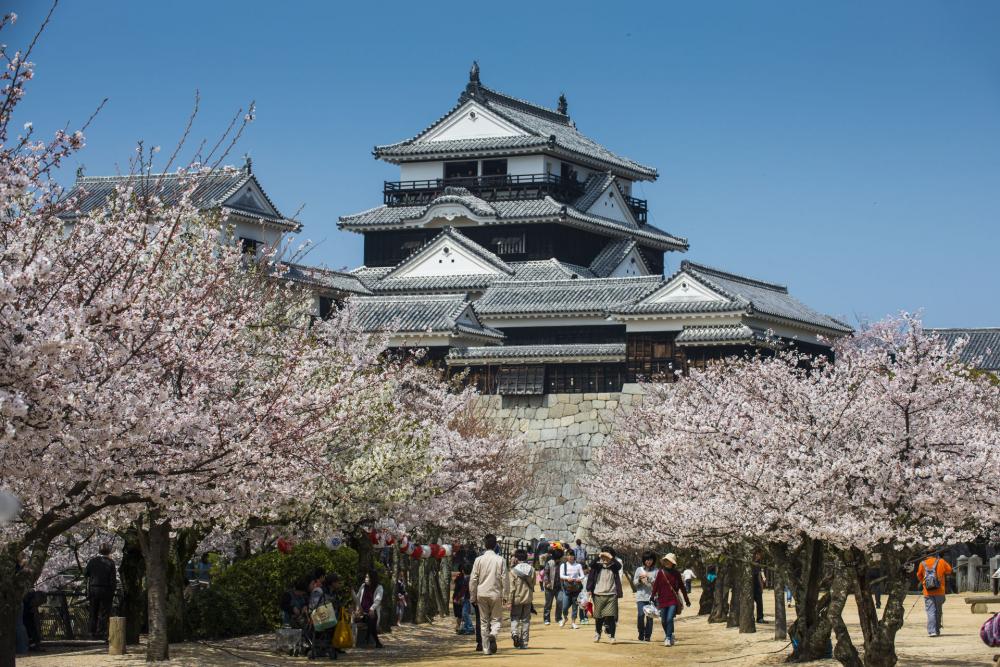 Matsuyama → Kochi

Riding will be the the main purpose of this day. After breakfast we will be moving into the mountain area of Shikoku Island, enjoying curvy mountain roads alternating with amazing coast rides.
You then will be facing an authentic challenge: the Sanri low bridge on the water, with its 145.8m lenght and, moreover, its 3.3m breadth, will you cross it on your bike?
The day will end in the relaxing atmosphere of Kochi, a port city where you will enjoy the best seafood of your life.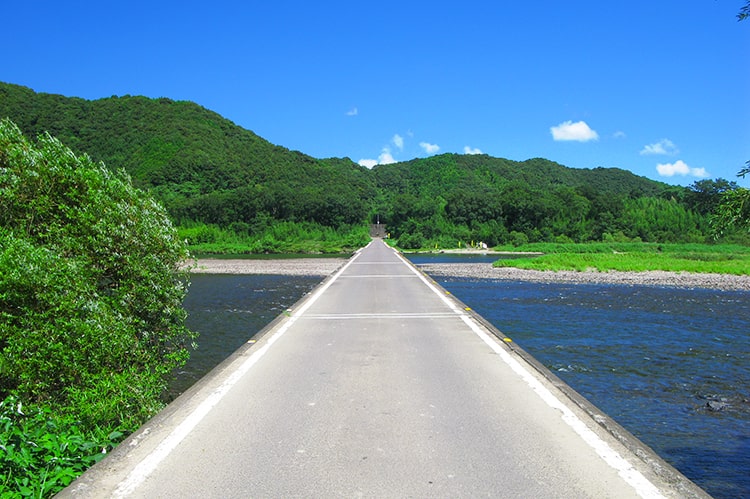 Kochi → Takamatsu

TNew day, new challenge, but this time you will be on your feet only: you will be crossing the Katsurabashi bridge, the largest and most popular mountain vines bridge on the Katsura river, first raised by Kobo Daishi, founder of the Biddhist Shingon Sect.
We will then visit the Kotohira Shrine, popular pilgrimage location of the Shinto region and patron of sea ship transport and sailor.
The night will be spent enjoying the sea view of the Honshu Island from our hotel in Takamatsu.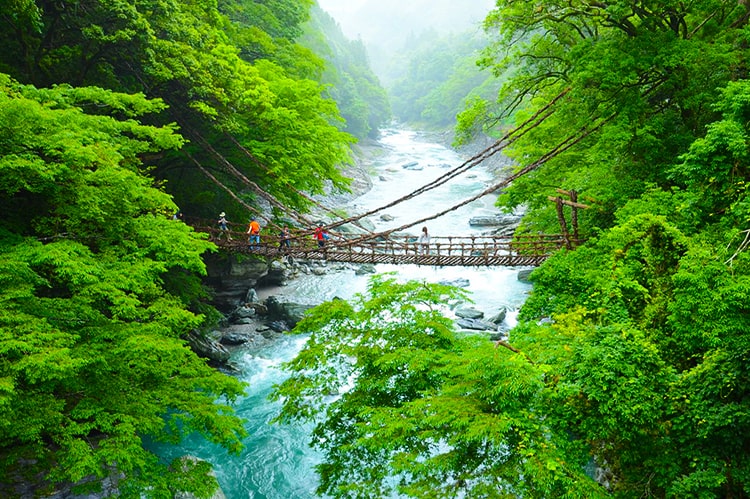 Takamatsu → Osaka

The last day of our adventure. And the last challenge as well. After a visit to the Okubo-ji and the Ryuzen-ji temples to fortify your soul, you will be facing authentic whirlpools on the sea to reach the very last seashore before your return to Osaka city. Will you be able to endure the challenge?
If you will do it? We will reach the end of our adventure and enjoy our last supper in Osaka, the most iconic food city in the country to cheer at our great adventure.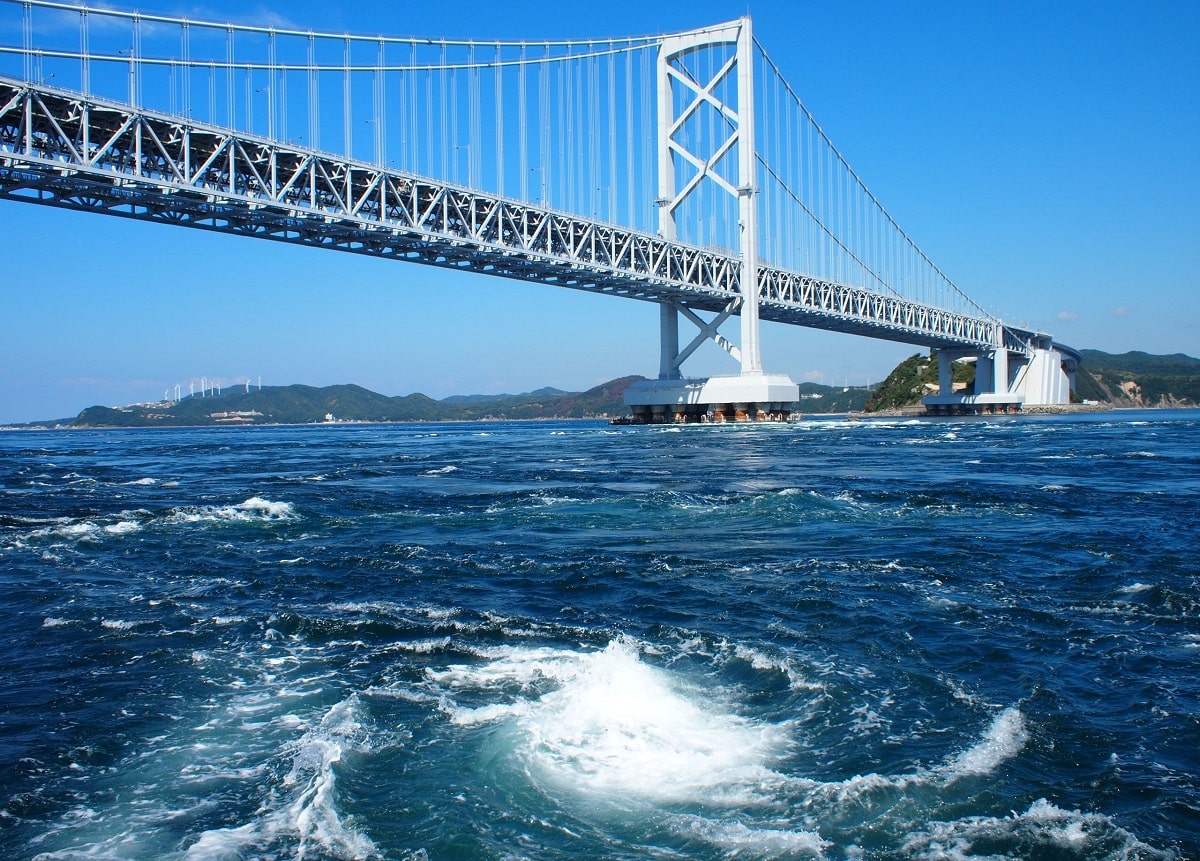 Gallery
Pricing
| Motorcycle | Add Passwnger | Option(Reservation required) |
| --- | --- | --- |
| P-3 Add + 0 yen | Tandem Add    +282,800 yen~ | Helmet(Day1) +1,000 yen |
| P-4 Add +23,000 yen | Accommodation | Helmet(Day 2/and then daily) +200 yen |
| P-5 Add +39,000 yen | pre-tour stay arrangement   +10,000 yen~ | Gloves(Day1) +300 yen |
| P-6 Add +51,000 yen | after-tour stay arrangement   +10,000 yen~ | Gloves(Day 2/and then daily) +100 yen |
| P-7 Add +69,000 yen | twin room        + 0 yen | Touring Net(Day1) +100 yen |
| P-8 Add +91,000 yen | Single Room      + 41,000 yen~ | Touring Net(Day 2/and then daily) +100 yen |
Motorcycles available for this tour
Departing Store
Osaka Bentencho Store
Address
〒552-0003
3-22-8 Isoji, Minato-ku, Osaka City, Osaka
TEL
06-4394-8193
Business Hours
Weekdays:10:00~18:30
Weekends and Holidays:10:00~18:30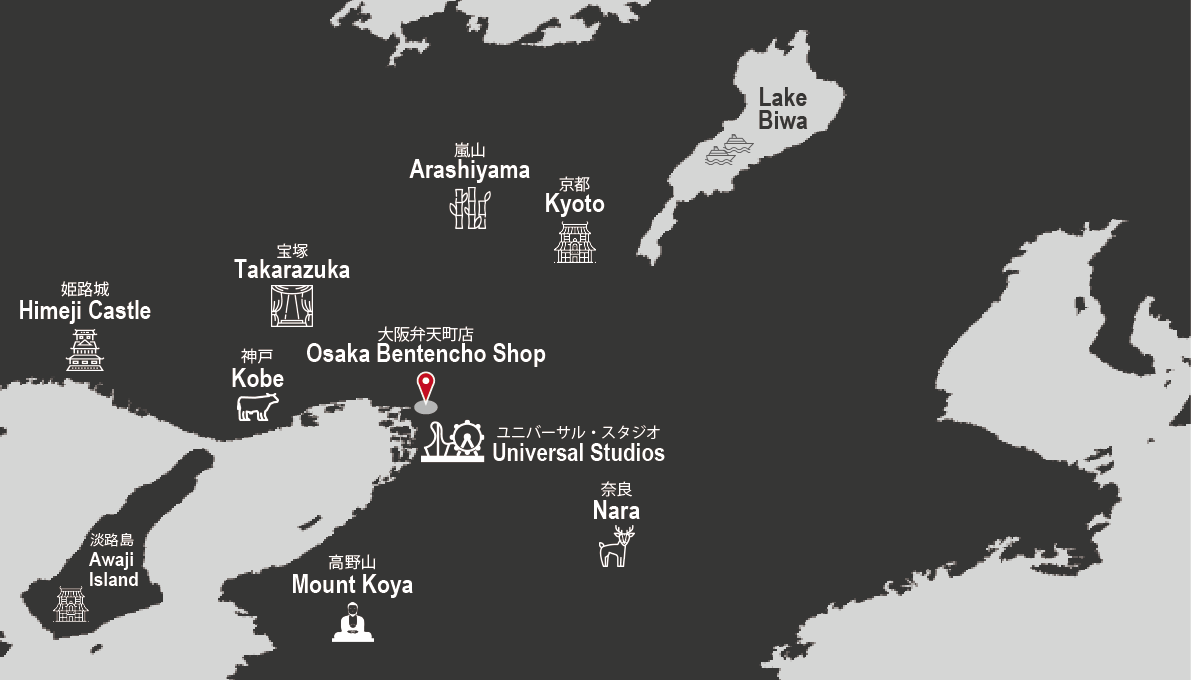 Airport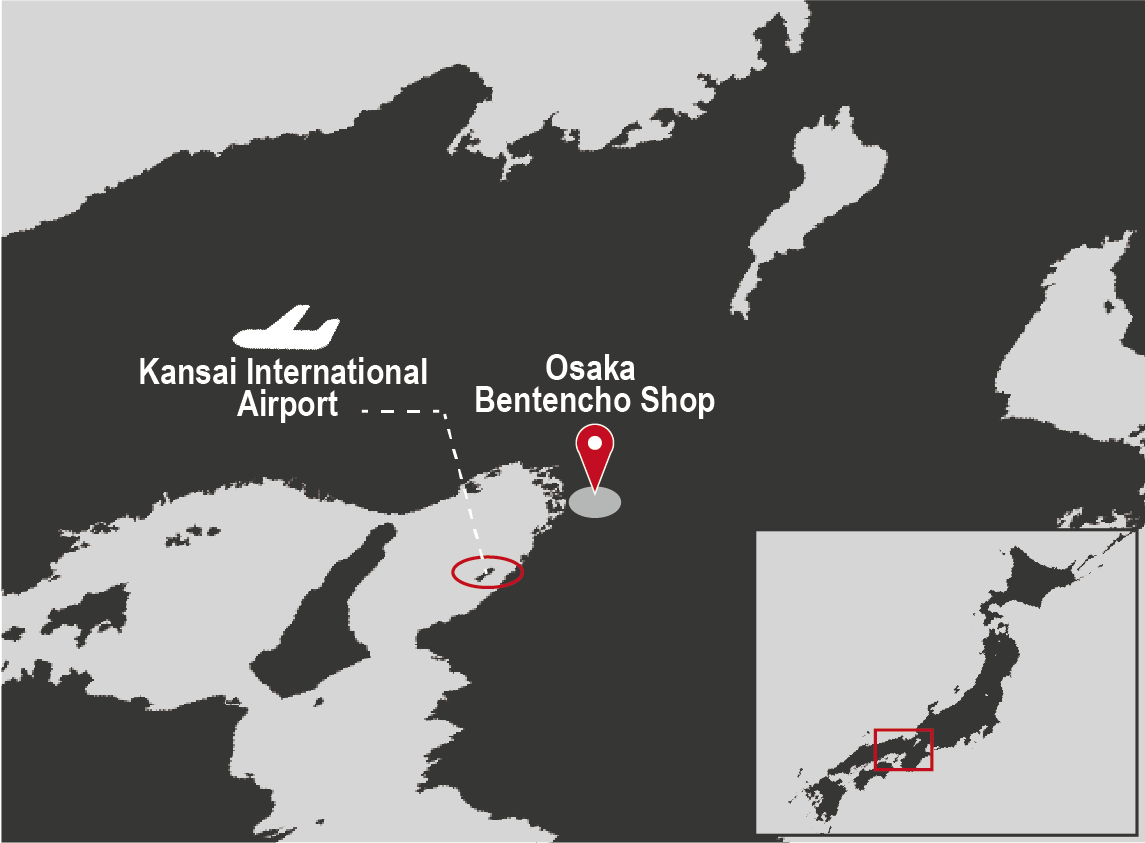 Kansai International Airport
International airport located on an artificial island in the middle of Osaka Bay. In 2016, 25.2 millon of passengers using this airport made it the busiest airport in Asia. Consisting of 2 terminals, Terminal 1 and Terminal 2, Terminal 1, with it'S lenght of 1.7 km is officially the longest airport terminal in the world.
Included in Tour
Guide on motorcycle

Support Van

Vehicle's rental price (with top case)

Collision damage waiver

ETC card

ETC fee

6 nights overnight hotel accommodations

6 breakfasts/6 dinners

Route guide

Tour map

Tour road book
Not Included in Tour
Air ticket

Lunches

Helmets, gears,and other optional accessories

Pannier case

Gasoline
Regarding the payment
Deposit for reservation is required within 3days after application is confirmed.

Balance payment is required until 30days before the tour starts.

In case of bookings within 30days before the tour starts, full payment is required at the time of the booking.

The payment shall be done by credit card.

There is no security deposit fee.

In case of cancellation of the booking, our cancel policy will apply.

Any change on tour contents will comport a handling charge.