Recommended item introduction
For people who come to Japan from abroad and enjoy tours,
we will introduce recommended items.
・Helmet
・Winter Jacket (leather or goretex best)
・Trousers (leather or goretex best)
・Riding boots
・Winter gloves
・Rain gear
・Tshirts, inner shirts
・Snickers
・Small towel
・Underwear
・Home country driving license
・1949 Geneva convention International driving permit
・Passport
・Camera
・Plug outlet converter
・Medicines
・Mobile Battery
Electrcity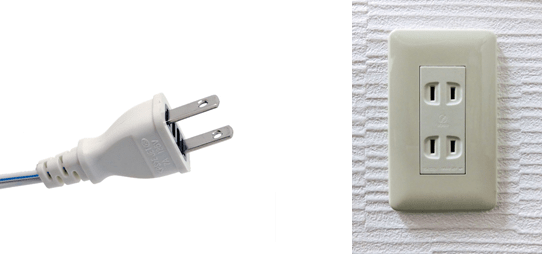 The voltage in Japan is 100 Volt, which is different from North America (120V), Central Europe (230V) and most other regions of the world. Japanese electrical plugs are type "A" which have two, non-polarized pins, as shown above. They fit into North American outlets.
Japanese power outlets are identical to ungrounded (2-pin) North American outlets. While most Japanese outlets these days are polarized (one slot is slightly wider than the other), it is possible to encounter non-polarized outlets in some places.
Some North American equipment will work fine in Japan without an adapter and vice versa, however, certain equipment, especially equipment involving heating (e.g. hair dryers), may not work properly or even get damaged.
The frequency of electric current is 50 Hertz in Eastern Japan (including Tokyo, Yokohama, Tohoku, Hokkaido) and 60 Hertz in Western Japan (including Nagoya, Osaka, Kyoto, Hiroshima, Shikoku, Kyushu); however, most equipment is not affected by this frequency difference. A possible exception are timing devices such as clocks.
Google Map
We will hand out the Google Map URL from the departure store where the tour route was displayed.
(Can also be used offline)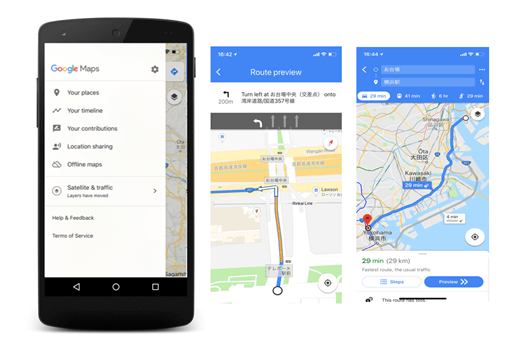 Google Translate
"Google Translate" is a translation application that not only translates text you enter but also supports cameras, sounds, and handwriting.(Can also be used offline)
※Attention point 1: It is necessary to download the target language beforehand
In order to use Google Translate offline, it is necessary to download the target language beforehand in an environment where the Internet is available.