To The Core of Japan's History Tour Chubu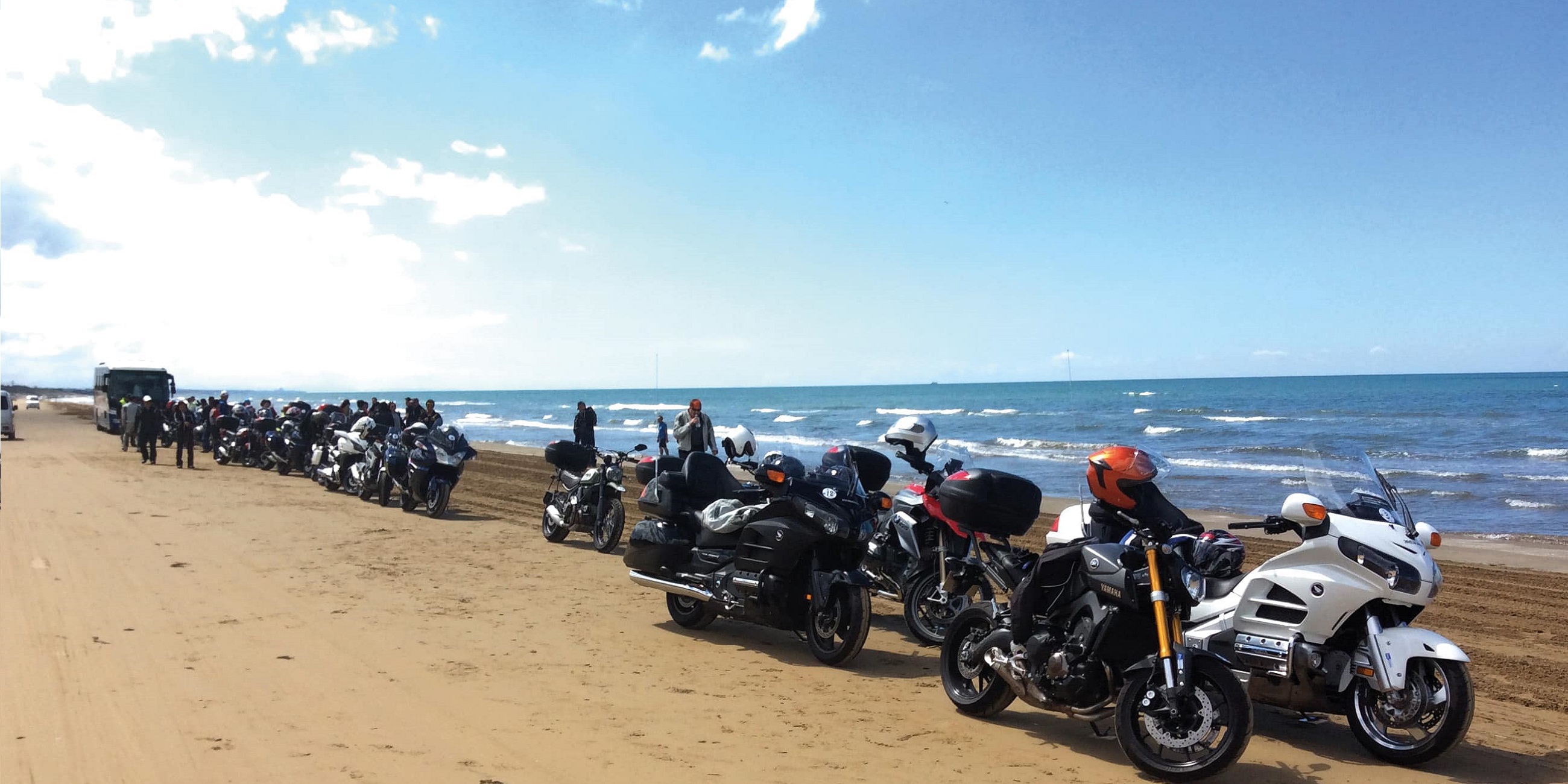 xxxxxx Departure /5Days/ 4Nights

18A06M01A
This touring course will allow you to feel the beauty of nature, such as the white wave crests of the Sea of Japan and the magnificent mountains in each season. We offer any kinds of motorcycles for rental, so you can enjoy touring Japan's Chubu area The course travels through breathtaking locations including: Noto on the coast of the Sea of Japan; towns with historic places such as Please spend a tranquil time staying at hot spring resorts by night to unwind at the end of each day and enjoy special cuisines with locally produced ingredients. Above all, the riding course involves a variety of characteristics, such as diversely winding roads with beautiful scenery highly recommended by local people, and highways on which you can feel the thrill of cruising on a motorcycle, ensuring that you enjoy the entire time.
---
Please select departure store.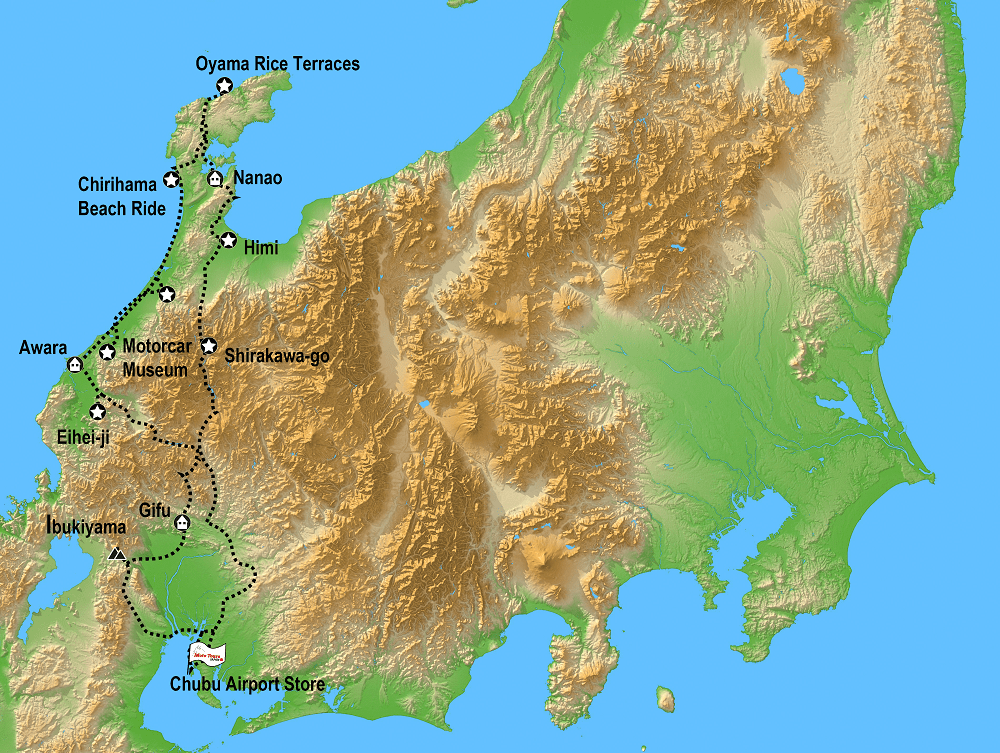 Tour Facts
Schedule

| | |
| --- | --- |
| DAY 1 | Store → Sekigahara → Mount Ibuki → Gifu |
| DAY 2 | Shirakawa-go → Nanto → Nanao |
| DAY 3 | Noto → Wajima → Chirihama |
| DAY 4 | Matsuyama → Kanazawa → Funatsu |
| DAY 5 | Sakai → Kuzuryu Lake → Store |

Days
5 days, 4 nights
Store
Meal
4 Breakfasts
Hotel Rank

★★★☆☆

Total distance
997 km
Riding season
Summer
Difficult

Sightseeing

food

History culture

Tour content
Sekigahara and Mount Ibuki

Located in Shiga prefecture, Sekigahara is famous for being the battlefield of one of the biggest and most important civil battles of all Japan's history, hold in October 21, 1600 year, which made all the power in the hands of Tokugawa Yeyasu, first Shogun of Japan. Once you reach the main battlefield, you will be able to feel the atmosphere of the battle's last moments. Nearby there is Mount Ibuki, 1,377 m high mountain located between Shiga and Miabara, it is the highest mountain in Shiga prefecture, famous for its natural flower fields and its fascinating scenery, which changes in every season.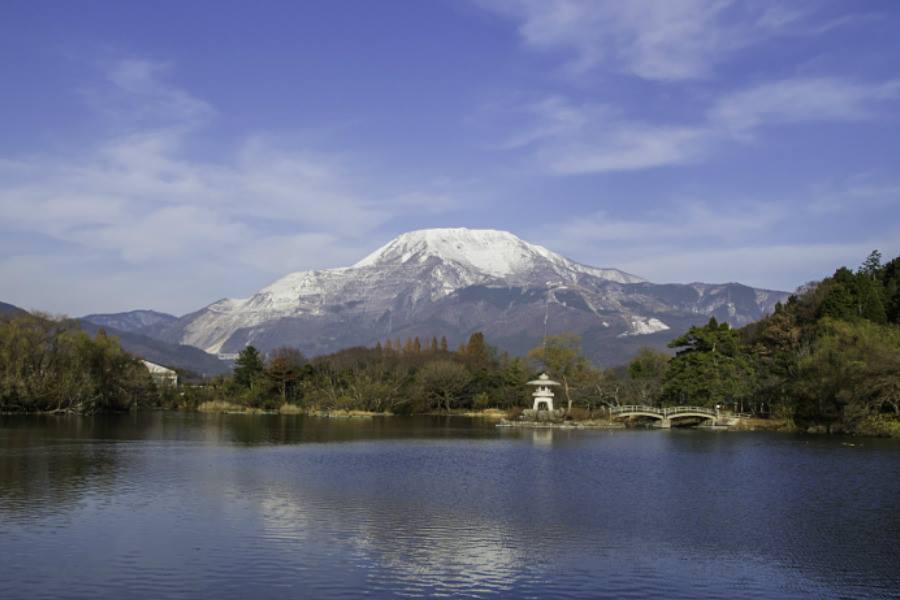 Shirakawa-go

UNESCO world heritage since 1995, it is one of the most popular architectural site in Japan as a wonderful example of gassho-zukuri, an architectural style whose name means "constructed like hands in prayer", as the farmhouses' steep thatched roofs resemble the hands of Buddhist monks pressed together in prayer.
The architectural style developed over many generations and is designed to withstand the large amounts of heavy snow that falls in the region during winter.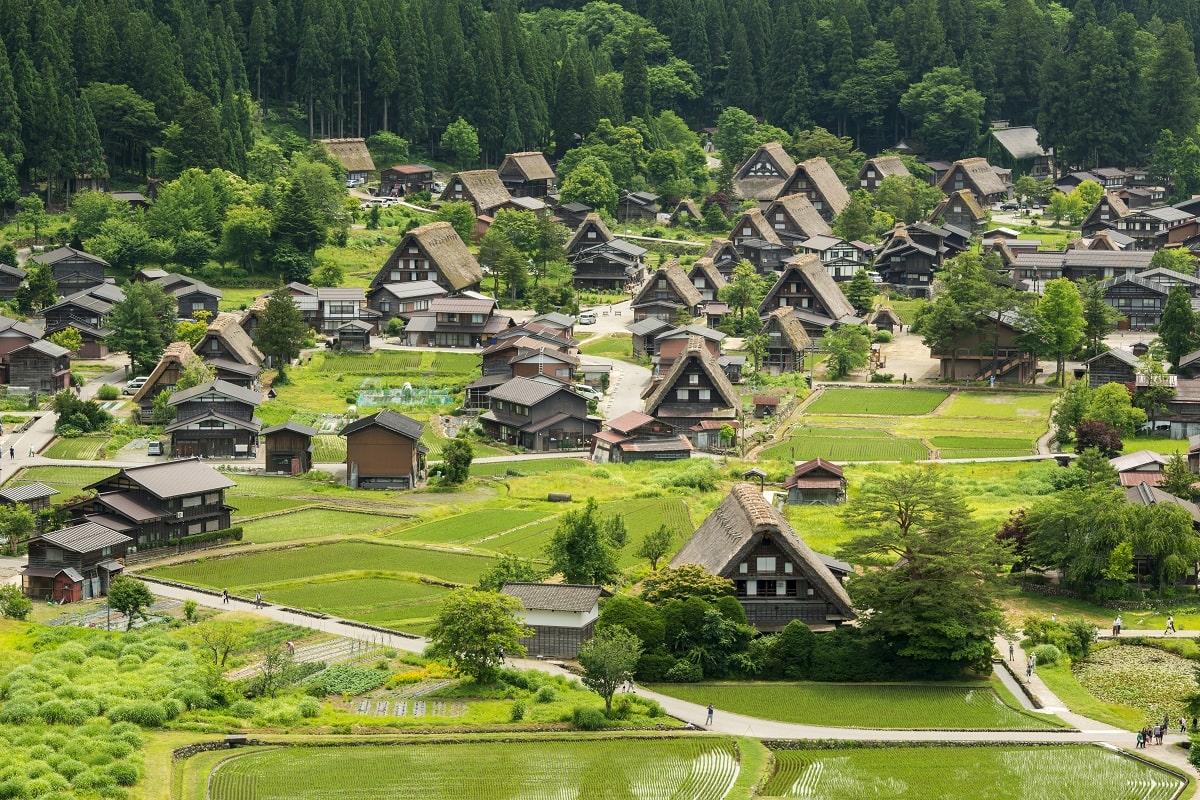 Mitsukejima

Located in Ishikawa Prefecture, next to Noto Puninsula, it is also known as Gunkanjima, which means "battleship Island" due to its peculiar form. Its silhouette can be seen from Suzu coast, constituting a moving beautiful sightseeing, which made this little island the symbol of noto peninsula.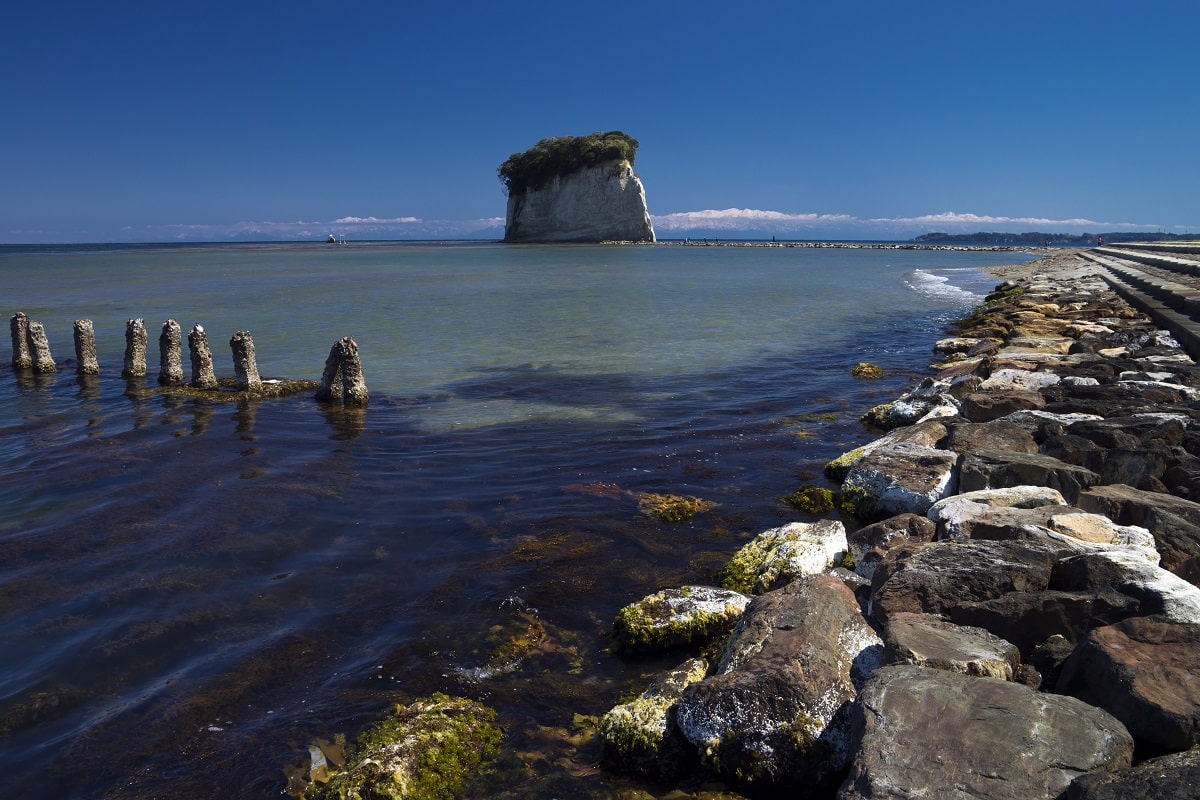 Chirihama

An eight kilometer stretch of beach along the Sea of Japan that is open to private
vehicles, allowing people to take a short ride right along the water's edge. Traffic
runs in both directions, and there is no charge for driving on the beach.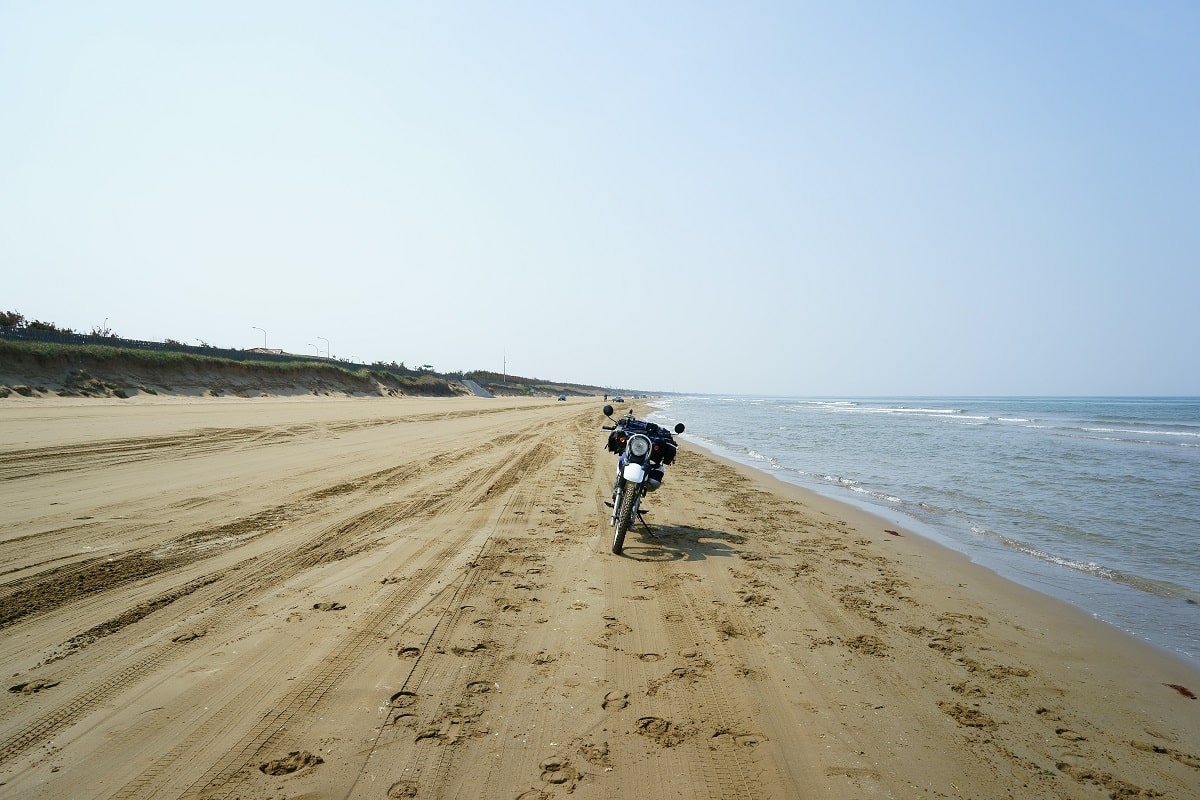 Motorcar Museum of Japan

Established in 1978 by Shoso Maeda, popular enterpreneur, with the aim to display his personal collection of cars, this musem is based on the concept of "preserve the wisdom of pioneers for the future generations". In this museum there are historically iconic Japan's comercial vehicles and ordinary vehicles showing the autheticity of the ordinary life Japan in the last years.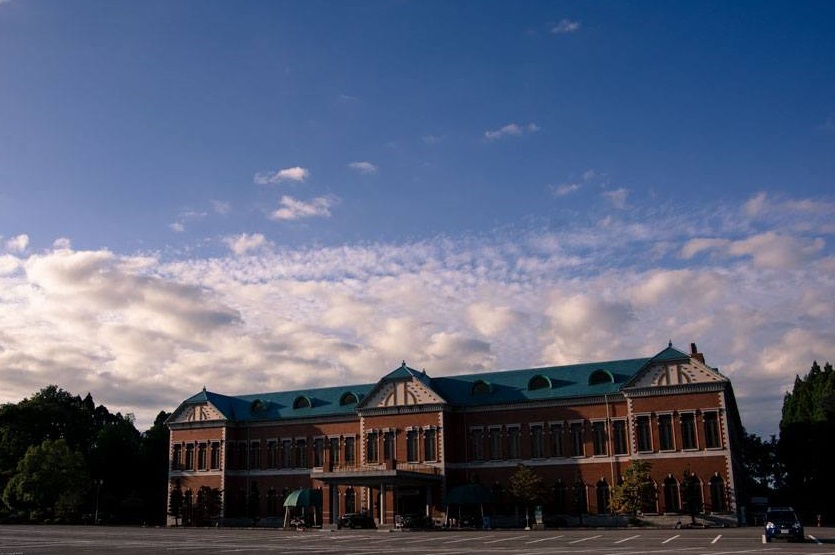 Kanazawa

Capital city of Ishikawa prefecture, Kanazawa, like Kyoto escaped the decstructions by air raids during WW2, keeping parts of the old caste town with its original buildings. Notable is Kenrokuen, extremely beautiful park, officially included betwen Japan's three best landscape gardens.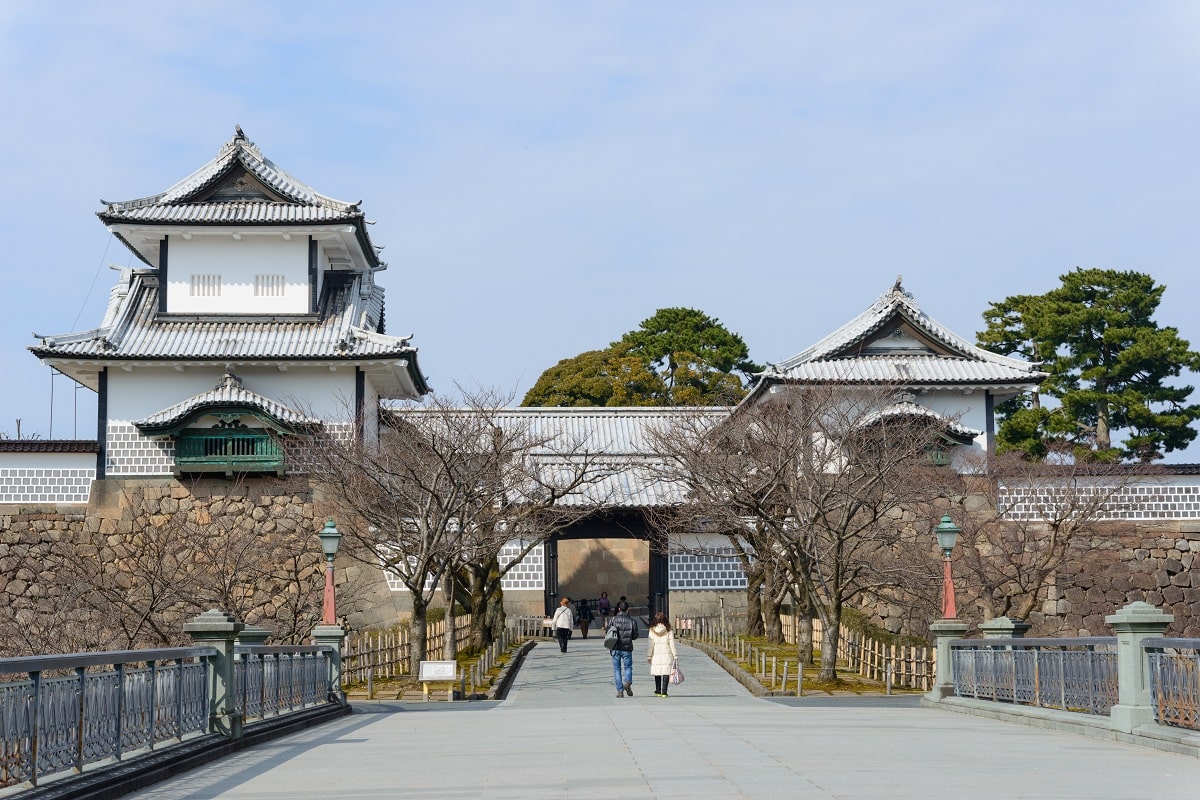 Eiheiji

Head temple of Zen Buddhism Soto Sect, it has been founded by buddhist monk Dogen in 1244 year. It is a large temple complex, consisting more than 70 buildings connected by covered walkways and covering about 330,000 ㎡ area .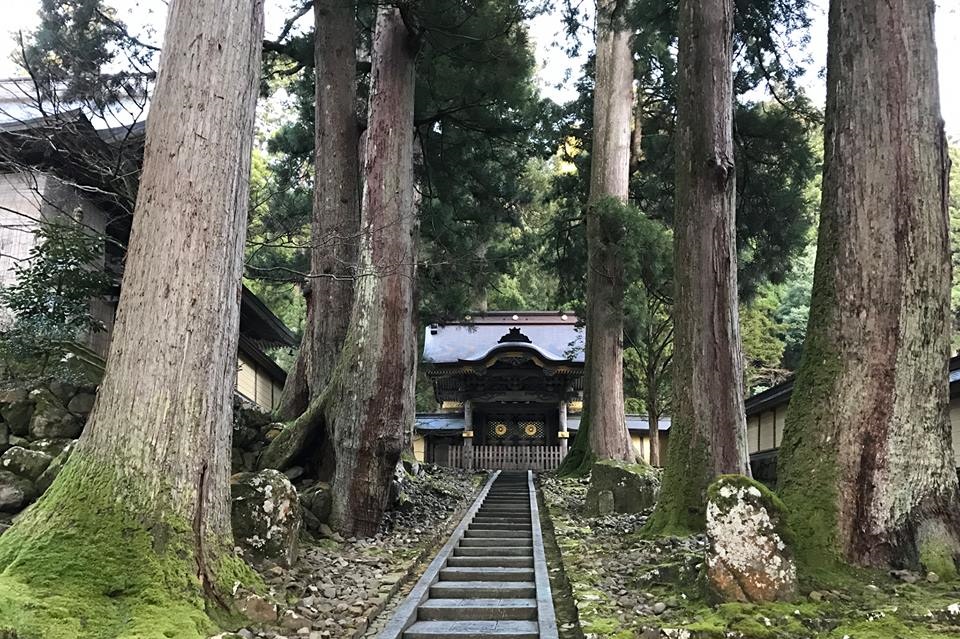 Gallery
Pricing
| Motorcycle | Add Passenger | Option(Reservation required) |
| --- | --- | --- |
| P-3 Add + 0 yen | Tandem Add    +104,300 yen~ | Helmet(Day1) +1,000 yen |
| P-4 Add +17,000 yen | | Helmet(Day 2/and then daily) +200 yen |
| P-5 Add +31,000 yen | | Gloves(Day1) +300 yen |
| P-6 Add +44,000 yen | | Gloves(Day 2/and then daily) +100 yen |
| P-7 Add +62,000 yen | | Touring Net(Day1) +100 yen |
| P-8 Add +80,000 yen | | Touring Net(Day 2/and then daily) +100 yen |
Motorcycles available for this tour

In Japan motorcycles specs can be slightly different from the original ones.
Before sending your tour application form, please check your preferred motorcycle's Japanese spec at this page.
Departing Store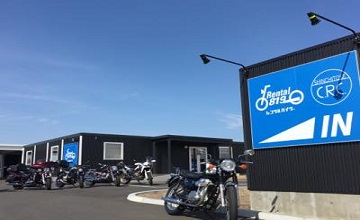 xxxxxxxxxxxxx Store
Address
〒
TEL
Business Hours
Weekdays:
Weekends and Holidays:
Regular Closing Day
Open every day on during the season.
Included in Tour
Vehicle's rental price (with top case and pannier case)

Collision damage waiver

ETC card

4 nights overnight hotel accommodations

Route guide

Tour map

Tour road book

Recommended dining, activities and facilities list
Not Included in Tour
Air ticket

Fuel and toll roads fee

Lunches and dinners

Helmets, gears and other optional accessories