Symbol of Japan's Tour Narita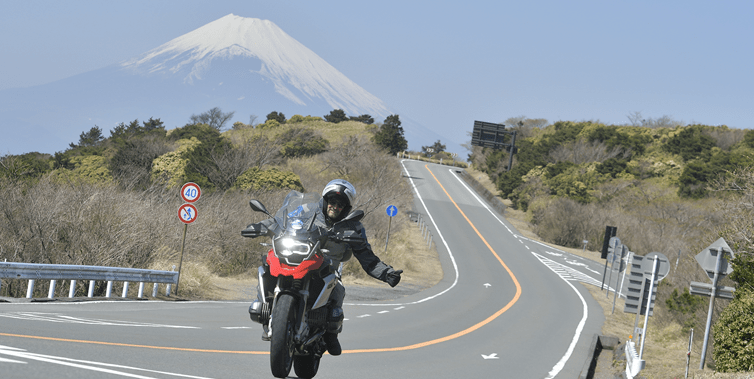 Narita Departure / 5Days/ 4Nights

18A03M01B
The trip of a lifetime. Dogashima's wonderful nature and relaxing hot spring, breathtaking view from the Ashinoko Skyline and Mount Fuji, the symbol of Japan, will be some of the main features included in this iconic motorcycle tour. This tour is specifically made not only to let you enjoy motorcycle touring in Japan, but also some unique pieces of Japanese culture as well. You of course will enjoy classic Japanese pattern like hot spring's relaxing water and made fresh sashimi, but you will also be able to try the uncommon experience of wasabi's harvest on an authentic Japanese wasabi field. You will be also enjoying some of the greatest historic treasures Japan can offer you, like the Owakudani valley or the unique Oshino Hakkai. And then, the road: Izu Skyline's curves, the Kawazu Nanadaru Bridge's astonishing loop and the romantic ocean view on the Bay Bridge.
You will understand the uniqueness of motorcycle touring in the Land of the Rising Sun.
---
Please select departure store.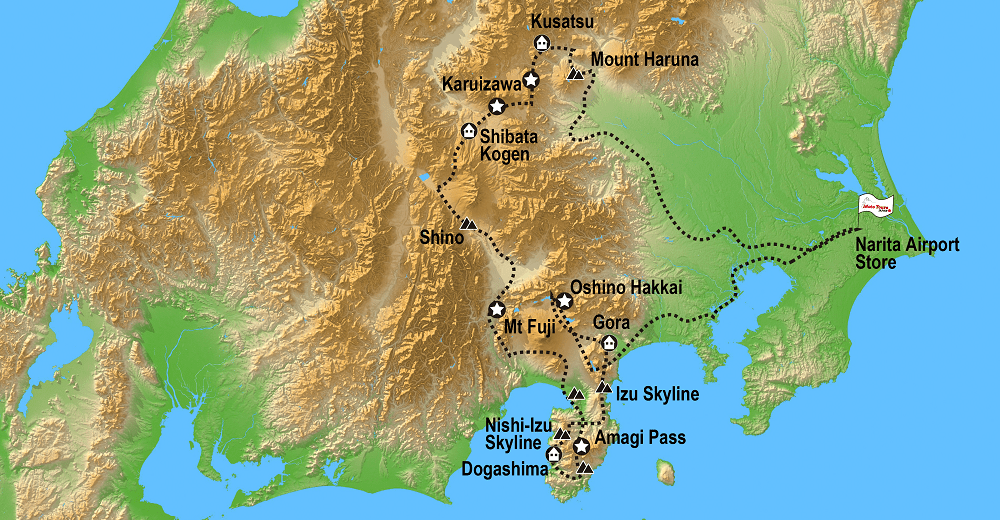 Tour Facts
Schedule

| | |
| --- | --- |
| DAY 1 | Store → Oshino Hakkai → Gora |
| DAY 2 | Owakudani → Nishiizu |
| DAY 3 | Numazu → Fuji |
| DAY 4 | Yatsugatake → Karuizawa → Kusatsu |
| DAY 5 | Nikko → Store |

Days
5 days, 4 nights
Store
Odaiba、Narita International Airport
Meal
4 Breakfasts
Hotel Rank

★★★☆☆

Total distance
1,100km
Riding season
March - June September - October
Difficult

Sightseeing

food

History culture

Tour content
Oshino Hakkai

A small village located in the Fuji Five Lake region. Nearby there are eight ponds of extraordinarily clear water, fed by snow melting down fom Mount Fuji, filtered for more than 80 years through porous layers of lava. Near the largest pond there is Hannoki bayashi Shiryokan, an open air museum displaying old farming tools, weapons and houseold items.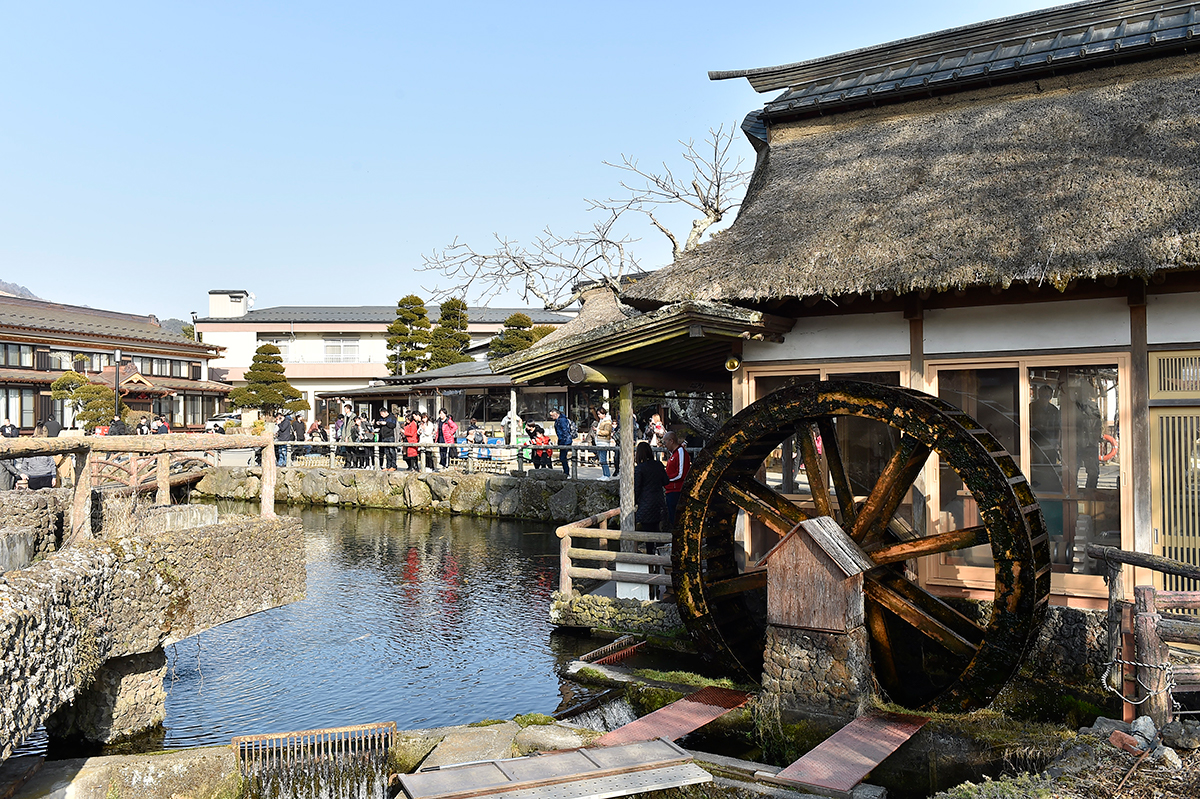 Owakudani

3000 years ago Mount hakone erupted the last time, creating this active volcanic zone valley, full of hot springs, hot rivers and suggestive sulfurous fumes. The valley has a visitor center full of shops and restaurants reachable via Hakone Ropeway, which gives one of the most suggestive views of the valley's sulfurous fumes. From this area, on clear days, Mount Fuji's view can be enjoyed in all is glory.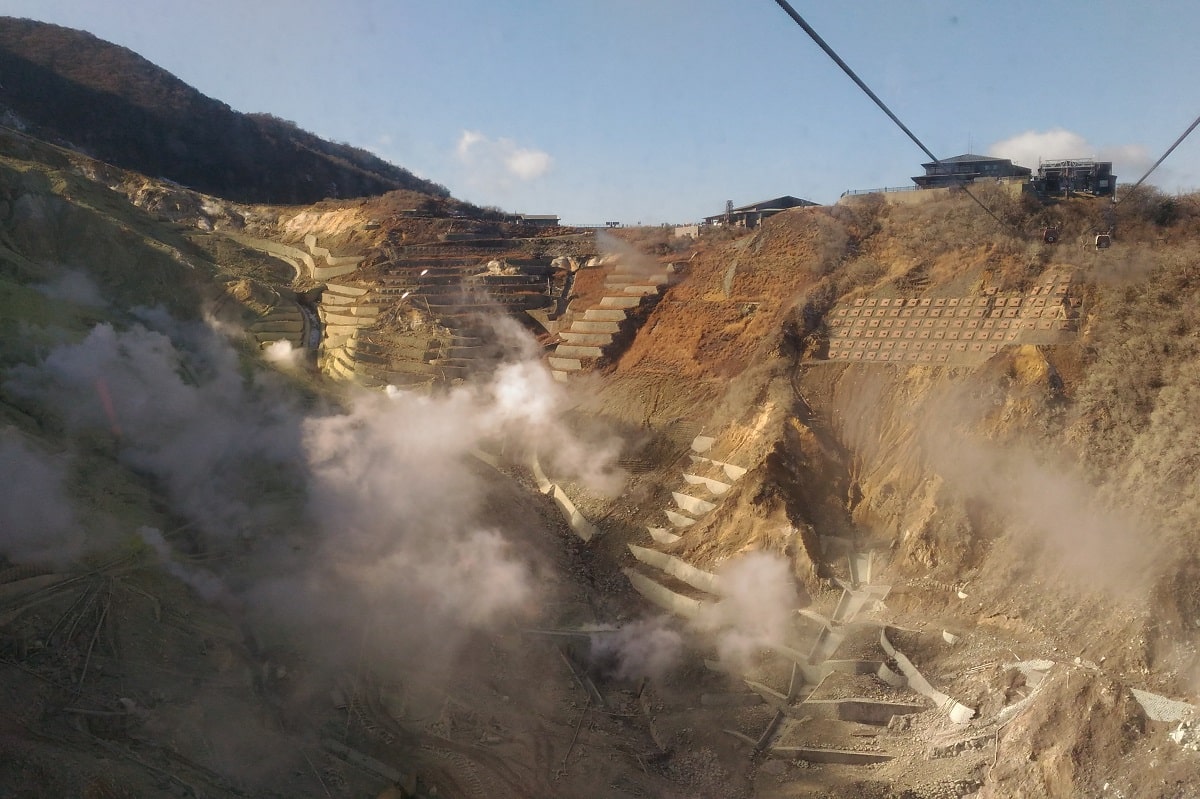 Mount Fuji

Japan's tallest peak and well recognized official symbol of this country, Mount Fuji is an active volcano about 100 km from the capital city. Being a stratovolcano, Mount Fuji is well recognized for its defined and iconic profile, picted in several works of art during centuries.
Included between Japan's 3 sacred mountains, inspiration of artists and ooets, UNESCO officially recognized it as a World Heritage.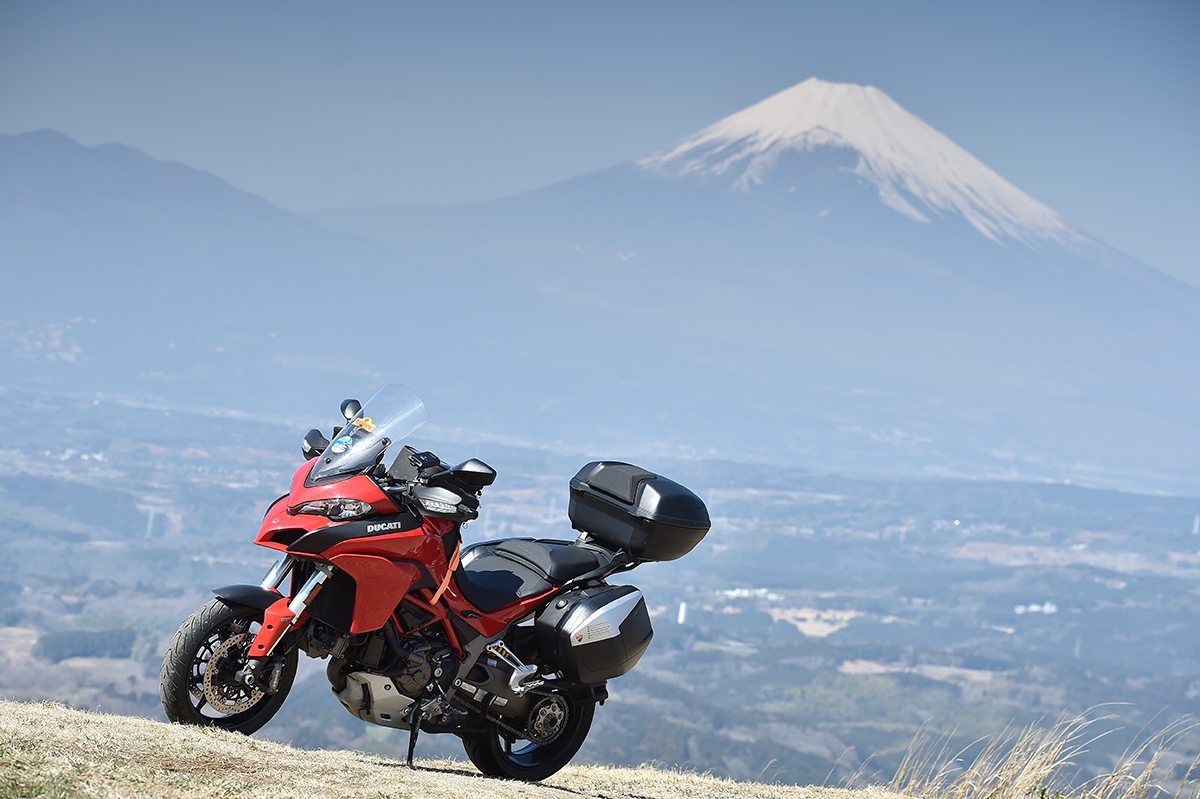 Nishi-Izu

Nishi-Izu Skyline is one of the most popular riding roads in Japan. It is a mountain road starting from Daruma Mountain to Funabara Pass. First project was held in 1968, completed in 2004 year for a present total lenght of 10 km and a maximum heght point of 900 m. Born as a tool road, from its latest modification in 2004, this road is now free.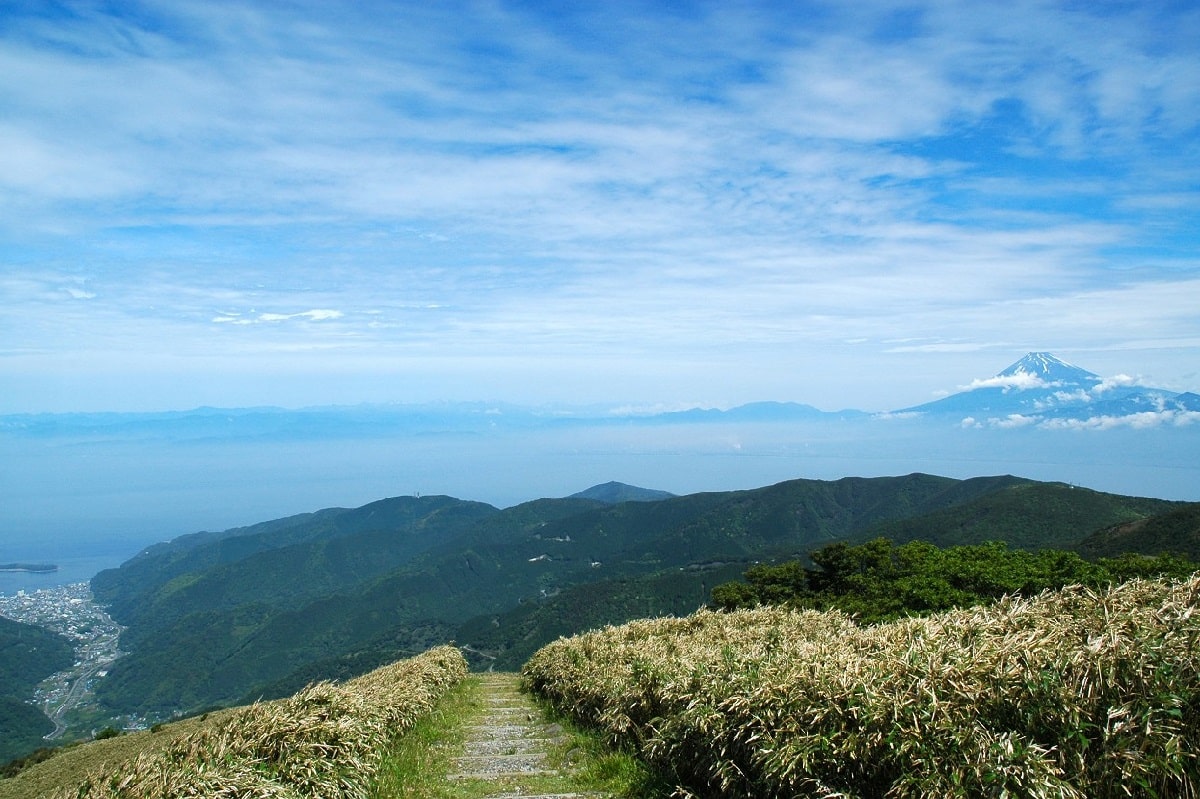 Numazu

Located in Shizuoka, Numazu is a port city most known as a trip location area mainly its numerous hot springs and the extremely big fish market, where can be bought, or even eaten directly in loco, a wide variety of fishes and other seafood.
One of the main features of this unique place is the exceptional view of the Mount Fuji on the port area on sunny days with the bright blue sea.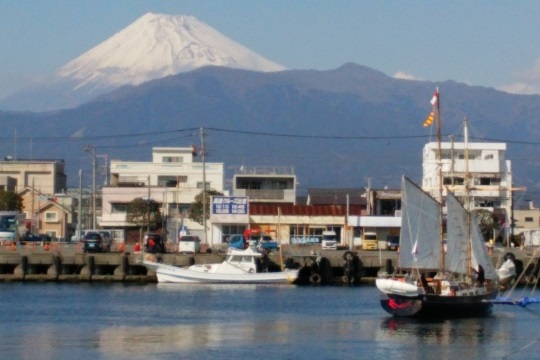 Yatsugatake Mountain Range

Located in Nagano and Yamanashi prefecture Yatsugatake Volcanic Mountain Range encloses the strength of a massive mountain view combined with a relaxating countryside atmosphere.
With its 2,899 meters above the sea altitude, it is a popular riding and hiking spot.
These mountains astonishing beauty, with the contribute of several local legends, make this mountain range Mount Fuji's actual rival.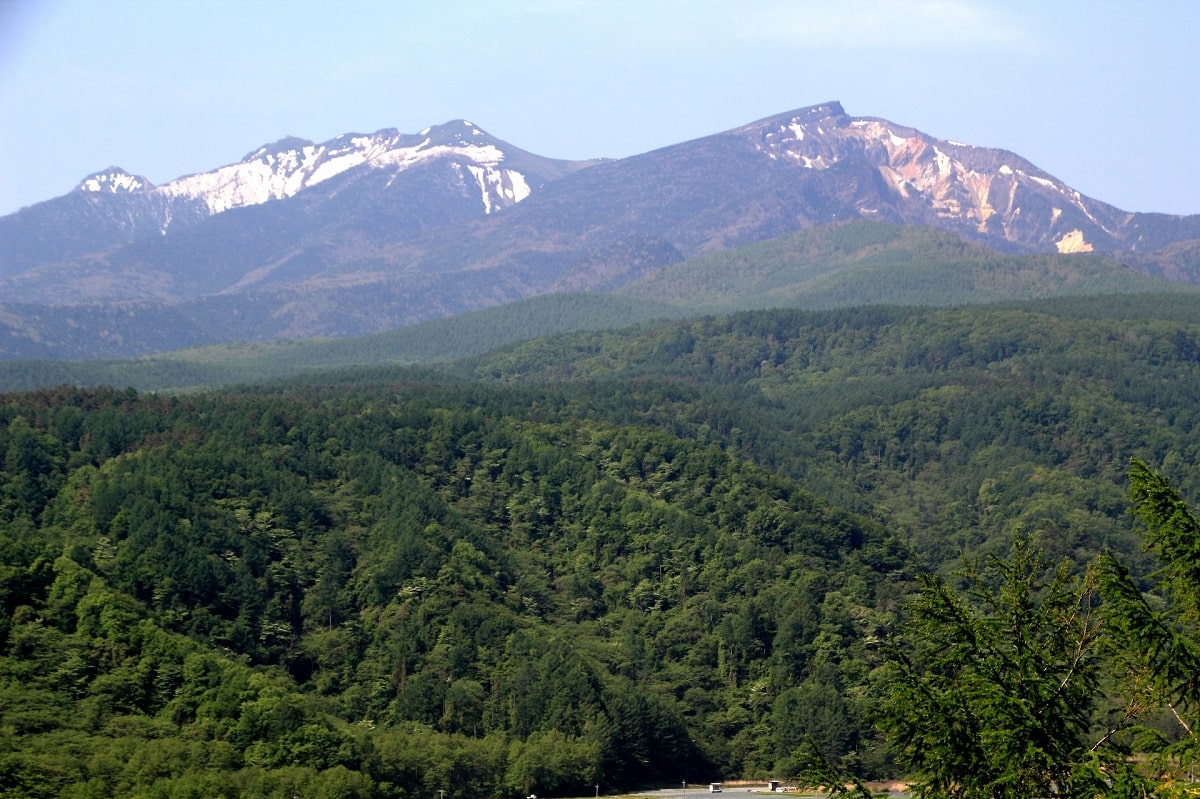 Kusatsu

Located in Gunma Prefecture, it is the third most popular hot spring area in Japan. Located at a 1200 meters above sea altitude, it is also a mountainous popular skiing area in winter and hiking spot during warm season.
The nearby peak of Mount Kusatsu-Shirane is the source of its hot waters, which, local people use to claim, can cure all form of pain except love pains.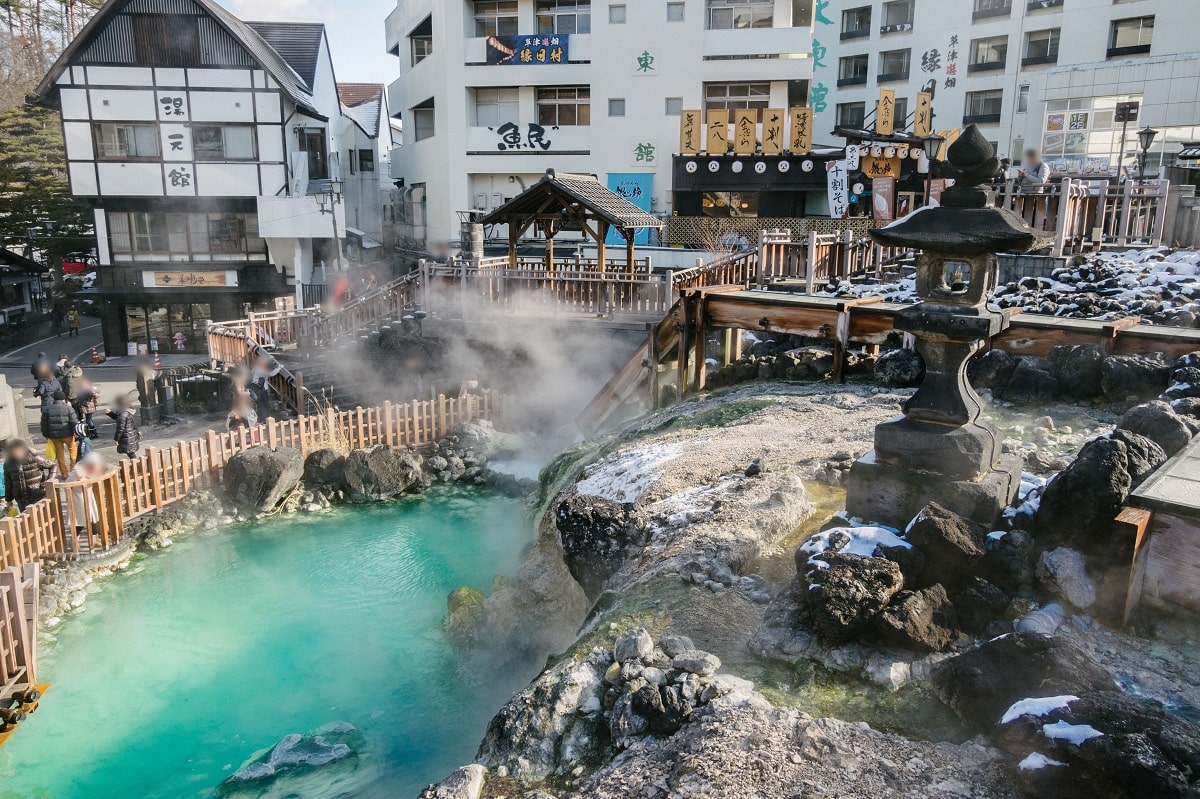 Nikko Toshogu

Mausoleum of the iconic figure of Tokugawa Yeyasu, the present luxurious complex was constructed during the mid 1600s, by enlarging the original, more simple tomb. The complex, registered as World Heritage site in 1999, consists of more than a dozen of buildings, built in both Shinto and Buddhist style. The main buildings of this massive complex are the Yomeinmon gates, one of the entrance gate, National Treasure and considered one of the most beautiful gates in the country, the Gojunoto, the Five-Story Pagoda, the Sanjiko, the Sacred Storehouses, the Kairo corridor, National Treasure, and the main buildings, but the complex has a lot more to offer.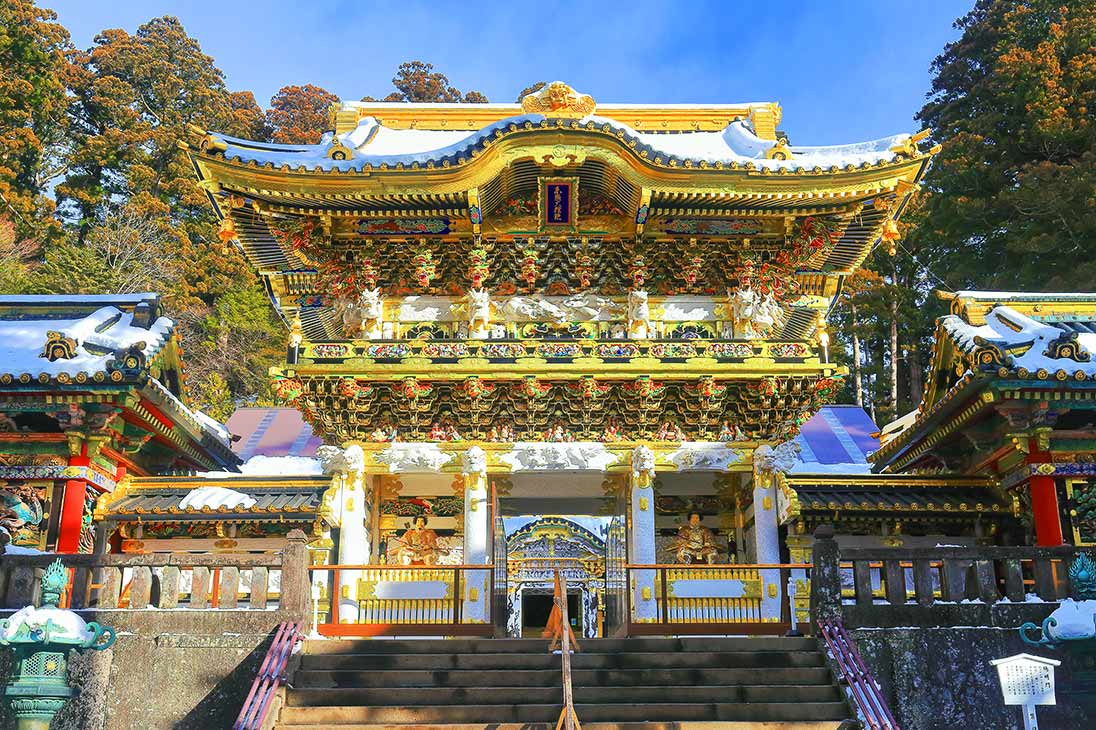 Gallery
Pricing
| Motorcycle | Add Passenger | Option(Reservation required) |
| --- | --- | --- |
| P-3 Add + 0 yen | Tandem Add    +146,300 yen~ | Helmet(Day1) +1,000 yen |
| P-4 Add +19,000 yen | Accommodation | Helmet(Day 2/and then daily) +200 yen |
| P-5 Add +34,000 yen | pre-tour stay arrangement   +10,000 yen~ | Gloves(Day1) +300 yen |
| P-6 Add +46,000 yen | after-tour stay arrangement   +10,000 yen~ | Gloves(Day 2/and then daily) +100 yen |
| P-7 Add +61,000 yen | Single room +49,000 yen~ | Touring Net(Day1) +100 yen |
| P-8 Add +80,000 yen | | Touring Net(Day 2/and then daily) +100 yen |
| | | Pannier case +3,500 yen |
Motorcycles available for this tour

In Japan motorcycles specs can be slightly different from the original ones.
Before sending your tour application form, please check your preferred motorcycle's Japanese spec at this page.
Departing Store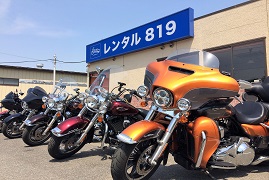 Narita International Airport Store
Address
〒287-0222
747-1 Maebayashi, Narita City, Chiba
TEL
0476-36-8819
Business Hours
Weekdays:10:00~19:00
Weekends and Holidays:10:00~19:00
Regular Closing Day
Open every day on during the season.
Included in Tour
Vehicle's rental price (with top case)

Collision damage waiver

ETC card

4 nights overnight hotel accommodations

Route guide

Tour map

Tour road book

Recommended dining, activities and facilities list
Not Included in Tour
Air ticket

Fuel and toll roads fee

Lunches and dinners

Helmets, gears and other optional accessories

Pannier case