Ride The Dragon Route Tour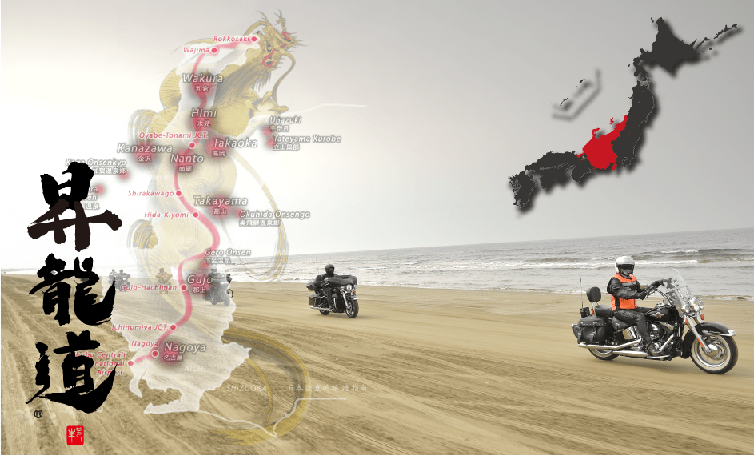 Chubu International Airport Departure / 7 Days/ 6 Nights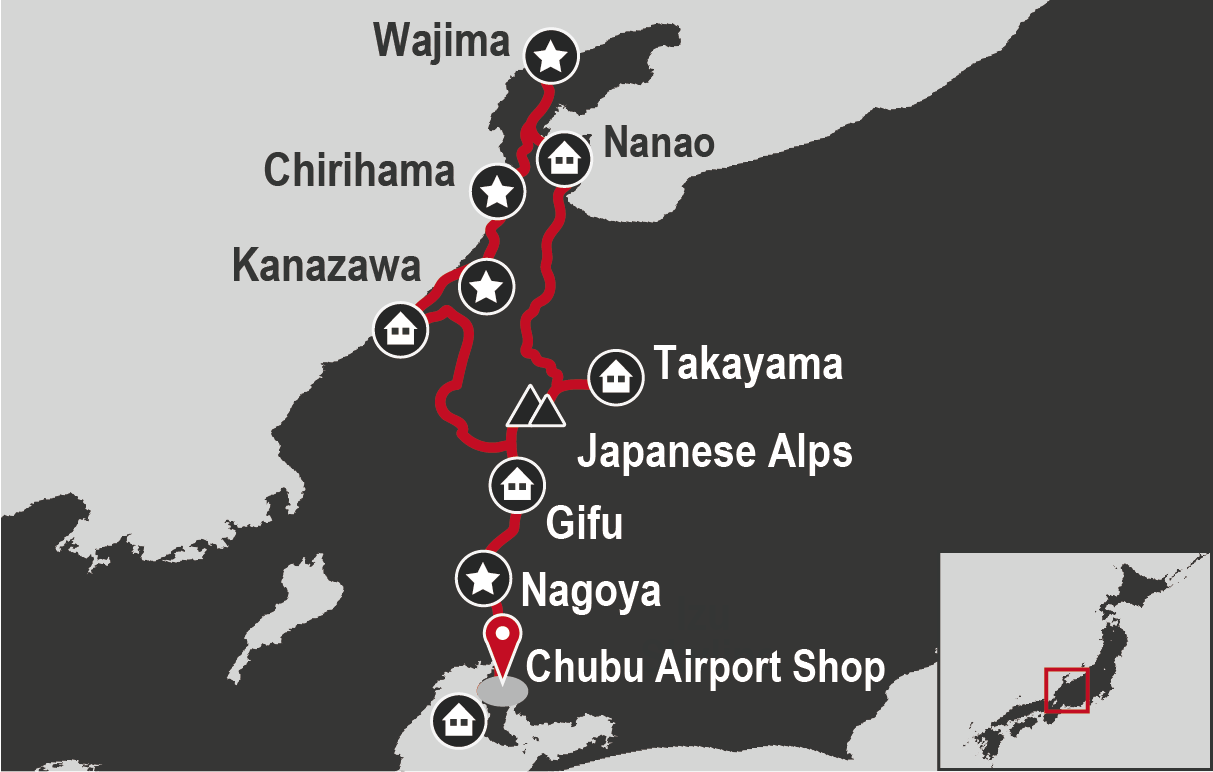 Can you imagine? Riding through Japan on a rising dragon shaped road, passing through several of the most fascinating places in all Japan.
The world heritage Shirakawa-go and its steep thatched roofs, resembling the hands of a Buddhist monk in pray.
The gorgeous Noto Peninsula, stage of the legendary Genpei War, with its gorgeous coastal scenery and the luxurious Wakura Onsen.
And then, the dream road no one can ever imagine: Chirihama! The only one riding beach in all Japan! Going on the motorcycle of your dreams, enjoying the energizing sensation of the bright blue see at less than one foot from your tire. A unique riding experience you will never forget!
2020 Tour schedule


Please choose your preferred departing schedule.

This is a guide tour which will give you the possibility to enjoy Japan in total security with a tour guide and a support van accompaining you.

*Be aware that in case the minimum number of passengers is not reached, the tour may be canceled.
Tour Facts
Schedule

| | |
| --- | --- |
| DAY 0 | Briefing Day |
| DAY 1 | Nagoya → Atsuta Shrine → Gifu |
| DAY 2 | Gujo Hachiman → Nata Temple → Motor Museum |
| DAY 3 | Kenrokuen → Chirihama→ Senmaida |
| DAY 4 | Mitsukejima → Noto peninsula |
| DAY 5 | Kanayamachi → Shirakawa-go → Takayama |
| DAY 6 | Gujo-Hachiman → Store |

Days
6 days, 5 nights
Store
Chubu International Airport
Hotel Rank

★★★☆☆

Total Distance
1,163 km
Difficult

Sightseeing

food

History culture

Tour content
Briefing and Welcome Party

On the day before our departure, our tour guides will hold a brief meeting time to let you enjoy your tour in Japan in with security and fun. They will explain you Japan's riding rulse, peculiarity, Japanese culture and of course your tour schedule in detail.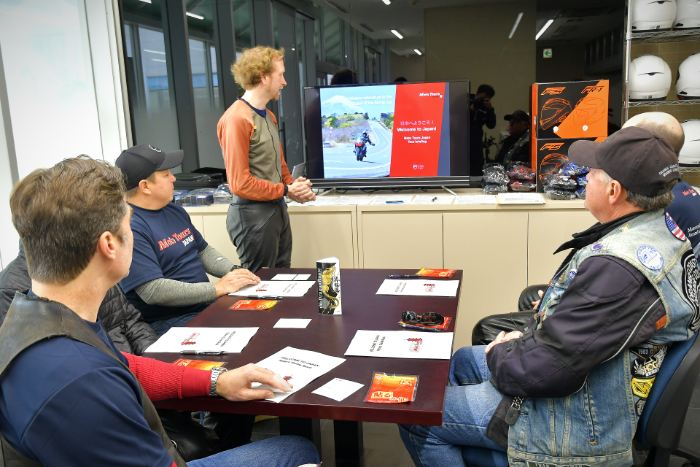 Nagoya

Cpital city of Aichi Prefecture, Nagoya developed as the castle town of the Owari, one of the three branches of the ruling Tokugawa family during the Edo Period.
One of the main points of this city is with no doubt the legendary Castle、built in the beginning of the Edo Period as the seat of one of the three branches of the ruling Tokugawa family, the Owari branch.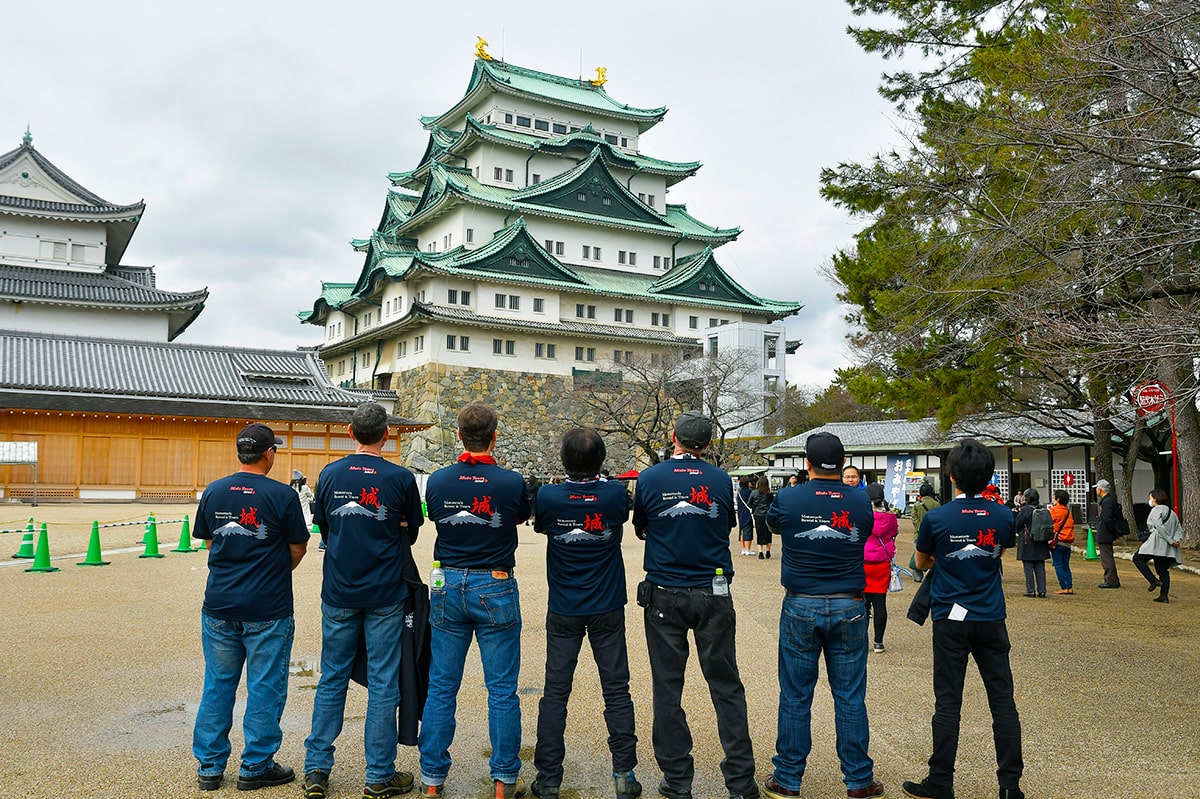 Gifu

Gifu is a large, landlocked prefecture in the center of Honshu in Chubu region. THis perfecture's most notable and famous attractions are Takayama, a beautiful town in the mountains, and Shirakawa-go, a collection of small villages even deeper in the mountains. The prefectural capital Gifu City is famous for cormorant fishing, a traditional fishing method that uses trained cormorants to catch river fish, has been practiced along Nagaragawa River, Gifu's iconic river, for over 1300 years.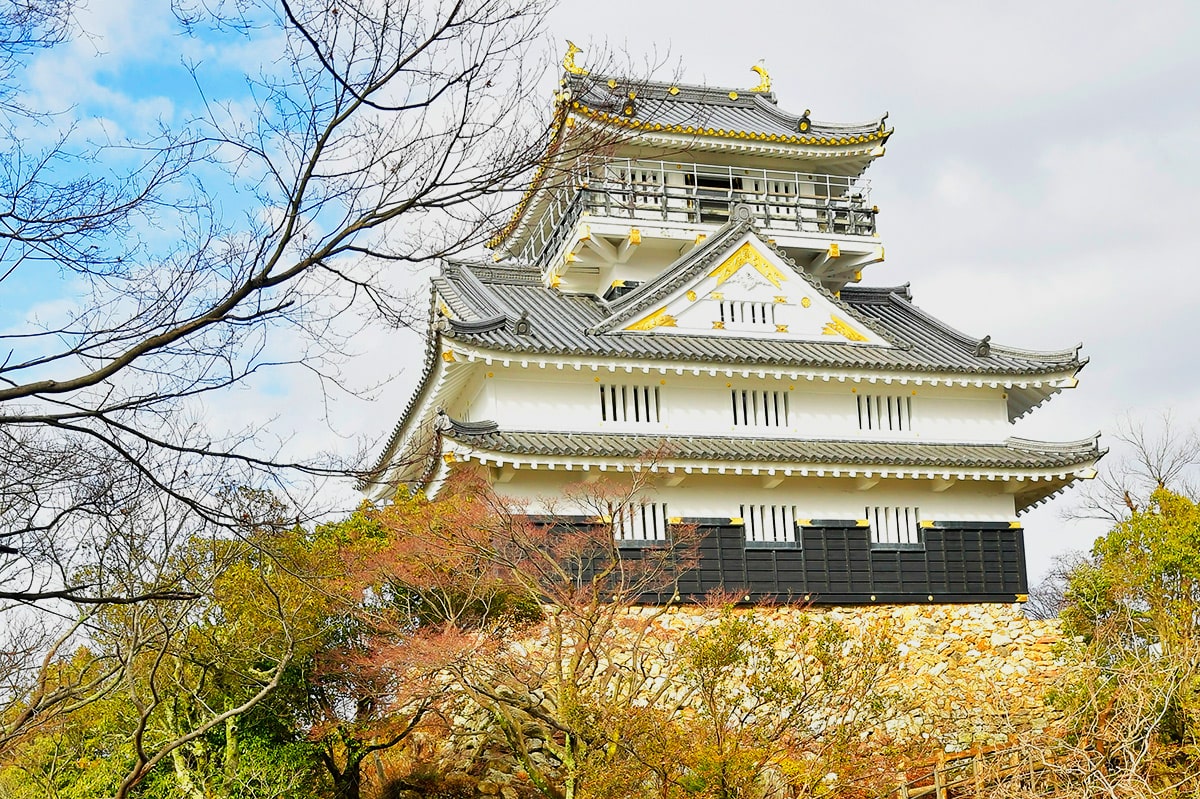 Natadera

The large temple grounds feature multiple buildings, a pond garden and a characteristic rock face with handcut meditation caves and steps carved into the cliffside. The temple was founded in 717 by a Buddhist monk who visited nearby Mount Hakusan in search of a goddess believed to reside there. After realizing that the goddess was Kannon, the Buddhist goddess of mercy and compassion, the monk carved a woden image of Kannon, which together with Mount Hakusan remains Natadera's main object of worship today.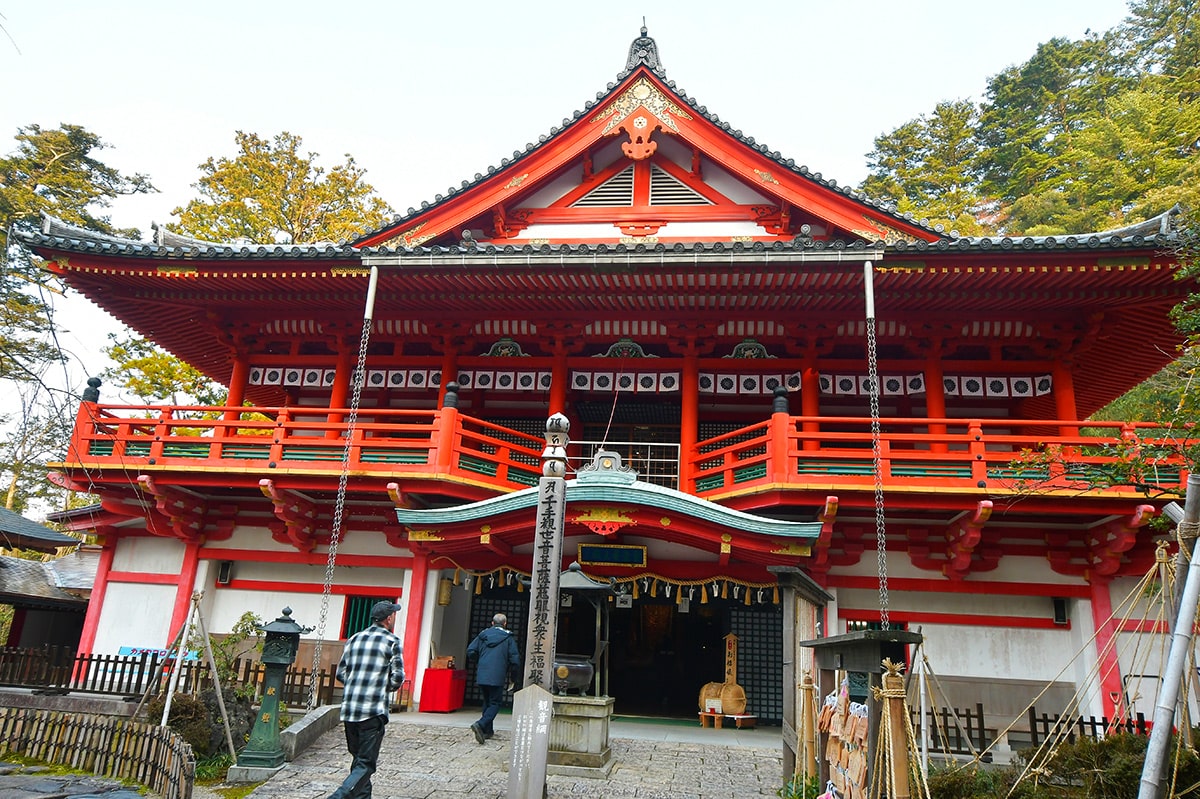 Motorcar Museum of Japan

Established in 1978 by Shoso Maeda, popular enterpreneur, with the aim to display his personal collection of cars, this musem is based on the concept of "preserve the wisdom of pioneers for the future generations". In this museum there are historically iconic Japan's comercial vehicles and ordinary vehicles showing the autheticity of the ordinary life Japan in the last years.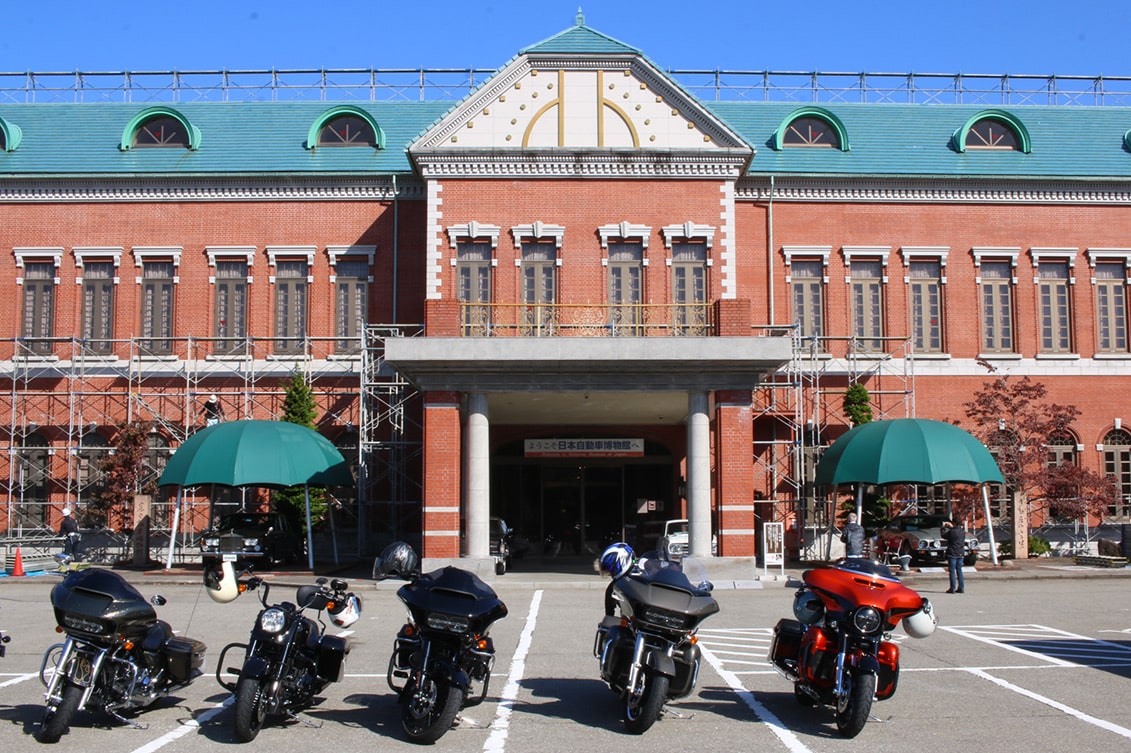 Chirihama

An eight kilometer stretch of beach along the Sea of Japan that is open to private
vehicles, allowing people to take a short ride right along the water's edge. Traffic
runs in both directions, and there is no charge for driving on the beach.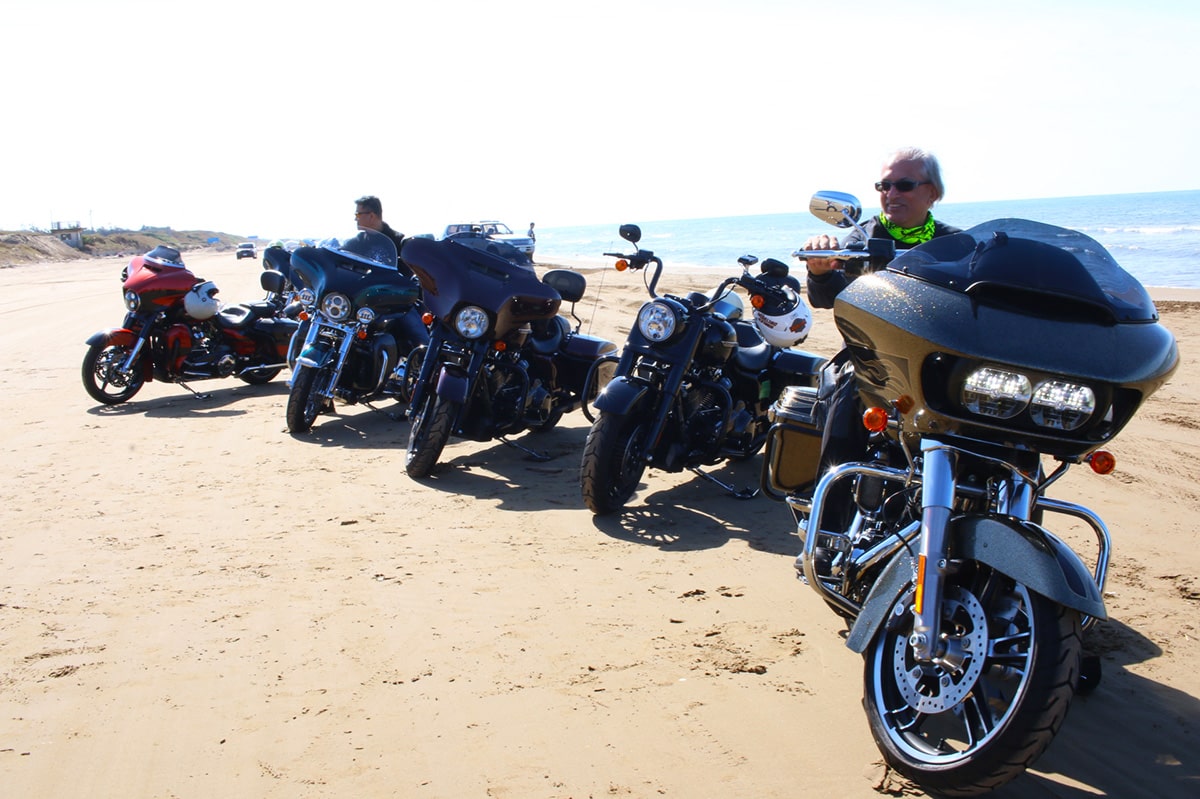 Kenrokuen

Kenrokuen, which is justifiably classified as one ofJapan's "three most beautiful landscape gardens". The spacious grounds used to be the outer garden of Kanazawa Castle and were constructed by the ruling Maeda family over a period of nearly two centuries. Opened to the public in 1871, Kenrokuen features a variety of flowering trees which provide the garden with a differen look for each season.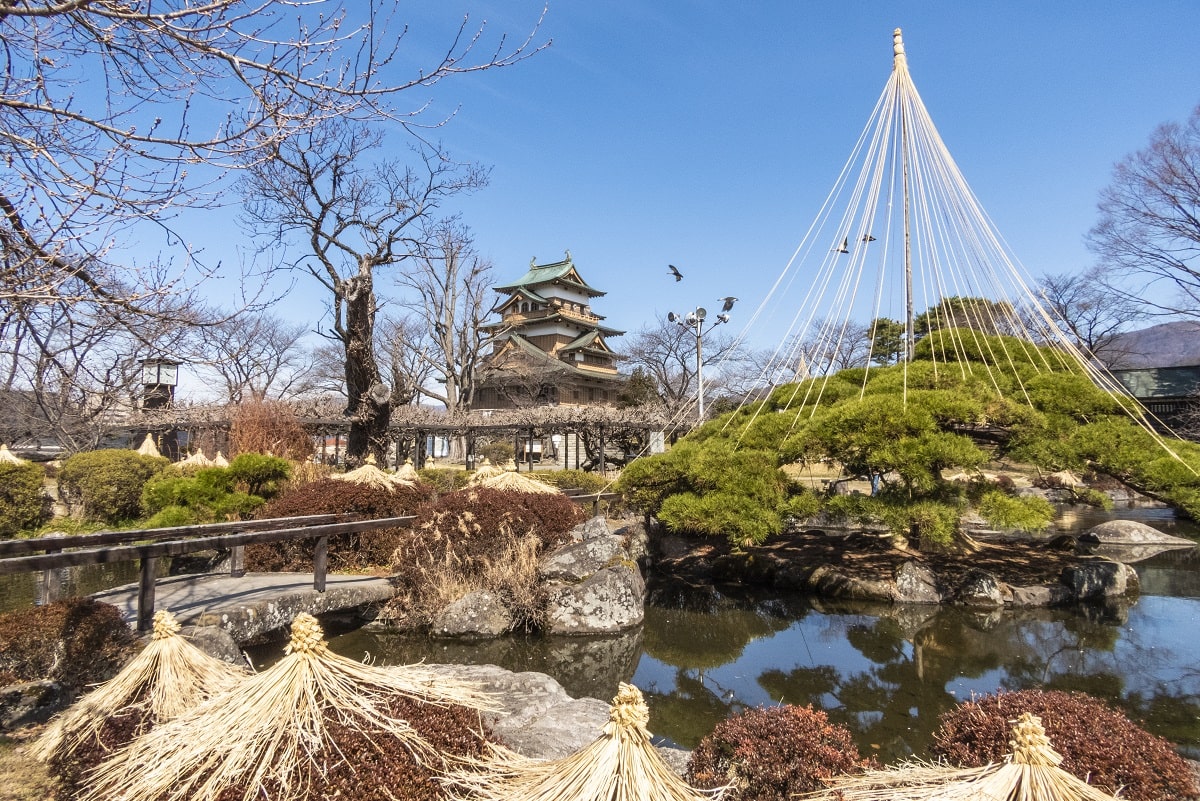 Mitsukejima

Located in Ishikawa Prefecture, next to Noto Puninsula, it is also known as Gunkanjima, which means "battleship Island" due to its peculiar form. Its silhouette can be seen from Suzu coast, constituting a moving beautiful sightseeing, which made this little island the symbol of noto peninsula.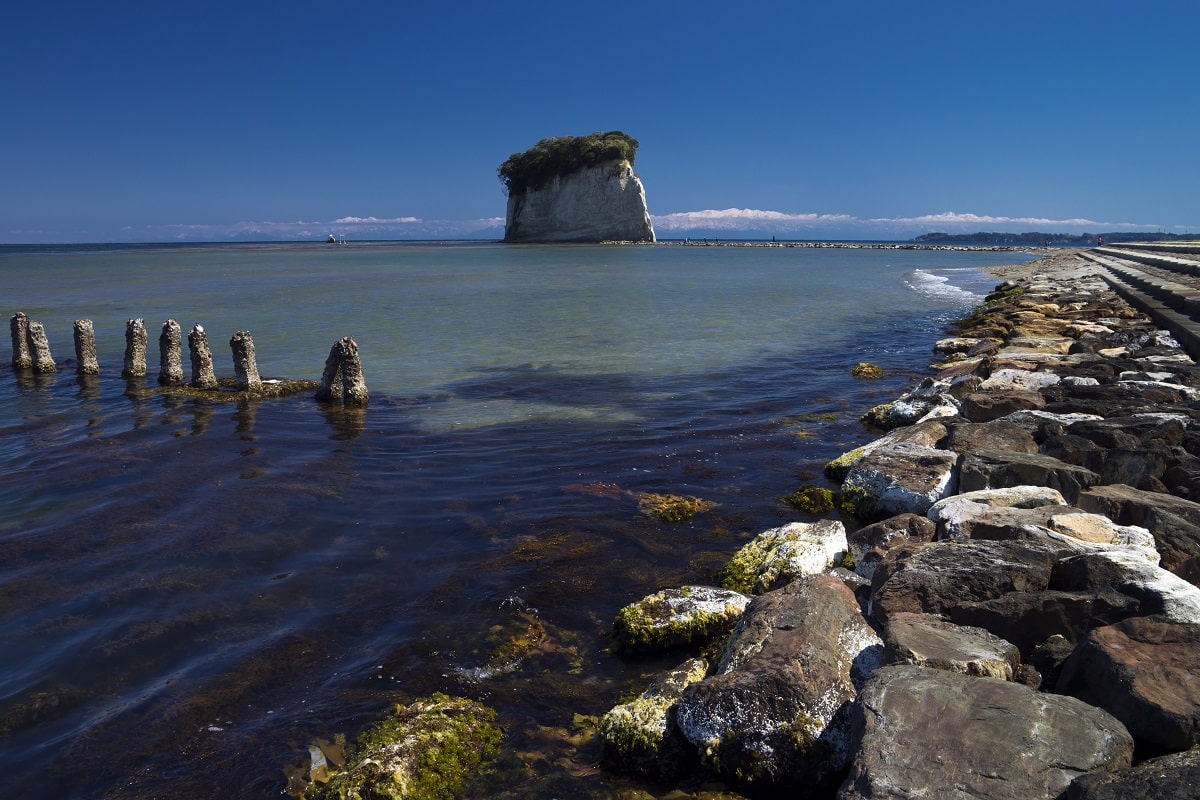 Japanese Alps

A series of mountain ranges named by archaeologist William Gowland,

encompassing Hida Mountains, Kiso Mountains and Akaishi Mountains. Highest

peaks are Mount Hotaka (3,190 m) and Mount Kita (3,193 m).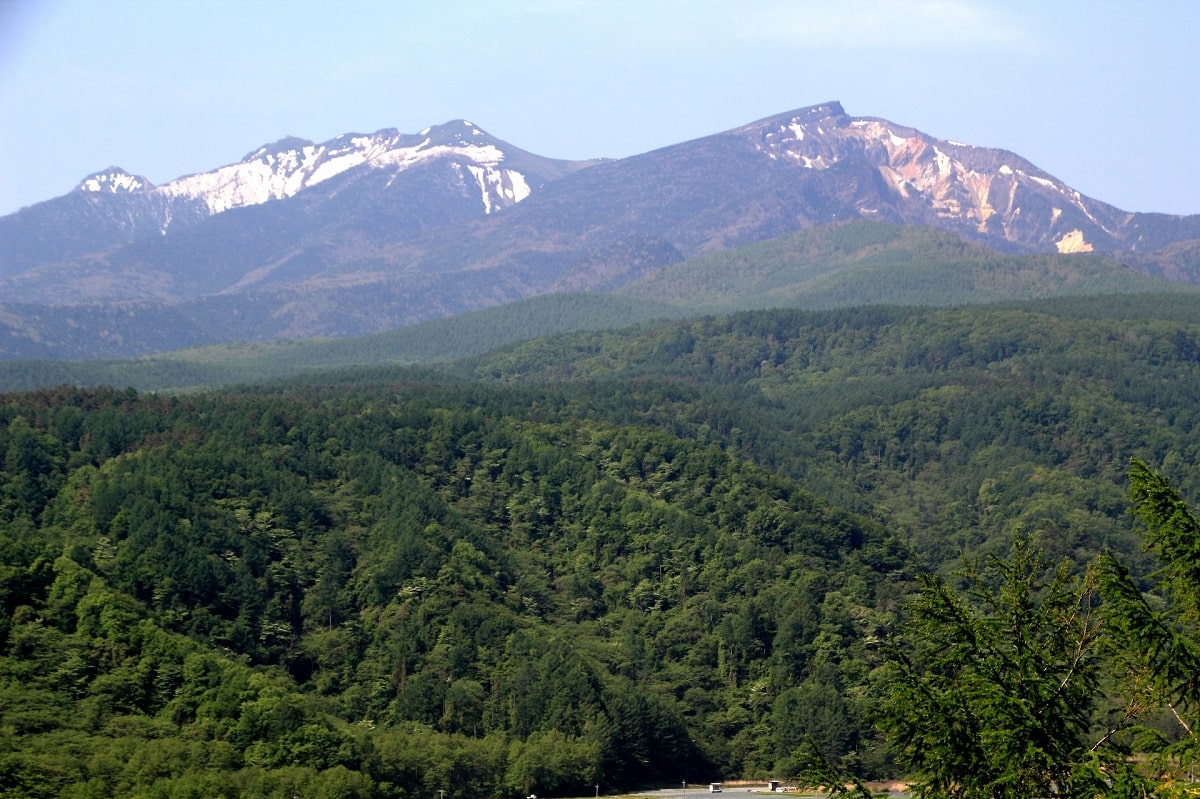 Shirakawa-go

UNESCO world heritage since 1995, it is one of the most popular architectural site in Japan as a wonderful example of gassho-zukuri, an architectural style whose name means "constructed like hands in prayer", as the farmhouses' steep thatched roofs resemble the hands of Buddhist monks pressed together in prayer.
The architectural style developed over many generations and is designed to withstand the large amounts of heavy snow that falls in the region during winter.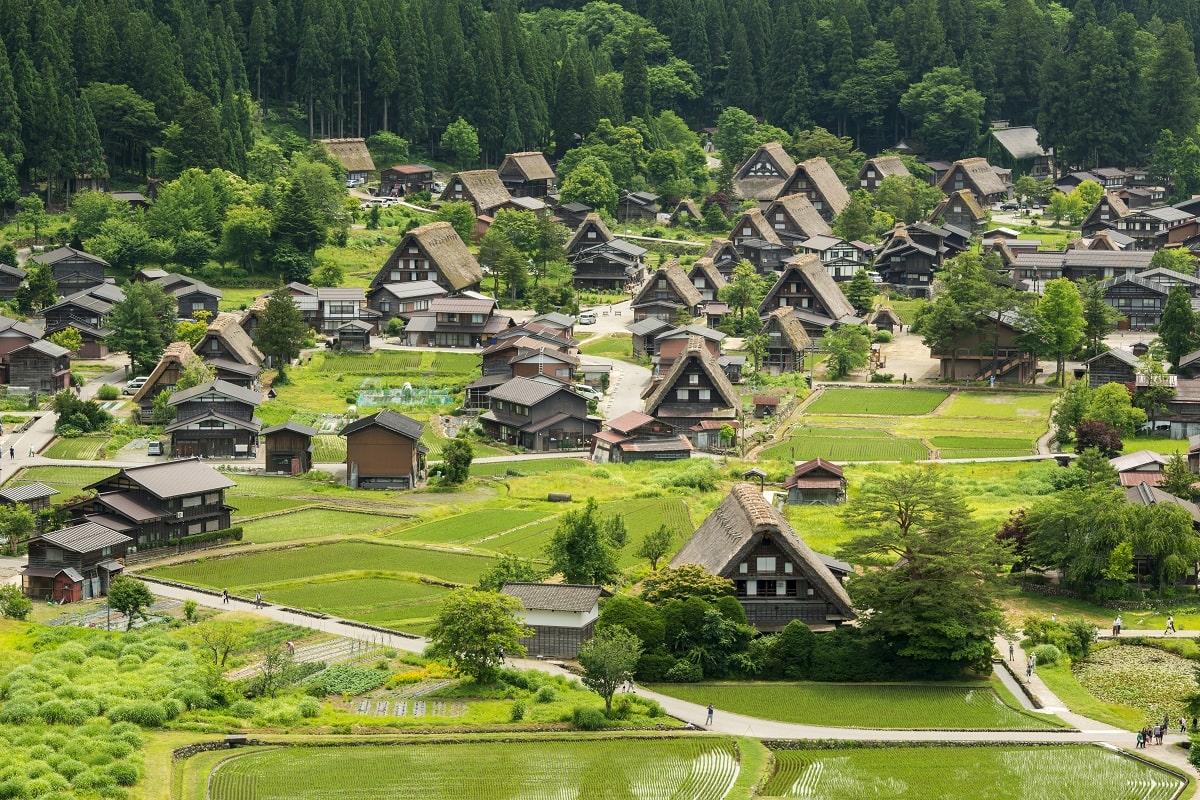 Takayama

Takayama, located in Gifu prefecture, is notable for the perfect conditions of the Edo period ancient part of the city, where are still present ancient private houses, restaurants and sake brewery still working, which contribute in creating a gorgeous nostalgic atmosphere.
Intresting is the Kusakabe Mingeikan (one of the most ancient building in Takayama) and the Takayama Hachimangu Shrine.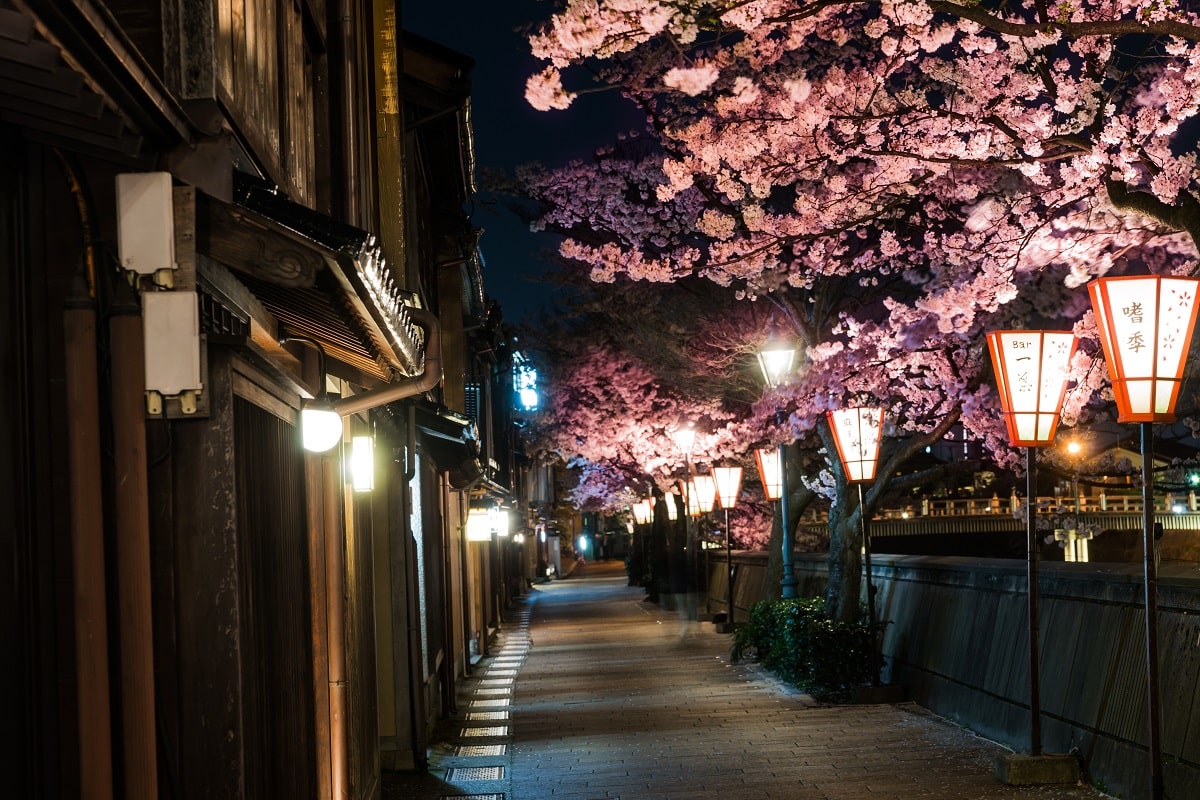 Gujō Hachiman

Gujō Hachiman is a small, riverside town in Gifu Prefecture, known for its pristine waterways and its distinctive summer dance festival. The town was founded in the 16th century following the construction of Hachiman Castle.Best known for its summer dance festival and its historic waterways, the town has many small museums and galleries, as well as temples and shrines, including Jionzenji Temple with its beautiful Zen garden, which earn Gujo Hachiman its "Little Kyoto" nickname.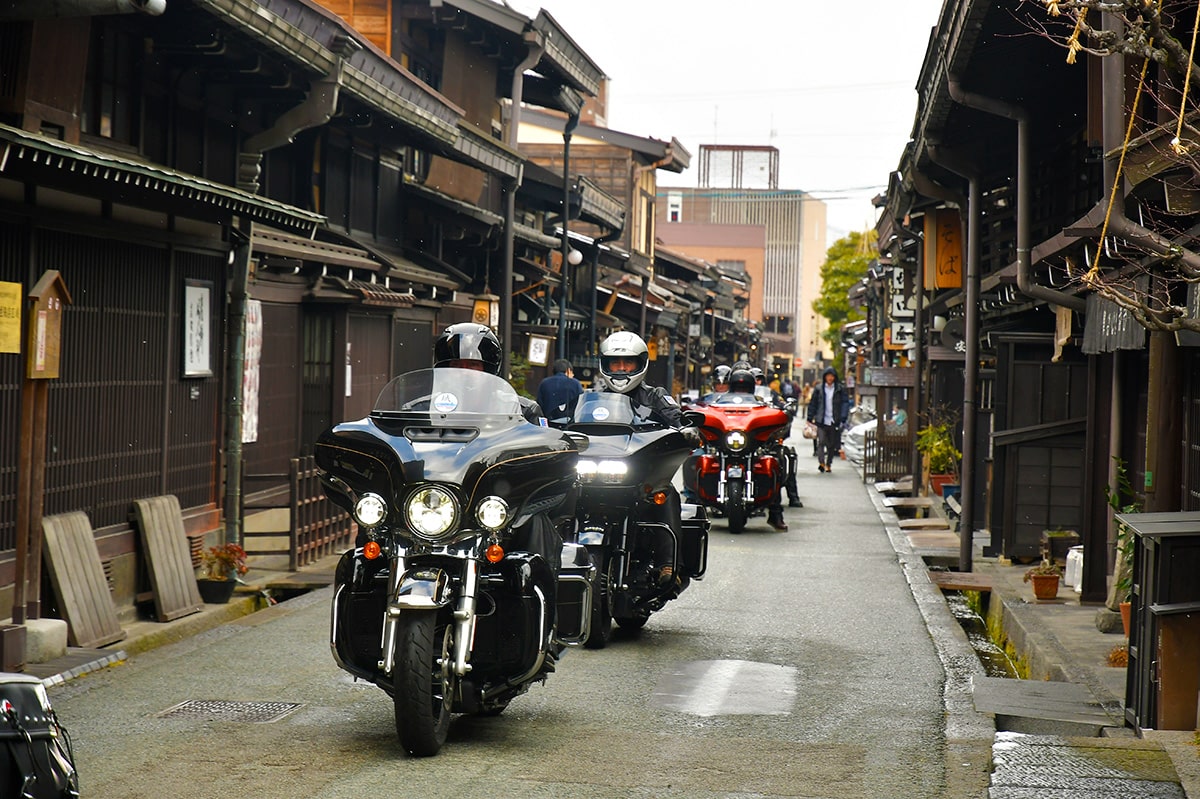 Seki-city Katana Museum

Seki-city of Japan is highly regarded as "the world's third largest cutlery producing area".History of "Seki no Hamono" dates back to the time when swordsmith moved in Seki and started making swords in Muromachi period. Since then Seki has been supporting the Japanese swords industry for over 700 years. Today, its products made with tradition and modern technology range from kitchen knife to scissors, razor, nail clipper and many items. Seki brand is now highly evaluated from many directions as a cutting tool producing area exporting to the world.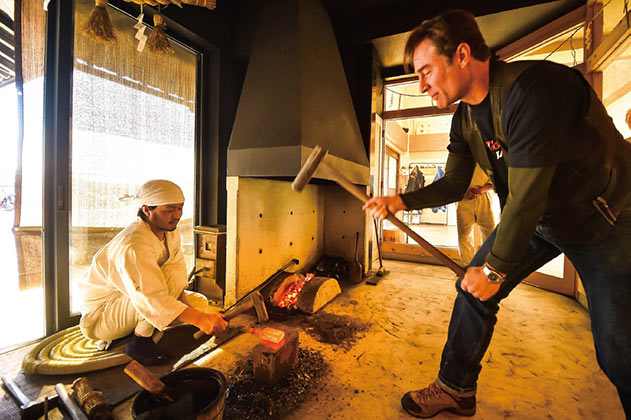 Gallery
Pricing
| Motorcycle | Add Passenger | Option(Reservation required) |
| --- | --- | --- |
| P-3 Add + 0 yen | Tandem Add    +104,300 yen~ | Helmet(Day1) +1,000 yen |
| P-4 Add +17,000 yen | | Helmet(Day 2/and then daily) +200 yen |
| P-5 Add +31,000 yen | | Gloves(Day1) +300 yen |
| P-6 Add +44,000 yen | | Gloves(Day 2/and then daily) +100 yen |
| P-7 Add +62,000 yen | | Touring Net(Day1) +100 yen |
| P-8 Add +80,000 yen | | Touring Net(Day 2/and then daily) +100 yen |
Motorcycles available for this tour
Departing Store
Chubu International Airport Store
Address
〒479-0882
3-2-8 Rinku-cho, Tokoname City, Aichi
TEL
0569-89-9078
Business Hours
Weekdays:9:00~18:00
Weekends and Holidays:9:00~18:00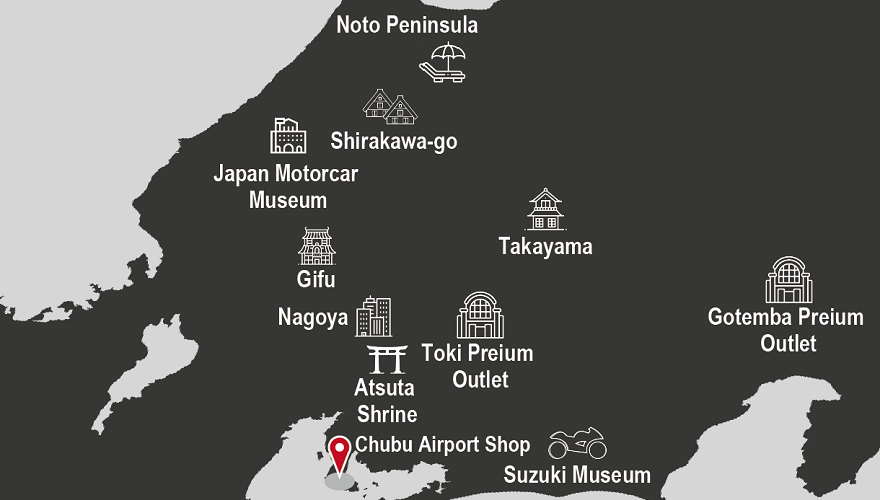 Airport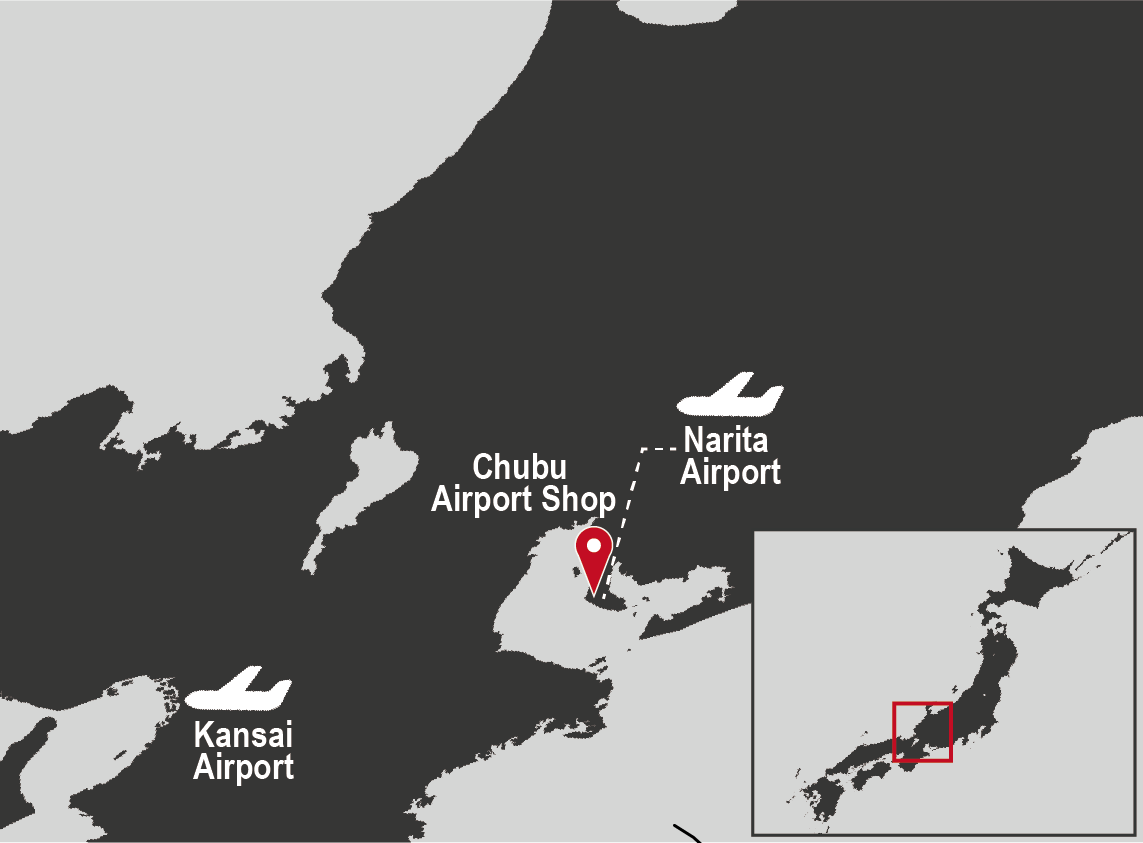 Chubu International Airport
Classified as a first class airport and is the main international gateway for Chubu ("central") region, it is an international airport on an artificial island 35 km south of Nagoya. 10.2 million people used the airport in 2015.


Kansai Airport
An international airport located on an artificial island in the middle of Osaka Bay off Honshu shore, it is the international gateway for Japan's Kansai region, which contains the major cities of Kyoto, Kobe, and Osaka.
Included in Tour
Guide on motorcycle

Support Van

Vehicle's rental price (with top case and pannier case)

Collision damage waiver

ETC fee

ETC card

6 nights overnight hotel accommodations

6 breakfasts/6 dinners

Route guide

Tour map

Tour road book
Not Included in Tour
Air ticket

Lunches

Helmets, gears and other optional accessories

Gasoline
Regarding the payment
No need for deposit payment until 30 days before the tour.

Please pay the whole tour fee until 30 days before tour's start.

In case of bookings within 30 days before tour's start, payment is required at the time of the booking.

THe payment shall be done by credit card.

There is nosecurity deposit fee.

In case of cancellation of the booking, our cancel policy will apply.

Any change on tour contents will comport a handling charge.