Shikoku Self Tour
Japan's Last Treasure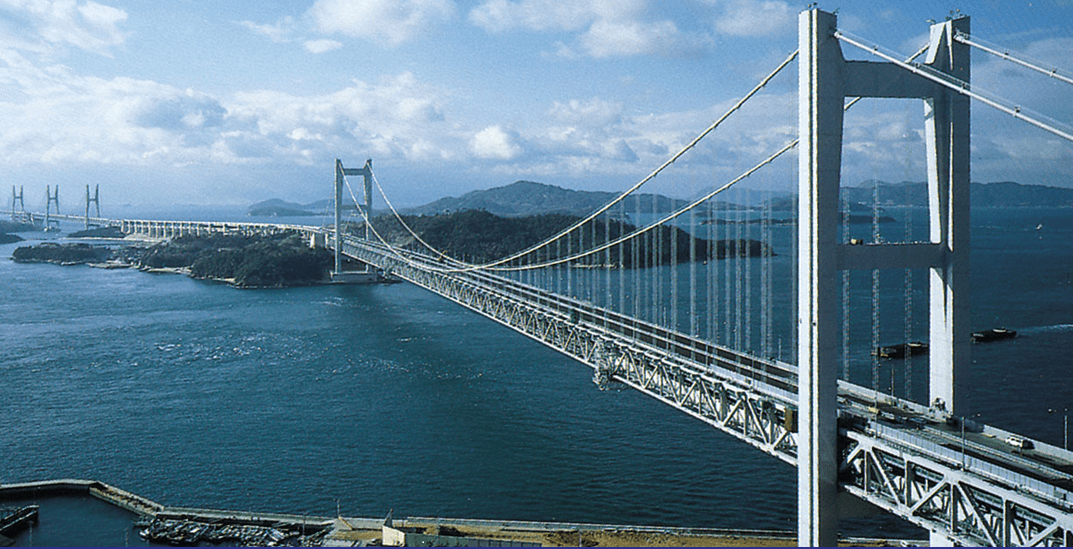 Osaka Departure /5Days/ 4Nights

18A09M01A
A rare gem still unknown to most of international tourism, a syncretism of the most ancient and untouched tradition, embodied by the beautiful Matsuyama Castle and the Naoshima beach, united with a unique flow of modern art and culture.
You will reach all these beauties riding on astonishing coast ride right next to the sea. Shikoku's sea is not quiet, as it is the Naruto's area: the strait full of sea vortex whose beauty is as astonishing as it is dangerous.
The sea, the culture, heart moving coast riding, coordinated with one of the best seafood in the country, are the main features of this rare and heart moving tour. A riding experience you will keep in your heart forever.
---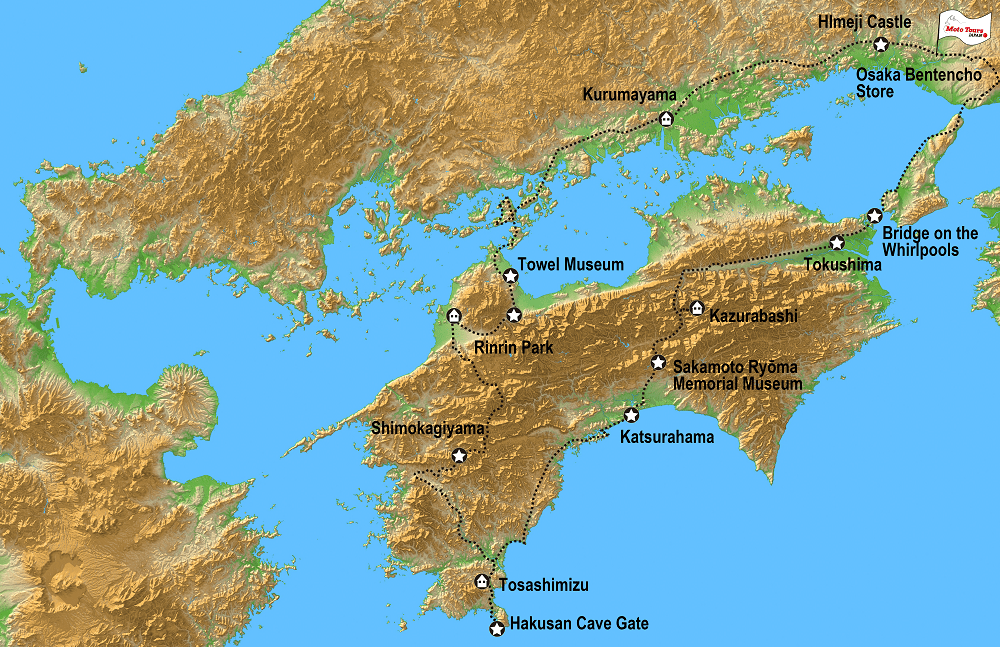 Tour Facts
Schedule

| | |
| --- | --- |
| DAY 1 | Store → Himeji Castle→ Kibi |
| DAY 2 | Setouchi Chaya Omishima → Towel Museum → Rinrin Park |
| DAY 3 | Matsuyama Castle → Iwamachinkabashi |
| DAY 4 | Hakusan-Domon → Katsurahama Beach → Sakamoto Ryōma Memorial Museum |
| DAY 5 | Kazura Bridge → Uzunomichi |

Days
5 days, 4 nights
Store
Osaka Bentencho store
Meal
4 Breakfasts
Hotel Rank

★★★☆☆

Total distance
1,166km
Riding season
All seasons
Difficult

Sightseeing

Food

History culture

Tour content
Kobe

Ranked Japan's most attracting city several times, Kobe, along with Yokohama, Nagasaki and Hakodate, has been one of the few ports open to international trad during Edo era, being one of the richest and most culturally rich cities in the country. The most popular view spot on the city is Mount Roko, giving an astonishing view of Osaka city too. Departing from here is the Shin-Kobe ropeway, working also at night and passing through the most iconic locations in the city.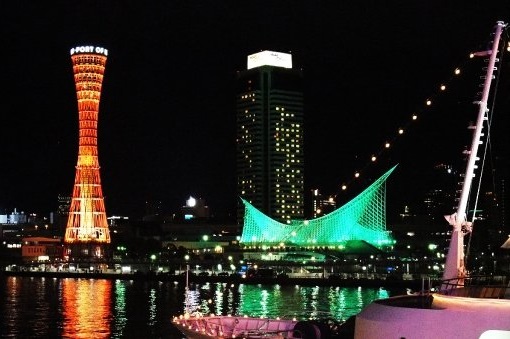 Himeji Castle

Made World Cultural Heritage 25 years ago, due to its bright white gorgeous appeareance, this castle is also known as Shimasagijo, "White Heron". Officially completed in 1609, due to its complex and massive architectural structure, perfectly preserved even after the Second World War, earthquake or any other natural disaster, is considered one of the most spectacular castles of the country, officially recognized as national treasure.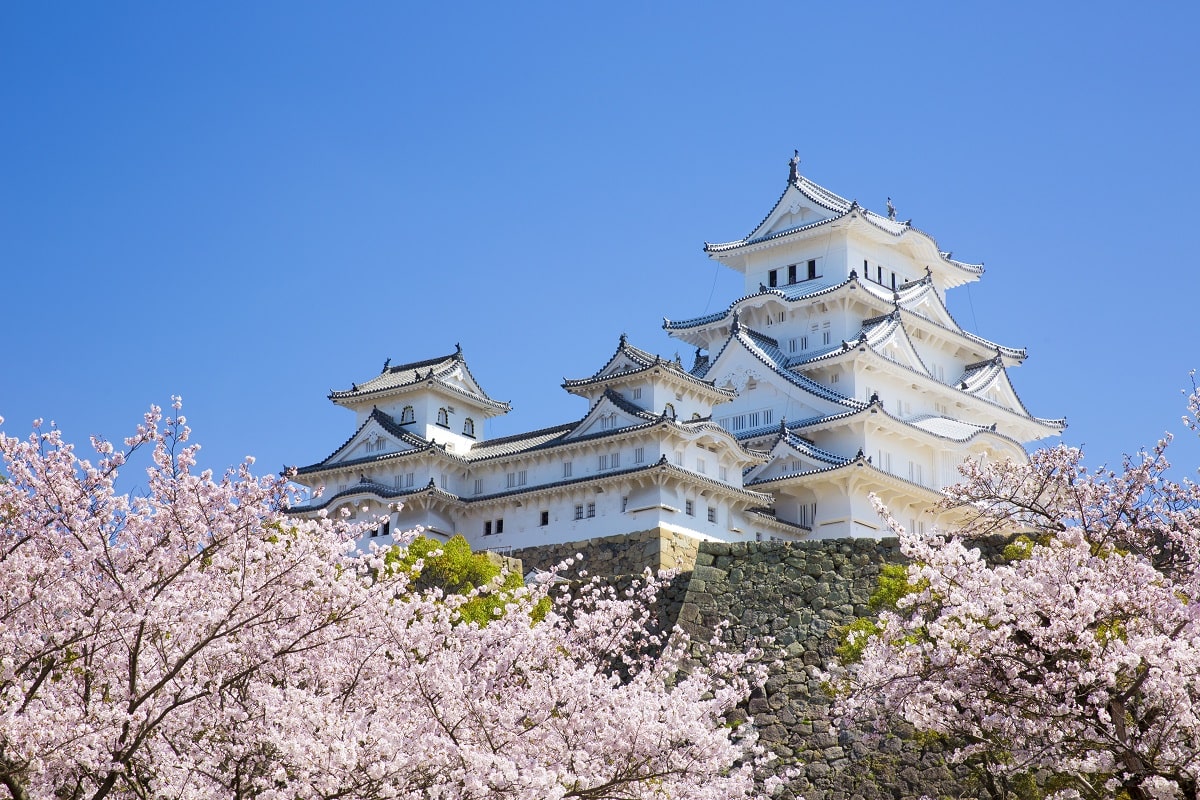 Omishima

The largest of Geiyo islands, archipelago located in the Seto Inland Sea. The whole archipelago is connected by the Nishiseto Expressway, a system of bridges connecting the two islands of Honshu and Shikoku. Notable locations in this area are the Omishima Museum of Art, the Tokoro Museum and the Oyazumi Shrine. To enjoy the spectacular scene of the bridges and the nearby islands, the best view spot is the Tatara Observation Deck.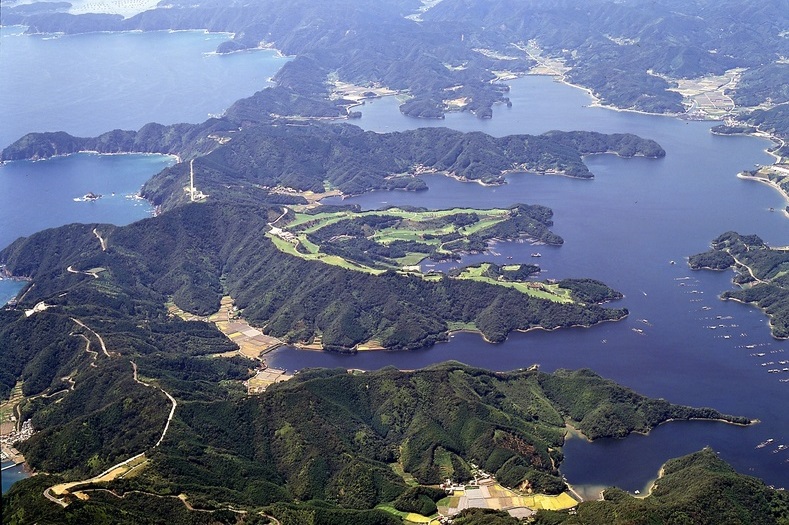 Imabari Towel Museum

Imabari is the second largest city of Ehime prefecture, after the capital Matsuyama. One of the main attractions in the city is the Imabari Castle, build in the 1600s by Todo Takatora, and the presence of six temples of Shikoku Pilgrimage from 54 to 59 which are Enmeiji, Nankōji, Taisanji, Eifukuji, Senyuji, and Kokubunji. But the most peculiar Point is the Towel Museum Ichiro, dedicated to the high quality towels productions of the area.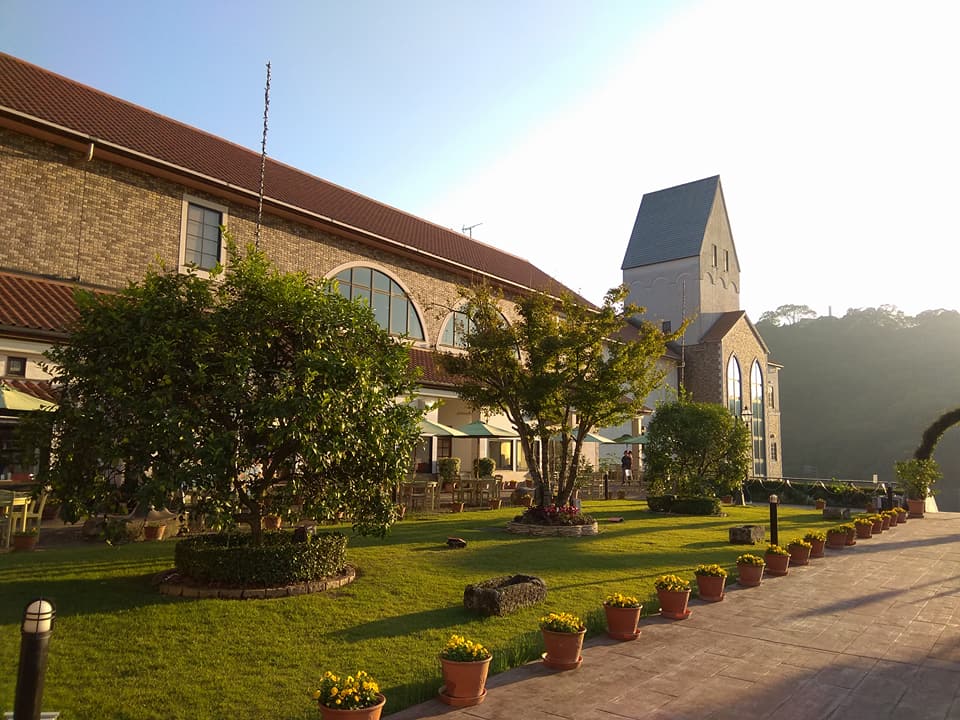 Matsuyama Castle

Remaining intact since its construction, completed in 1628, it is one of Japan's 20 original castlse, along with Himeji Castle it is one of the most complex and gorgeous castle complex in the country. The castle's park fetures more than 200 cherry trees which, in the spring season, makes a wonderful picture with the white and complex construction, making it one of the most popular cherry blossom location in the country.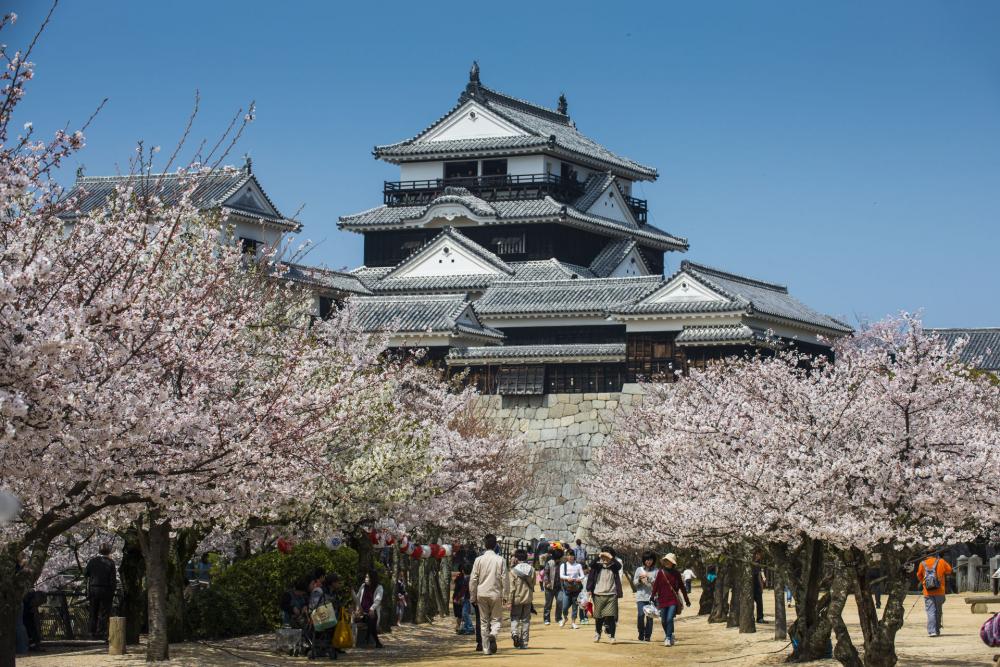 Shimanto River

Flowing 196 km from the heights of Mount Iraz to the Pacific Ocean, Shimanto River is one of the last Japan's remaining limpid steams. Its untouched natural beauty can be enjoyed in its pureness by the 26 low-water crossing located on its surface. By crossing these unique course, you will enjoy the magical atmosphere of this unique place.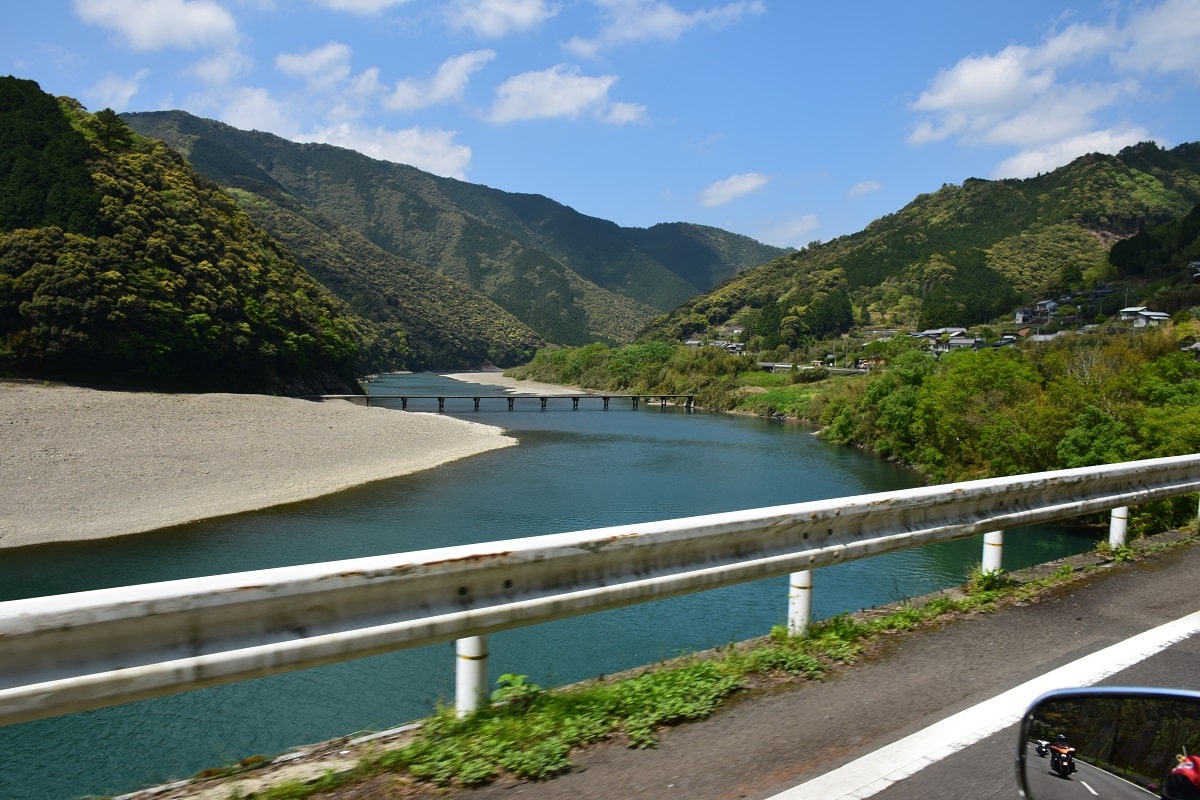 Cape Ashizuri

The southernmost point of Shikoku , is part of the Ashizuri-Uwakai National Park. The cape is noted for its extensive subtropical vegetation and its granite cliffs which offer views of the Pacific Ocean Not far from the cape there is Hakusan-Domon (Hakusan cave gate), a natural gate that has formed through white granite rock.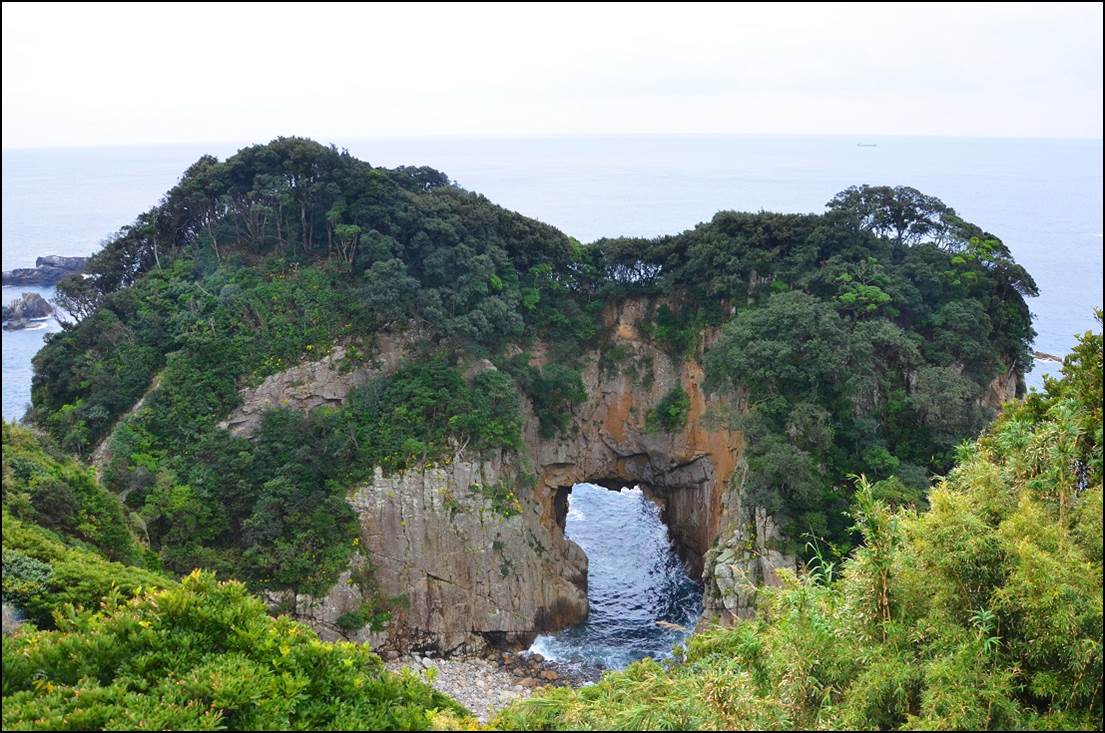 Katsurahama

Gorgeous beach half an hour away from Kochi, this magical place is dedicated to the genius politician Sakamoto Ryoma, famous for being one of the main actor into Japan's feudal age era. For these reasons the Sakamoto Ryoma Memorial Museum was build on this beach.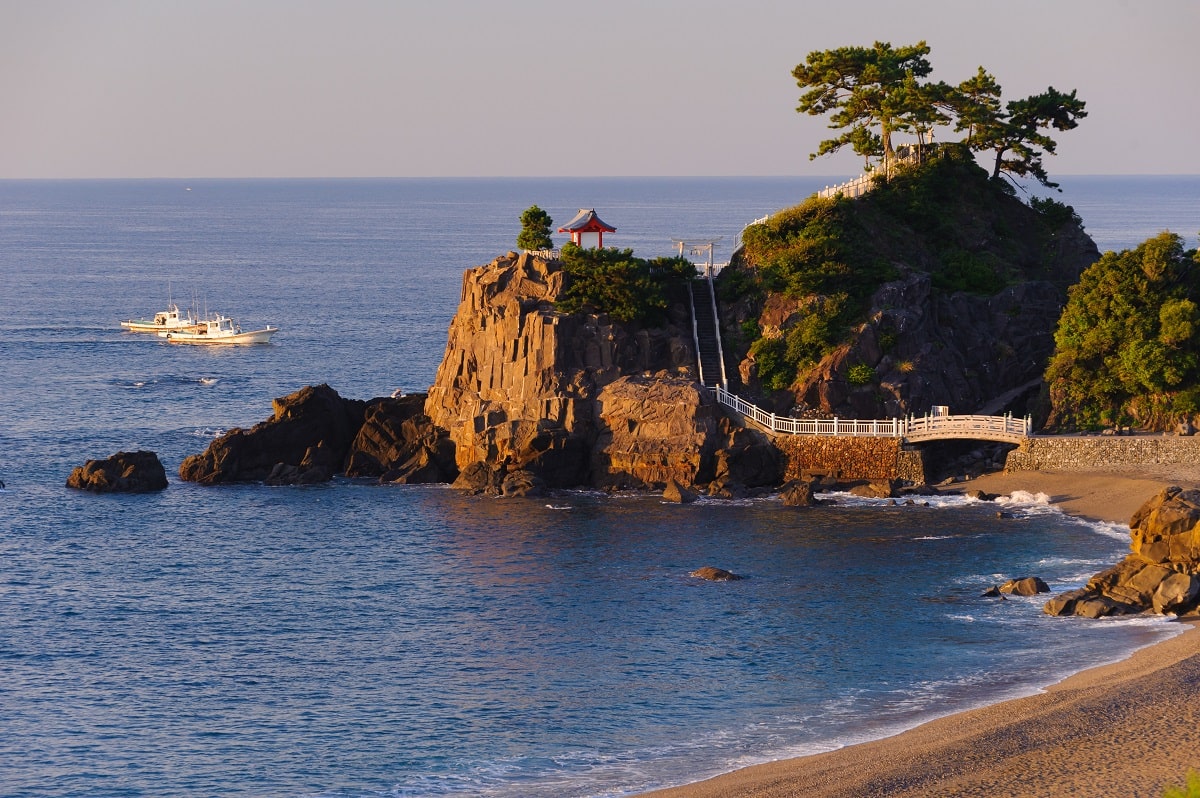 Uzunomichi Whirlpools

The waters of Seto Inland Sea and Pacific Ocean encounters under the Shikoku coast of the Naruto Strait in high and low tide, creating the Naruto whirlpools, which grow up to 20 meters of diameter, making one of the most fascinating yet dangerous spectacular sightseeing of this area. The whirlpools occur every six hour, continuing fo an hour or two, so they can be enjoyed in full light for two times a day.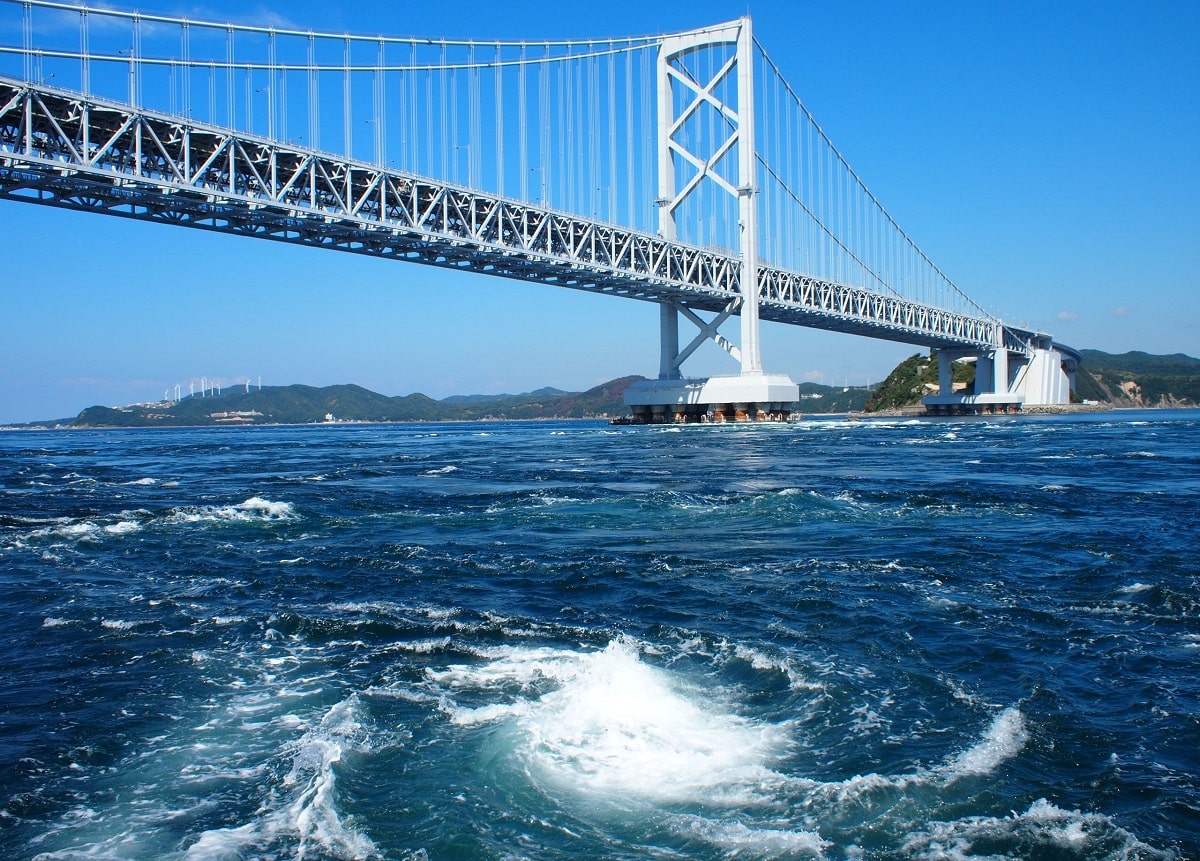 Gallery
Pricing
| Motorcycle | Add Passenger | Option(Reservation required) |
| --- | --- | --- |
| P-3 Add + 0 yen | Tandem Add    +133,000 yen~ | Helmet(Day1) +1,000 yen |
| P-4 Add +19,000 yen | Accommodation | Helmet(Day 2/and then daily) +200 yen |
| P-5 Add +34,000 yen | Previous stay +10,000 yen~ | Gloves(Day1) +300 yen |
| P-6 Add +45,000 yen | After night stay +10,000 yen~ | Gloves(Day 2/and then daily) +100 yen |
| P-7 Add +61,000 yen | Twin room +0 yen~ | Touring Net(Day1) +100 yen |
| P-8 Add +80,000 yen | Single room +20,000 yen~ | Touring Net(Day 2/and then daily) +100 yen |
Motorcycles available for this tour
Departing Store
Osaka Bentencho Store
Address
〒552-0003
3-22-8 Isoji, Minato-ku, Osaka City, Osaka
TEL
06-4394-8193
Business Hours
Weekdays:10:00~18:30
Weekends and Holidays:10:00~18:30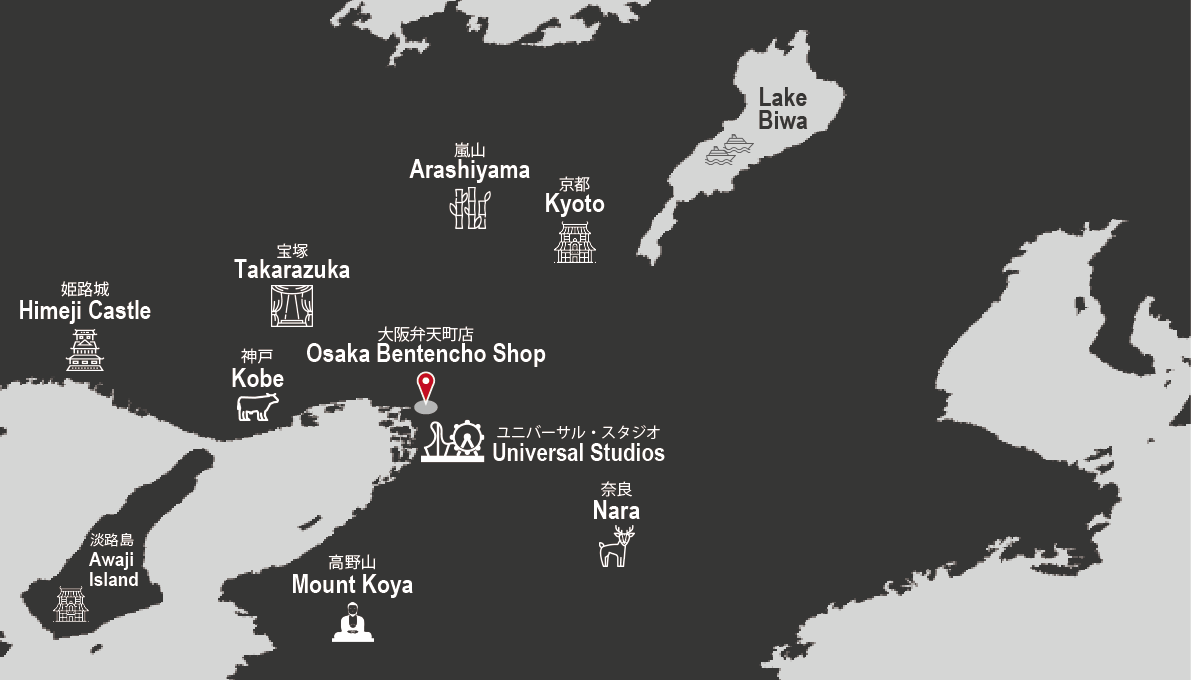 Airport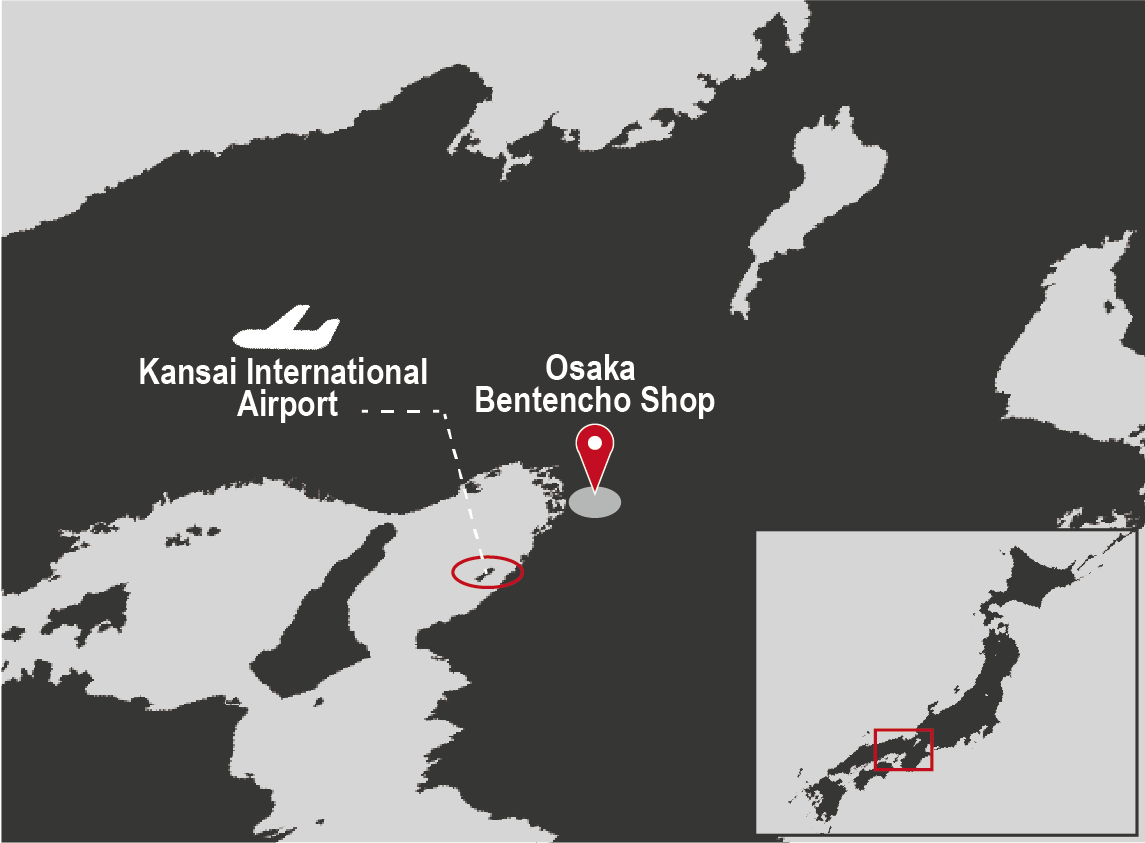 Kansai International Airport
International airport located on an artificial island in the middle of Osaka Bay. In 2016, 25.2 millon of passengers using this airport made it the busiest airport in Asia. Consisting of 2 terminals, Terminal 1 and Terminal 2, Terminal 1, with it'S lenght of 1.7 km is officially the longest airport terminal in the world.
Included in Tour
Vehicle's rental price (with top case)

Collision damage waiver

ETC card

4 nights overnight hotel accommodations

Route guide

Tour map

Tour road book

Recommended dining, activities and facilities list
Not included in Tour
Air ticket

Fuel and toll roads fee

Lunches and dinners

Helmets, gears and other optional accessories

Pannier case
Regarding the payment
Deposit for reservation is required within 3days after application is confirmed.

Balance payment is required until 30days before the tour starts.

In case of bookings within 30 days before tour's start, payment is required at the time of the booking.

The payment shall be done by credit card.

There is nosecurity deposit fee.

In case of cancellation of the booking, our cancel policy will apply.

Any change on tour contents will comport a handling charge.