Licence and other requirements
What do I need to drive in Japan with Moto Tours Japan?
Be at least 20 years of age.

Credit card (we recommend bringing more than one just in case).

Have a valid motorcycle driving license from Japan or from one of the following countries, plus an international driving permit stamped on "A" for motorcycles or an Official Japanese Translation, depending on the country. For more details please continue reading:

* Any stamps from A to E on an International Driving Permit are valid for only motorcycles under 50cc.
GROUP 1
Albania

Algeria

Argentina

Australia

Austria

Bangladesh

Barbados

Belgium

Benin

Botswana

Bulgaria

Burkina Faso

Cambodia

Canada

Cent.African Rep.

Chile

Congo

Congo (DROC)

Côte d'Ivoire

Cuba

Cyprus

Czech Republic

Denmark

Dominican Rep.

Ecuador

Egypt

Fiji

Finland

Georgia

Ghana

Greece

Guatemala

Haiti

Hong Kong

Hungary

Iceland

India

Ireland

Israel

Italy

Jamaica

Jordan

Kyrgyzstan

Laos

Lebanon

Lesotho

Luxembourg

Macao

Madagascar

Malawi

Malaysia

Mali

Malta

Monaco

Montenegro

Morocco

Namibia

Netherlands

New Zealand

Niger

Nigeria

Norway
P.New Guinea

Paraguay

Peru

Philippines

Poland

Portugal

Romania

Russia Federation

Rwanda

San Marino

Senegal

Serbia

Sierra Leone

Singapore

Slovakia

Slovenia

South Africa

South Korea

Spain

Sri Lanka

Sweden

Syria

Thailand

Togo

Trinidad&Tobago

Tunisia

Turkey

Uganda

U.A.Emirates

United Kingdom

United States

Vatican

Venezuela

Zimbabwe
Slovenia
GROUP 2
Germany
France

Switzerland
Belgium

Monaco
Estonia

Taiwan
If your driving license was issued in a country not listed above, you cannot drive in Japan.
Also please check notes regarding foreign driving licenses at the end.
Notes regarding foreign driving licenses:
Please check the expiration date, make sure it is still valid.

Does your motorcycle license have any restrictions like engine displacement, transmission type, etc.? If so, the same restrictions will apply in Japan.

You must have spent 3 months in the country where your motorcycle license was issued after obtaining the license. This is a requirement by Japanese law.
GROUP 1
Home Country Driving License + International Driving Permit
(Based on the Geneva International Road Traffic Convention of 19th September 1949)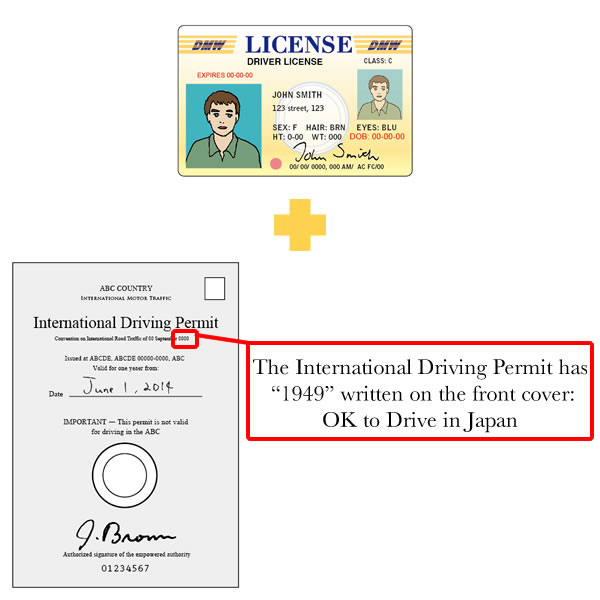 ※If in the International Driving Permit has
"1968" written in the front cover, it is NOT valid in Japan.


It also has to be stamped on "A" for motorcycles, and the 1 year validity has to be in force: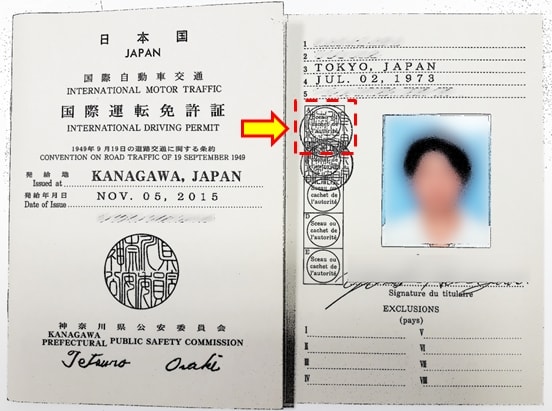 Important notes regarding the International Driving Permit (IDP):
It has to be issued in the same country than the driver license.

Check that the IDP is issued by the correct licensing authority.

The IDP has no validity on its own. It has to be accompanied at all times by a valid driving license.
GROUP 2
Home Country Driving License + Official Japanese translation of the Driving license
If your license is issued in Belgium, France, Germany, Switzerland, Monaco, Estonia, Slovenia or Taiwan you will need to obtain an official Japanese translation of your home country driving license. This can be obtained at the Japanese Automobile Federation or official authorities like Embassies and consulates.
License holders from Belgium, France and Monaco have two options:
Obtain a 1949 Geneva Convention based IDP, as the "Group 1" countries mentioned above.

Obtain an official Japanese translation of their driving license, as the "Group 2" countries mentioned above.
Italy, Poland and Russia signed both the:
1949 Geneva Convention on road traffic.

1968 Vienna Convention on road traffic.
Therefore authorities of these countries have rights to issue IDPs based on both conventions, but they usually issue IDPs based on the 1968 Vienna Convention. However Japan only recognizes IDPs issued based on the 1949 Convention. If you can obtain an IDP based on the 1949 Geneva Convention ("1949 Convention" is written on the front cover) then you can drive in Japan. But with an IDP based on the 1968 Vienna Convention you cannot drive in Japan.
In the USA, only two organizations are allowed to sell real, legal IDPs: the American Automobile Association, and the American Automobile Touring Alliance, which offers IDPs through the National Automobile Club.
GROUP 3
If you have a Japanese driving license, you will not need any additional document.