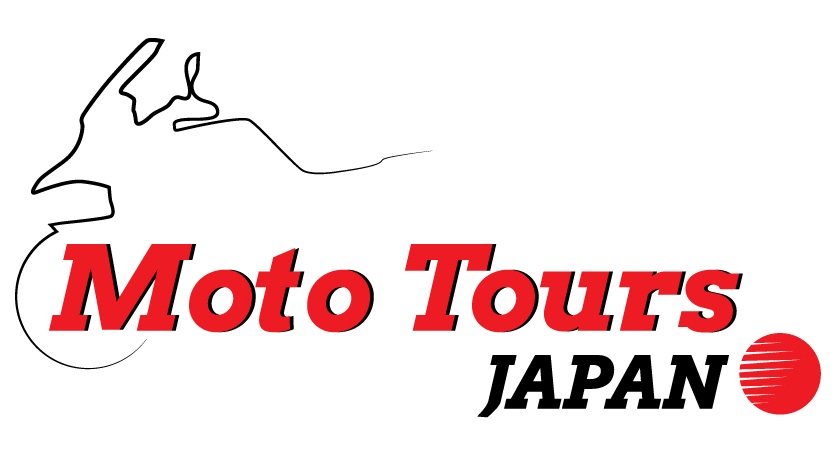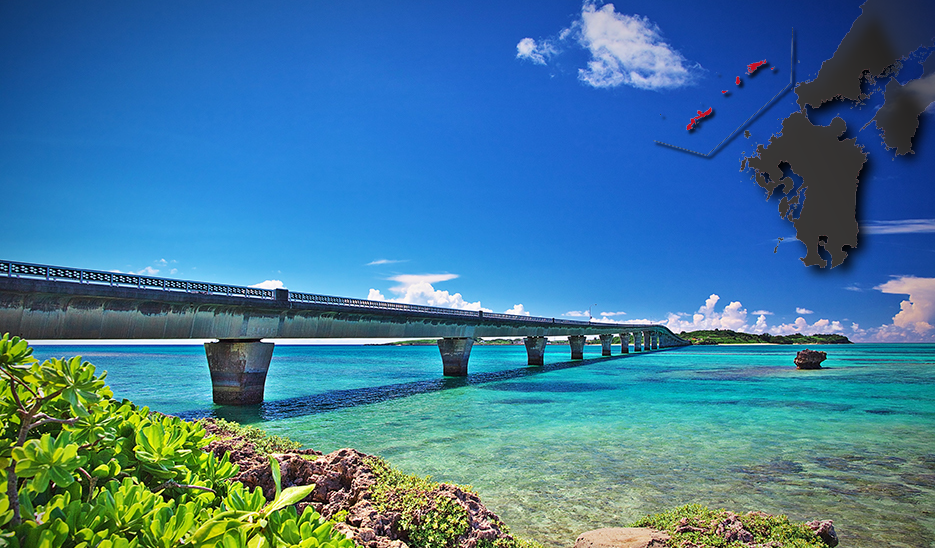 Naha Departure /3 Days/ 2 Nights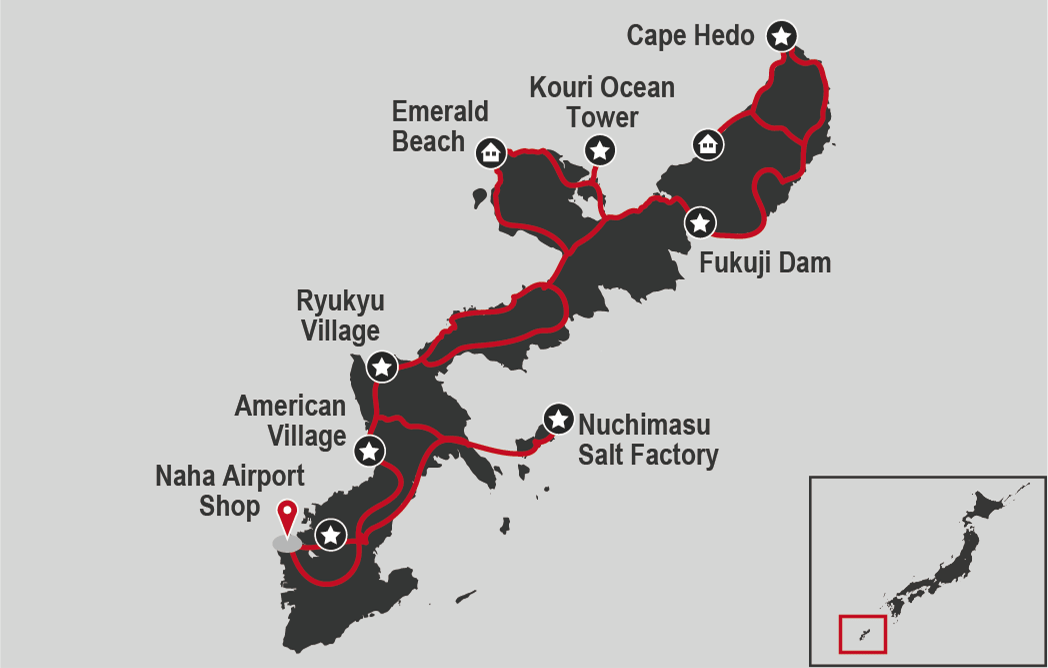 The luxurious and fancy atmosphere of a tropic island. The multicolor and powerful influence of Chinese culture. The mysterious and light footprint of a long tradition made of nature deities and rural population which made this island an end in itself world different from anything you will ever find in this country.
Bright blue sea, white sand and the relax of remote islands where you will be able to enjoy the luxurious pleasure of becoming one with nature. All of this, riding on the motorcycle of your dreams. The touching trip of a lifetime!
---
Tour Facts
Schedule

| | |
| --- | --- |
| DAY 1 | Store → Shuri Castle → Nuchimaasu Salt Factory |
| DAY 2 | Emerald Beach → Kouri → Okuma |
| DAY 3 | Cape Hedo → Ryukyu Village → American Village → Naha |

Days
3 days, 2 nights
Store
Naha Airport
Meal
2 Breakfasts
Hotel Rank

★★★☆☆

Mileayaku
455km
Riding season
Summer
Difficult

Sightseeing

food

History culture

Tour content
Naha → Emerald Beach

Today, after some riding, we will start our visit from the Okinawa Shurijo Castle. Ultimated in 1429, until 1879 it was the riginal center of the Ryukyu Kingdom. The Castle presents a fascinating syncretism of both Japanese and Chinese architectural and artistic influences, the castle can be divided into three main zones, namely a central administrative area (including the Seidan and Ura), an eastern living and ceremonial space (behind the Seidan) called the Ouchibara (literally "inside field"), and a southwestern ceremonial area including the Kyo-no-uchi (literally "inside capital"). We will then move to Miyagi Island through a Mid-sea Road. 5 km long road located in Uruma area, linking the three islands of Hamahiga, Miyagi and Henza, to go and see a real salt factory. Then we will continue in a wonderful ride on the coast all the way to the Emerald Beach. We will end the day with a visit to the Okinawa Aquarium, one of the richest and most fascinating aquarium in the country.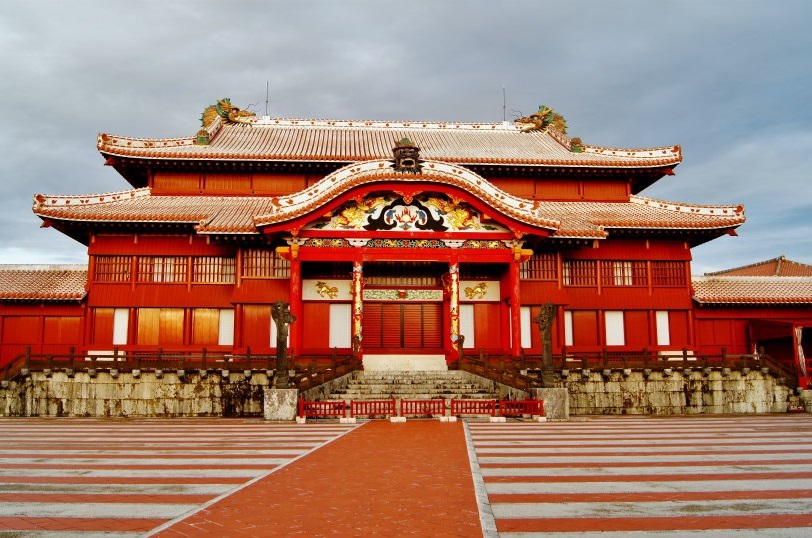 Emerald Beach → Okuma

On this day we will start first with a visit to the beautiful Emerald Beach, to then go on our motorcycle to ride on one more road on the seas to reach the beautiful Kouri Ocean Tower, on the island of Kouri. We will then move to the north to eaut our lunch at an original Coffee Farm to then go and visit the Natural ornitologic park of Yanbarukuina, located in Kunigami. Our day wil end in our beach resort in Okuma, drinking a tropical cocktail while enjoying the view of the Ocean.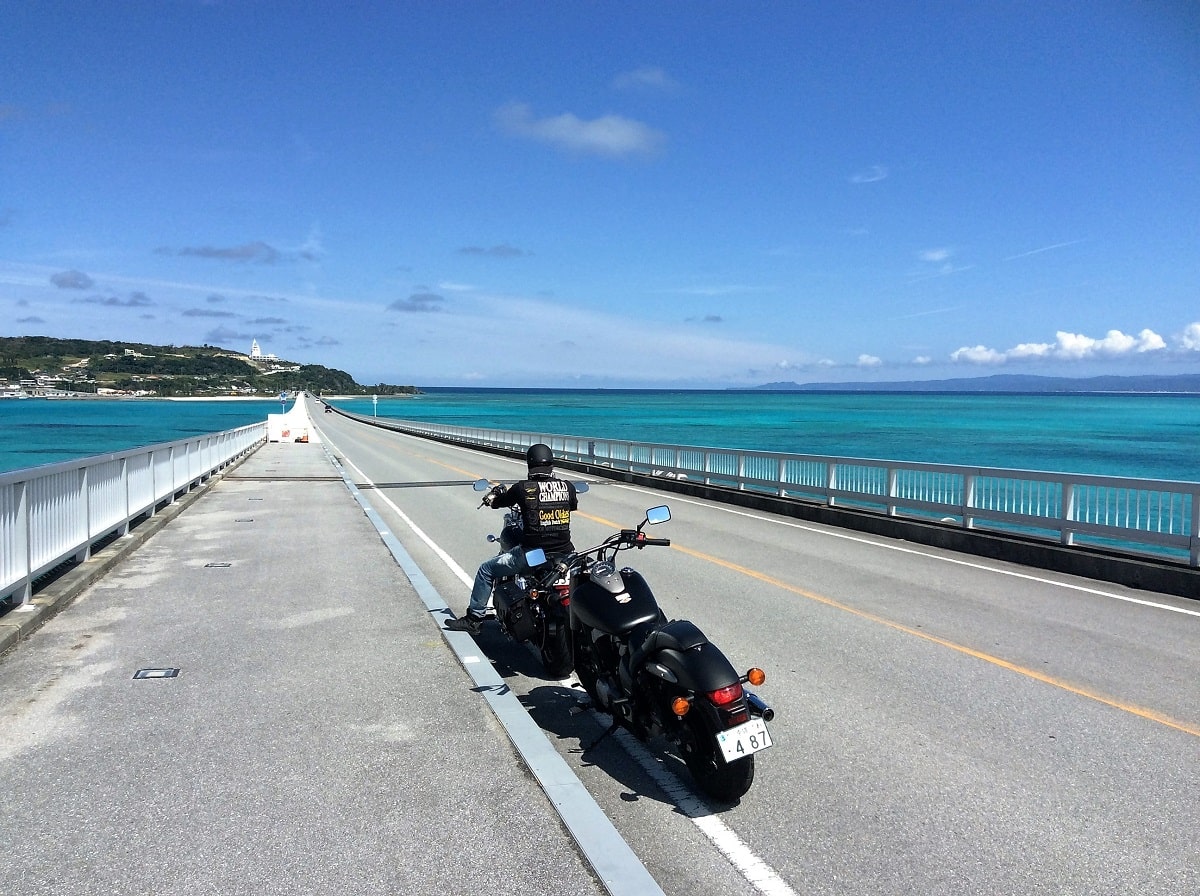 Okuma → Naha

On this dense day we will go all the way to the northn to the nothernst point of the Island: cape Hedo. We will then go on a beautiful coast ride on the east side of the island, to then curve to the West to reach the Ryukyu village, a park where to learn the history of the original populations of Okinawa and the RYukyu Islands. Other ride, other village: this time we will visit the American Village, this time to learn regarding the american occupation of the island after the Second World War while enjoying a real hamburger. We will then return to Naha to return the vehicles and have our last dinner together. See you on your next Japanese adventure!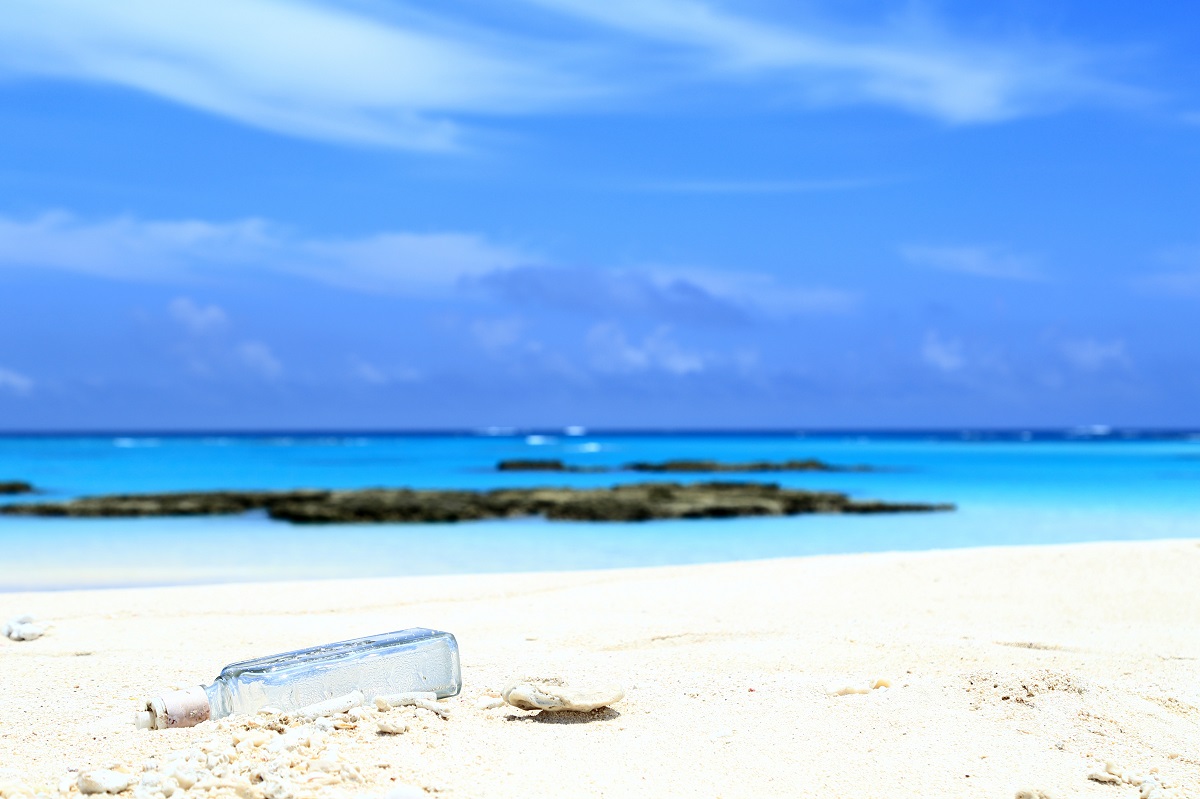 Gallery
Pricing
| Motorcycle | Add Passenger | Option(Reservation required) |
| --- | --- | --- |
| P-3 Add + 0 yen | Tandem Add    +77,700 yen~ | Helmet(Day1) +1,000 yen |
| P-4 Add +13,000 yen | Accommodation | Helmet(Day 2/and then daily) +200 yen |
| P-5 Add +22,000 yen | pre-tour stay arrangement   +10,000 yen~ | Gloves(Day1) +300 yen |
| P-6 Add +29,000 yen | after-tour stay arrangement   +10,000 yen~ | Gloves(Day 2/and then daily) +100 yen |
| P-7 Add +39,000 yen | Twin room +0 yen~ | Touring Net(Day1) +100 yen |
| P-8 Add +51,000 yen | Single room +10,000 yen~ | Touring Net(Day 2/and then daily) +100 yen |
Motorcycles available for this tour
Departing Store
Okinawa Store
Address
〒901-0145
3-2-9 Takara, Naha City, Okinawa
TEL
098-851-8982
Business Hours
Weekdays:10:00~19:00
Weekends and Holidays:10:00~19:00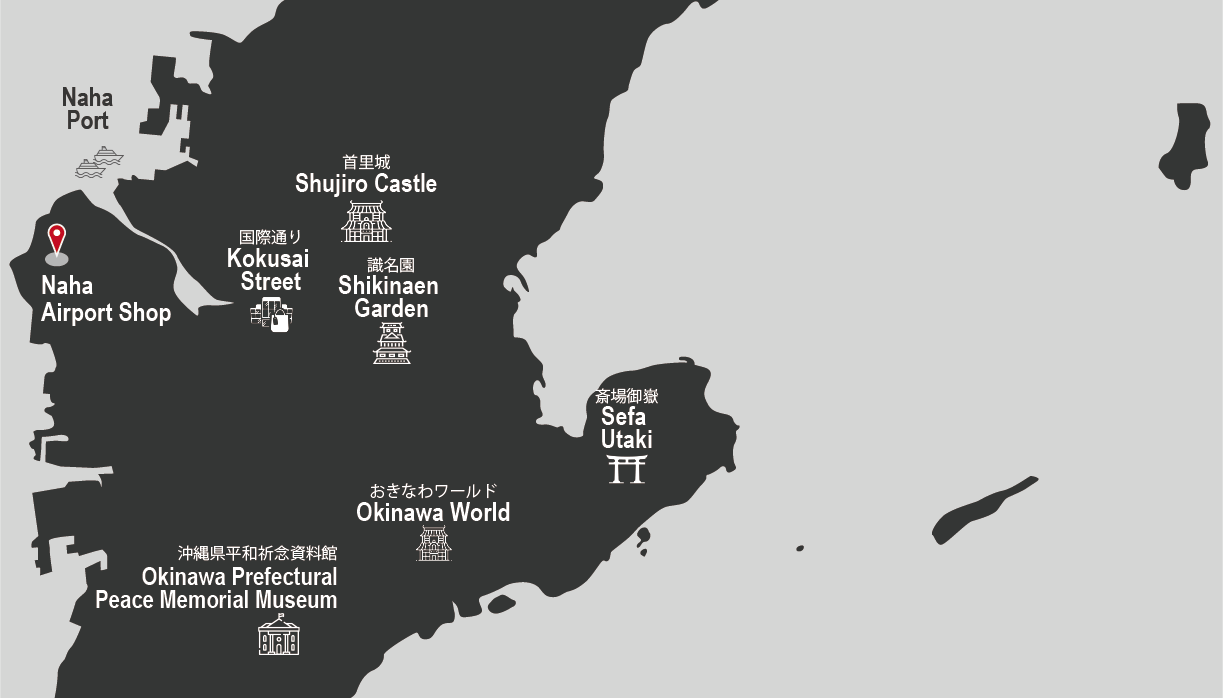 Airport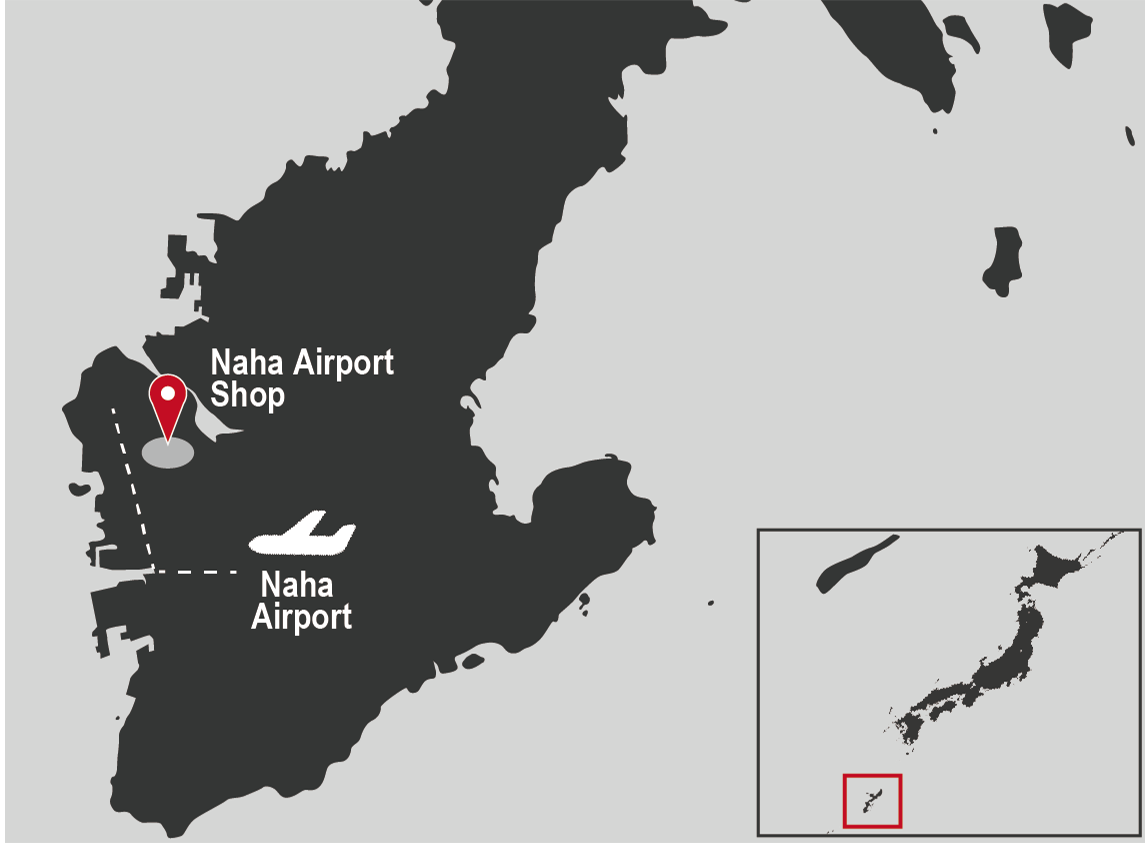 Naha International Airport
Located in the city of Naha, Okinawa, this Airport serves sn average of 17 million passengers per year. Due to its pecutliar position, it is also used by the America Army and the Japan Air Self-Defence Force. It consists of 4 main Terminals, International Terminal, Domestic and LCCT Terminal and Cargo Terminal.
Included in Tour
Vehicle's rental price (with top case)

Collision damage waiver

ETC card

2 nights overnight hotel accommodations

Route guide

Tour map

Tour road book

Recommended dining, activities and facilities list
Not Included in Tour
Regarding the payment
Deposit for reservation is required within 3days after application is confirmed.

Balance payment is required until 30days before the tour starts.

In case of bookings within 30days before the tour starts, full payment is required at the time of the booking.

The payment shall be done by credit card.

There is no security deposit fee.

In case of cancellation of the booking, our cancel policy will apply.

Any change on tour contents will comport a handling charge.
---